Things to do in Lake Tahoe March 2013: TahoesBest.com Announces the Top Tahoe Events And Activities in March 2013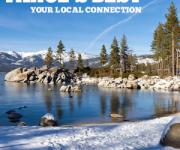 March is a great month to travel. Spring is on the horizon, the weather is a little less intense and both St. Patrick's Day and Easter fall in March this year. That said, there are plenty of reasons to pack those bags and head to Lake Tahoe for a few days.
Check out one of the events, attend a concert, have a great meal or hit the Lake for a great day of fishing. Don't worry about the price either, because TahoesBest.com has put together some of the best things to do and deals in Lake Tahoe to make this trip affordable, enjoyable and completely unforgettable.
Where to Celebrate St. Patrick's Day in Tahoe
St. Patty's Spring Party Weekend at Squaw Valley starts on Saturday, March 16. Soak up the sun and enjoy a brew or two in the Hot Tub at High Camp. Alpine Meadows will also have a full day of celebrations with live music, Irish food and drink specials starting at 9am. Head to Montbleu Resort for St. Patrick's weekend for entertainment by PANTyRAID with Ooah of the Glitch Mob and Marty Party on Saturday and an exclusive pool party Sunday at Onsen Beach and Nightclub, featuring Tahoe Blue Vodka.
Or spend St. Patrick's Day partying at one of Irish pubs in Lake Tahoe. Murphy's Pub Tahoe is another solid choice if you're looking for traditional Irish food at a great price. Murphy's is a good local watering hole with Magner's on tap and plenty of room for an Irish jig once you run that tap dry. MacDuff's is another South Lake Tahoe Irish pub with delicious food, but it does get a little more crowded here, so expect a wait. On Sunday, spend the day at Sugar Bowl for the Pot O' Gold hunt, find pots of gold hidden around the mountain with the chance to go home with great prizes.
Easter in Lake Tahoe
Plan a holiday weekend getaway with the family, a loved one or alone. Many of the ski resorts host egg hunts on the mountain with prizes to go home with. Head to the Easter Egg Hunt & Festivities at Northstar at Tahoe for a full day of fun or give thanks and praise at the Sunday Mountaintop Services at Alpine Meadows. Enjoy brunch at one of Tahoe's finest restaurants. Everyone loves the beautiful views of Lake Tahoe and bottomless mimosas for just $10 on the brunch menu at the Lone Eagle Grille in North Tahoe. They have a great brunch menu, but the lunch menu is usually also available for this meal, and the sandwiches come highly recommended. The Fresh Ketch is a South Tahoe restaurant for brunch with a great view and a bloody mary bar for $6.
Concerts in Tahoe March 2013
This March, see Jose Feliciano on March 9th at Harrah's South Shore Showroom. Kenny Rogers will be at the Silver Legacy Casino on March 16th. Umphrey's McGee will be at Montbleu on March 17th, and Rob Schneider will be entertaining the following weekend, March 23rd. Check out the Spring Music Series at Alpine Meadows with concerts every Saturday starting on March 16th with Leche De Tigre, followed the next Saturday by Sambada and Good Gravy on March 30th.
March Hotel Deals in Tahoe
Many of the best hotels in Tahoe are offering deals to make a trip this March affordable, even if you wait until the last minute. Head to Tahoe for the holidays this March and enjoy skiing, nightlife, concerts and all the other great things to do. Do even more with such affordable prices for the accommodations. Planning on skiing or boarding while you're here?
Fishing in Tahoe
Fishing is a year-round activity in Tahoe, and it's the perfect time to perfect those skills or try it for the first time before summer comes. There are some top-notch fishing charters in Lake Tahoe that take to the lake on a fantastic boat with all the latest gear, and the professional guides can help every fisherman, whether it's the first time touch a pole or you just want to perfect your game. Lizz Riggs, editor of TahoesBest.com, recommends Tightlines Guide Service to every level fisher in Lake Tahoe. The guides are professional, but extremely outgoing, friendly and entertaining and visitors are constantly raving about the great time they had out on the Lake with the Captain Rick Kennedy. For quality equipment and a guide that doesn't quit until there's an impressive fish on the line, this is the best experience money can buy - for kids, couples, families and everyone else.
March is a great time to get to Lake Tahoe. Take advantage of the final weeks of skiing and all the other things going on this month.