Lake Tahoe River Rafting
River Rafting in Lake Tahoe and on Truckee River
Find Fun Places To Go River Rafting
$nbsp;
Truckee River Whitewater Rafting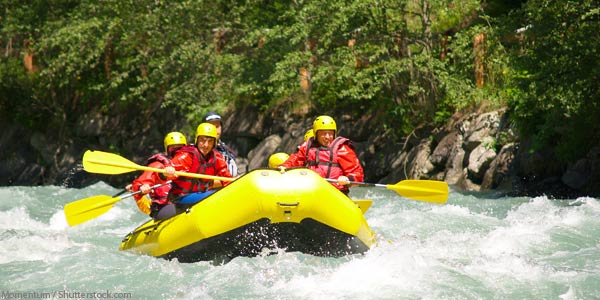 Tributary Whitewater Tours
Tributary Whitewater Tours has been guiding whitewater trips for 30+ years and knows how to maximize fun on California & Lake Tahoe's rushing rivers. Tributary's Truckee River Whitewater Rafting trip is the closest summer whitewater river rafting trip to Lake Tahoe & Reno and is not to be confused with the self-guided float out of Tahoe City.
Whitewater rafting on the Truckee River in Lake Tahoe is a fun and exciting seven mile guided adventure with many Class 2-3 rapids in the first six miles leading up to very exciting Class 3+ rapids over the last mile.
Truckee River trips run approximately 3 1/2 hours and run out of Truckee in Lake Tahoe's North Shore. Reservations are required and trips fill up quickly, especially the afternoon trips. Tahoe boasts over 300 days of sunshine so this is a must-do if you like the outdoors and love to have fun.
Perfect for groups of all kinds, bachelor/ette parties, and families (kids 7+). Also, check out Tributary's TahoesBest.com special-deal rafting coupon to save a few extra bucks.
Take On New Challenges!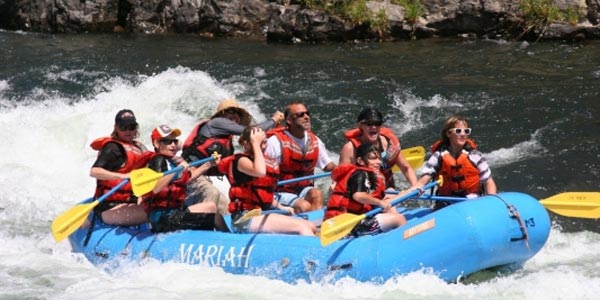 Mariah Wilderness Expeditions
Experience a unique sense of adventure while river rafting in Lake Tahoe with Mariah Wilderness Expeditions. This family friendly activity gets the adrenaline pumping during an unforgettable Lake Tahoe outing.
For just about every interest, there also exists a corresponding special interest rafting vacation.
Consider the rafting and wine tasting trips, expeditions for those who'd like to celebrate with a glass (or three... or more!) and hors d'oeuvres. These expeditions last for 2 days, span across 21 miles of river, and include 4 delicious meals. The wine tasting with hors d'oeuvres occurs on the single night of camping.
On the music and whitewater rafting trips, sweet tunes are the name of the game. Spending two days rafting down 21 miles of river is made even more fun with live musical entertainment during your one night of camping. Your ears shall be serenaded with Bluegrass, jazz, soft rock, folk, and mountain music. Stay well fed too - with four included meals on this expedition, you're set. Be sure to print out this coupon for Mariah Wilderness Expeditions.
Experience Tahoe Whitewater Tours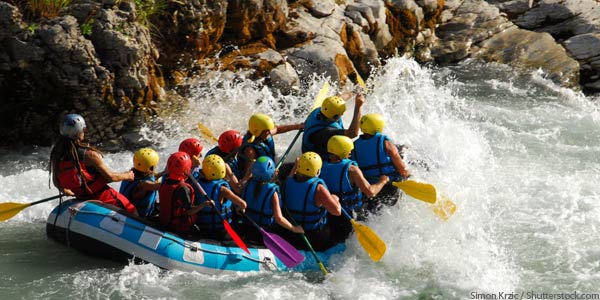 Lake Tahoe River Rafting
River rafting in Lake Tahoe offers folks of all ages an adrenaline-pumping outdoor fun adventure. River rafting is an awesome and safe adventure for families, groups of all kinds and definitely for young couples trying to figure out if they have a future together! Hit the rapids like a pro and maneuver through the waters like you were born to river raft! The most popular whitewater river rafting trip in Lake Tahoe is running the Truckee River in the spring, summer and fall months. The Truckee River rafting trips are great for groups and families and boast Class 2-3+ rapids... enough to keep your heart thumping and the fun flowing. Ask your Truckee River guide about the rapid "Bronco".
Feel the rush of wind and water whipping by your face as you go Lake Tahoe river rafting. Say hello to your fear. In fact, become friends with it as you take yourself to the farthest reaches of your comfort zone... and learn how to break through to becoming a confident and assured river rafting expert. River rafting in Lake Tahoe might scare away other peeps - but not you. If you're still reading this, you're the type of person that says "Bring it on!"


View Map of Lake Tahoe Things To Do
All Summer Rafting close to Lake Tahoe!

Featured Promo

Save on your rafting tour with our SPECIAL PROMO CODE

Address: 10068 Hirschdale Rd. Truckee, CA 96161

Paddle Through Wild Water Rapids With IRIE Rafting Company Truckee!

Address: 11253 Brockway Rd., Suite 103 Truckee, CA 96161
Lake Tahoe River Rafting
River rafting on the Truckee River is more than just a pipe dream for Lake Tahoe visitors. You, too, can join the ranks of those who have made their Lake Tahoe river rafting dreams a reality. Beginners will find that they are able to pick up the activity fairly quickly - and have a blast for hours as they swish and swoosh down the river. River rafting in Lake Tahoe is a fun activity for groups, families and kids seven and older.
The duration, distances, and the locations of the river rafting expeditions are really up to you. The various companies that offer river rafting trips near Lake Tahoe are experienced guides, typically with decades of experience in running rivers and safty. After a full day on the river enjoy a picnic lunch or kick back with a glass of wine at one of the many popular area restaurants.
Tributary Water Tours offers overnight trips so that you can raft one day, camp overnight, and go rafting again the following day. Mariah Wilderness Expeditions is all about the specialty trips. You can go rafting as well as gold panning for a taste of what life might have been like "way back when". Folks had to get from place to place by river raft, and they also hoped to strike it rich by finding gold.