Lake Tahoe Ski Resort Closing Dates and Events: Tahoesbest.com Announces the Top Lake Tahoe Events and Ski Resorts Scheduled Closing Dates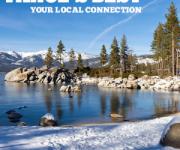 Don't wait much longer to visit Tahoe - the season is changing and it's the last chance to ski at many of the best resorts! April in Lake Tahoe is a fabulous time to visit as the year-round outdoor paradise begins to transition from ski and snowboard mecca to watersports, hiking and biking destination. That being said, there is still time to fit some skiing into a Tahoe vacation, as well as some hotel deals to use this month. Tahoesbest.com has compiled all of the need-to-know information on when the top Lake Tahoe ski resorts are scheduled to close, and which events will be happening at some of the resorts prior to closing.
Tahoe Donner ski resort was the first in the Tahoe area to close on April 2nd. On Sunday, April 7th, five more ski resorts in Tahoe closed, including Homewood Mountain, Donner Ski Ranch, Diamond Peak , Soda Spring and Granlibakken. Hurry to Tahoe, because many more will be closing in the coming weeks. When planning a Lake Tahoe spring vacation, it is helpful to keep in mind all of the various ski resort closure dates, which are as follows.
Scheduled to close Sunday, April 14, 2013:
Boreal Mountain Resort
Heavenly Lake Tahoe
Northstar at Tahoe
Sierra at Tahoe Ski Resort
Scheduled to close Sunday April 21, 2013
Mount Rose Ski Tahoe
Scheduled to close May 2013 (date TBD)
Alpine Meadows Ski Resort
Squaw Valley
Just because the snow season is starting to wind down in Lake Tahoe, that doesn't mean that there won't be plenty of fun things to do in Tahoe in the last few weeks the 2012/2013 ski resorts are up and running. In fact, most of these resorts pack a ton of great Tahoe family-friendly activities into their remaining time, and there are tons of events in Lake Tahoe to make the most out of the last few weeks of the season. The Spring Fiesta at Sierra has already begun, and the last event on April 13th is the Buckle Up Big Air event! Tahoe's Squaw Valley Resort will also be hosting several exhilarating events to help wrap up the close of the Lake Tahoe ski season including the Retro Ski Day at Squaw Valley on April 12, 2013 and the Snowbash at Squaw on April 13th and 14th. Alpine Meadows will be getting in on the end of the season action as well by throwing their 30th Annual Snow Golf Tournament on April 13th. A truly unique Tahoe experience, this is an opportunity to golf on skis at the only golf/ski range in the area with chances to win cool prizes like giftcards, Alpine Meadows swag and more.
Looking for a last minute deal to squeeze in a few more runs this year? Take advantage of one of the Tahoe hotel deals and ski packages that are still being offered through the end of the season. The Resort at Squaw Valley's Ski and Ride Package at Squaw Creek is offering discounts on a deluxe room along with two adult tickets to Squaw Valley and Alpine Meadows for each night stayed. Move fast though to capitalize on this fantastic deal, as it does expire on April 16 to coincide with the closing of the Tahoe ski resorts. Book a stay at the Ferrari Resort and snag some discounted lift tickets at Northstar, Squaw Valley or Alpine Meadows with a reservation. The offer expires on April 28, so be sure to book now to get a chance at this money-saving opportunity. Check out all the savings and deals to use this season and throughout the year at all of the best hotels in Lake Tahoe.
Now is also a great time to start thinking about vacations this spring, and those traveling with a larger group might want to consider booking one of the Tahoe vacation rentals to comfortably accommodate everyone who tags along. Check out the wide selection of beautiful vacation homes, cabins or condos at great rental companies like Tahoe Luxury Properties or Pyramid Peak Properties, or one of the vacation rentals by owner like 5 Star Luxury Tahoe Cabin or My Tahoe Rentals. Any of these choices will provide the best services that cater to every traveller's needs, whether you're looking to accommodate larger groups, bring along pets, in need of a fully equipped kitchen or want a fantastic view.
Don't miss out on the final weeks of skiing by missing the scheduled closing dates for Tahoe ski resorts, hotel deals or any of the other great deals in Lake Tahoe for things to do like rafting, camping, boating, tours and more!