Jibboom Street Truckee
Truckee / Donner
Location
Jibboom Street
Truckee
,
CA
Type

Museums & Historical Sites

Region

Truckee / Donner
Summary
Features: Historic Downtown Truckee still looks like the Old American West. Hope you feel like exploring! Commercial Row Truckee is chock full of charming eateries and shops.

Why We Go: Historic Downtown Truckee feels like something out of a cool Western movie.
The Wild West Vibe: Did you just wander your way onto a cowboys and robbers movie set? You might think you did when you ogle your immediate surroundings.
The Eateries: Bring your appetite, because Historic Downtown Truckee offers hearty cuisine you'll want to try while you're here.
The Shops: Commercial Row Truckee is called Commercial for a reason. Expect to engage in commerce (or shop, in layman terms).
Inside Knowledge: Jibboom Street and Commercial Row saw most of the fist fights, knife fights and gun fights in the area during the early 1900s.

Do's and Don'ts:
Do Get Food: Stop into one of the restaurants so you can satisfy your snack attack.
Do Stop For A Drink: Feel like an outlaw as you toss back a drink in one of the saloons.
Don't Wear Your Fanciest Shoes: It's dusty, and there's no need to wear your heels or patent leather footwear (unless you really, really want to).
Don't Leave Your Camera At Home: Pose like someone from the early 1900's might have done in their photographs. Get creative and get silly, because you and your travel companions are going to want some great photo memories from this visit.
Jibboom Street Truckee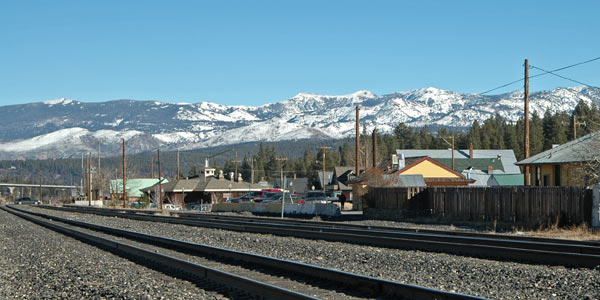 Jibboom Street Truckee Information
Info
Hours:
N/A
When to Go:
Summer
Age Restriction:
None
Phone:
530.582.0893
Website:
http://truckeehistory.org/springst.htm
Quick Facts
Jibboom Street Truckee was the location of the area's very first building.
Historic Downtown Truckee was known to be a red light district in the early 1900's.
Commercial Row Truckee entertained the locals at night with its many saloons.
Address:
Jibboom Street
Truckee, CA 96161
View Map

Need a place to eat in Truckee / Donner
User Average Review
Overall:
Location:
Fun Factor:
Service:
Value:
Based on 0 reviews
Rating Distribution
0.0 out of 5 Stars
0.0% recommended it
Jibboom Street Truckee Reviews

There are currently no reviews!


Fun things to do in Truckee / Donner
Jibboom Street Truckee Hotel

Other hotels in Truckee / Donner.
*Some images shown above are not actual photos from the attraction, but category representations. Visit the web site for actual photos.
Need a place to stay? Check out these nearby hotels
Luxurious accomodations slope side in the new Village at Northstar™ and at Old Greenwood, Lake Tahoe's premier four season resort community.

Address: 4001 Northstar Drive Truckee, CA 96161

Clair Tappaan Lodge Lake Tahoe Inn Provides Affordable Communal Lodging.

Address: 19940 Donner Pass Road Norden, CA 95724

The Donner Lake Village Resort Offers the Best Donner Lake Tahoe Lodging

Address: 15695 Donner Pass Rd Truckee, CA 96161

The Hampton Inn and Suites Tahoe-Truckee Serves The Best Complimentary Breakfast

Address: 11951 State Highway 267 Truckee, CA 96161

The North Tahoe Lodge Has a Unique Mountaintop Location

Address: 14758 Skislope Way Truckee, CA 96161