Donner Memorial State Park
Truckee / Donner
Location
12593 Donner Pass Rd
Truckee
,
CA
Type

Parks & Beaches

Region

Truckee / Donner
Summary
Features: Donner Memorial State Park is a gorgeous camping and recreational area that spans more than three acres and includes its own freshwater lake, Donner Lake. Just miles from Lake Tahoe, in Truckee, visitors to this park can participate in plenty of outdoor activities and learn about the region's rich history at the Donner Emigrant Trail Museum.
Why We Go: Donner State Park Truckee is a historical landmark just miles from the majestic Lake Tahoe. This three-acre park includes the Donner Lake, ideal for boating, swimming and fishing, and the Donner Emigrant Trail Museum, detailing the tragic Donner Party story. Those who visit Donner State Park Truckee can enjoy waterfront camping on one of 154 campsites.
Donner Emigrant Trail Museum: This museum is open daily from 10am to 5pm and recounts the story of the Donner Party as well as Native American history. It is an educational experience for those curious to learn more about California's early history. The Lakeshore Interpretive Trail and Nature Trail are short one to two-mile trailheads located near the museum. During the Summer there are guided tours and hikes along these trails, as well as shows and campfires.
Pioneer Monument: This bronze statue honors those who traveled across to the Great Plains and Rocky Mountains to get to California in the 1840's. Also nearby is the Murphy cabin, the log cabin where families from the Donner Party slept during the cold winter of 1846-47.
Donner Lake: This lake spans tree miles long and provides calming shallow waters ideal for swimming and fishing during the Summer. A fishing license is required for those fishing on Donner Lake at Donner Memorial State Park.
Inside Knowledge: The Donner Party is a tragic part of early California history. They were a group of settlers who traveled hundreds of miles to reach California. Nearly toward the end of their journey, the Donner Party was stranded in the mountainside near Truckee during a severe winter snow storm. Nearly half of the travelers died and when all of their food supply had run out, they resorted to cannibalism to stay alive.
Do's and Don'ts:
Do Visit in the Winter: Winter temperatures are normally 40 degrees during the day and 20 degrees at night. Those who visit the park during the Winter can enjoy fun outdoor activities such as snowshoeing and skiing near Donner Lake. There are a few one to five-mile long hiking trails, including the Emigrant Trail Truckee. No dogs are permitted on the trails.
Do Store All Food: A way to deter bears from a campsite is to store all food, beverages and toiletries in a bear-proof metal locker. Do not keep food unattended in tents or cars. Each campsite has a metal locker which measures 36" deep, 43" wide and 28" high. People who do not use the lockers will be fined.
Don't Feed the Bears: Bears may be sighted during the day and at night, in the wilderness or in campsites. People should never intentionally feed bears, once bears know there is a food source they will return and may become aggressive. Bears are capable of opening tents, cars and coolers in search of food.
Don't Run: National forests and state parks including Donner State Park Truckee are known to have many black bear sightings. According the park's website, they recommend visitors who see a bear to stand still and start making loud noises to scare the bear away. Do not run and do not feed the bears. Bears are not usually confrontational and will not approach humans.
Donner Memorial State Park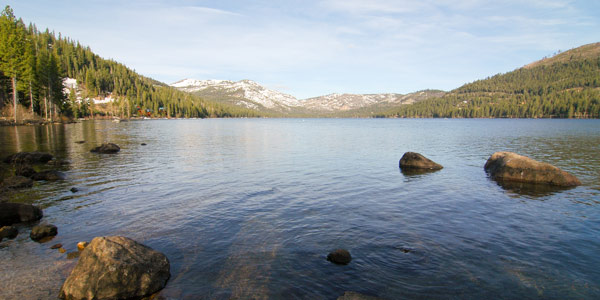 Donner Memorial State Park Information
Info
Hours:
Hours vary by season, please call for hours.
When to Go:
Best to go during the Summer.
Age Restriction:
All ages.
Phone:
530.582.7892
Website:
www.parks.ca.gov/?page_id=503
Quick Facts
Donner Memorial State Park, located in Truckee, offers visitors many recreational activities year round including camping, fishing, hiking, boating, swimming, waterskiing and picnicking.
Donner Lake, located next to Donner Memorial State Park, spans three miles long.
The Donner Emigrant Trail Museum, located in the park, features historical artifacts and information about the Donner Party, Native Americans and other local history.
Peak camping season: May 15 - September 30, campground reservations must be made at least two days in advance.
Address:
12593 Donner Pass Rd
Truckee, CA 96161
View Map

Need a place to eat in Truckee / Donner
User Average Review
Overall:
Location:
Fun Factor:
Service:
Value:
Based on 0 reviews
Rating Distribution
0.0 out of 5 Stars
0.0% recommended it
Donner Memorial State Park Reviews

There are currently no reviews!


Fun things to do in Truckee / Donner
Donner Memorial State Park Hotel

Other hotels in Truckee / Donner.
*Some images shown above are not actual photos from the attraction, but category representations. Visit the web site for actual photos.
Need a place to stay? Check out these nearby hotels
Luxurious accomodations slope side in the new Village at Northstar™ and at Old Greenwood, Lake Tahoe's premier four season resort community.

Address: 4001 Northstar Drive Truckee, CA 96161

Clair Tappaan Lodge Lake Tahoe Inn Provides Affordable Communal Lodging.

Address: 19940 Donner Pass Road Norden, CA 95724

The Donner Lake Village Resort Offers the Best Donner Lake Tahoe Lodging

Address: 15695 Donner Pass Rd Truckee, CA 96161

The Hampton Inn and Suites Tahoe-Truckee Serves The Best Complimentary Breakfast

Address: 11951 State Highway 267 Truckee, CA 96161

The North Tahoe Lodge Has a Unique Mountaintop Location

Address: 14758 Skislope Way Truckee, CA 96161