Cheap Truckee Hotels
Cheap Truckee Hotels For Your Tahoe Vacation
Stay Within Your Budget at Cheap Truckee Hotels
$nbsp;
Hampton Inn & Suites Truckee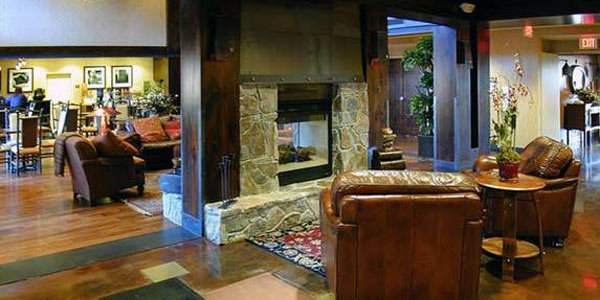 Cheap Truckee Hotels w/ Free Breakfast
Cheap Truckee Hotels w/ Free Breakfast

Cheap Truckee hotels with free breakfast prepare you for your super fun days with plenty of great food in the mornings.
Hampton Inn & Suites Truckee: You'll enjoy an array of great services at this hotel. Each morning begins in a delicious manner because you get a hot "On the House" breakfast. Staying on top of the latest news is made easier with the USA Today newspapers available for you. Gear up for the day even more with a workout in this hotel's fitness facility. Should you want to use the Internet, you can enjoy wireless Internet service as a guest here. Anytime you want to get complimentary coffee and tea, there is plenty all day in the lobby. Want to work at odd hours? Now you can at the 24 hour business center!
The Inn at Truckee: For a great location that's close to many destinations including Donner Lake, Lake Tahoe, Downtown Truckee and ski resorts, The Inn at Truckee is for you. Every morning you can enjoy complimentary food that's ready for eating. The free continental breakfast is a popular feature of this hotel. When you're ready for lunch, dinner and snacks in between, you can walk to a variety of dining options from here. The great thing is that if you have pets, you are welcome to bring them along with you!
The Inn at Truckee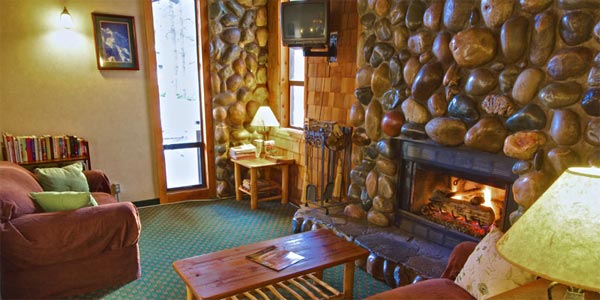 Cheap Truckee Hotels w/ Great Amenities
Cheap Truckee Hotels w/ Great Amenities

Cheap Truckee hotels with great amenities promise to keep you entertained as well as relaxed during your stay.
Donner Lake Village Resort: Stay at one of Truckee's best kept secrets! Donner Lake Village Resort is located off I-80, which gives you an easy drive to the charming downtown area of Truckee. While you're here, the friendly staff work to make sure your stay goes smoothly from start to finish. Even your mornings start out right with complimentary coffee and tea. Relaxation can become a more constant feeling when you make visits to the guest saunas. Cozying up in your room for a bit? Put on your favorite movie using the DVD/VHS player. Donner Lake Village even offers watercraft rentals at its very own marina and dock. The water is calling!
Truckee Donner Lodge: You know you're going to be cozy with an in-room fireplace and super comfy seating close to the warmth. The refrigerator and microwave in your room are also helpful amenities that can help get you full when you're hungry! Even when you've gotten your clothing super dirty from all the fun outdoor activities you enjoy while you're in town, the on-site laundry makes your wardrobe like new when you need that to happen. The outdoor pool is a wonderful place to enjoy the day.
Donner Lake Village Resort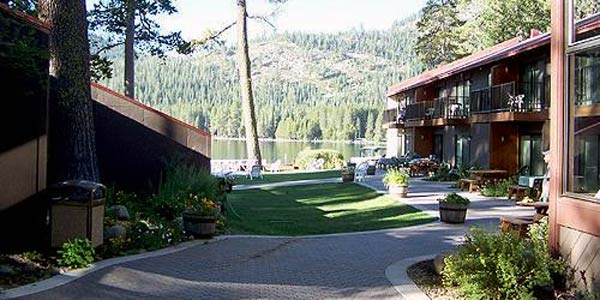 Cheap Truckee Hotels

Cheap Truckee hotels are great money savers when you're looking to cut costs on vacation. Cheap hotels in Truckee can still provide many of the same features you'd find at hotels higher up in the price range. Even things like swimming pools and hot tubs can be found at cheap accommodations in Truckee. You don't have to limit yourself to thinking that only very basic hotels are available at lower prices. In fact, cheap hotels in Truckee can provide fun vacation experiences for families as well as friends and couples.
Cheap hotels in Truckee can provide pleasant service that rivals the service at the flashier, fancier hotels. You have choices when it comes to cheap Truckee lodging. Cheap accommodations in Truckee are easy to find by looking through the list below. Whether you'd like to have free parking at your hotel or you'd like to stay somewhere that serves free breakfast in the mornings, the variety of cheap hotels in Truckee allows you to find one that's perfect for you and has the services you'll love.
Clair Tappaan Lodge Lake Tahoe Inn Provides Affordable Communal Lodging.

Address: 19940 Donner Pass Road Norden, CA 95724

The Donner Lake Village Resort Offers the Best Donner Lake Tahoe Lodging

Address: 15695 Donner Pass Rd Truckee, CA 96161

The Hampton Inn and Suites Tahoe-Truckee Serves The Best Complimentary Breakfast

Address: 11951 State Highway 267 Truckee, CA 96161

Affordable and Comfortable Accommodations in Truckee

Address: 10527 Cold Stream Rd Truckee, CA 96161

The Inn at Truckee Has Affordable Rooms and Free Perks

Address: 11506 Deerfield Drive Truckee, CA 96161
Cheap Truckee Hotels

Cheap Truckee hotels give you more for your hard-earned funds. Cheap hotels in Truckee aim to provide wonderful stays that don't have to break the bank. Rather than having very little money left over to enjoy activities, cheap accommodations in Truckee allow you to stay somewhere for cheap and spend more of your money on the really fun stuff. Cheap Truckee lodging is a great choice if you are looking to stay within a limited budget. Money may not grow on trees, but it doesn't have to when the value you can get at cheap Truckee hotels is so good.
Cheap hotels in Truckee are great for families because the swimming pools and the daily continental breakfasts are so popular with parents as well as the kids. There's something to do and something to eat every day, already included in your stay. Now how about that? Cheap accommodations in Truckee give you great rest so that you can be energized and ready to go out and enjoy all the fun things to do in Lake Tahoe. Part of the fun of going on vacation is researching and picking out all your must-see places to go and activities in Lake Tahoe. You may think that it's going to cost you considerable money, but here's a list of cheap things to do in Lake Tahoe.