Natural History
The floor of the canyon is made up of glacial debris (mostly decomposed granite) that was deposited approximately 10,000 years ago as the glacier melted.
The forest at sugar Pine Point includes sugar and Jeffrey pines, white and red firs, and incense cedars. Lodgepole pine, quaking aspen, black cottonwood and mountain alder are found in the stream zone along General Creek. Shrubs include green-leaf manzanita, pinemat manzanita, squaw carpet, mountain whitehorn, some chinquapin and huckleberry oak. Spring and summer wildflower displays include Indian paintbrush, lupine, columbine, penstemon, and several types of buckwheat. The showy, red, saprophylic snowplant can be seen during the spring.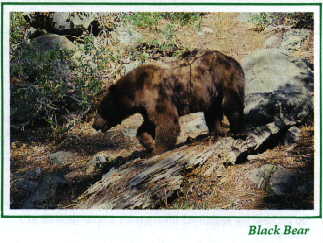 Wildlife is most plentiful in the more remote parts of the park, but chickadees, chipmunks, and both Beechey and golden-mantled ground squirrels are often seen even in the developed areas. Other less often seen animals include black bear, coyote, raccoon, porcupine, pine marten, beaver, bobcat and deer. Steller's jays, juncos, mountain chickadees, flycatchers, woodpeckers, and the brilliantly-colored western tanager are among the many kinds of birds that live in this forest. Merganzers, Canada geese, mallard ducks, and kingfishers can often be seen on or near lakes and streams.
Although many of these animals and birds winter elsewhere, some of them are year-round residents. Their lively presence adds a fascinating dimension to the otherwise profoundly quiet, snow covered world of this park in mid-winter. Bald eagles, for example, can sometimes be seen perched in trees overlooking the lake.
As wild animals are inclined to steal food (and we ask you not to feed them) please secure food in your vehicle at night or when you are not present.
Exhibits and publications about the natural history of the Tahoe Basin are available in the nature Center situated in the Ehrman Mansion's old power-generating plant.
During your visit, you may see evidence of various ongoing natural resource management programs. Erosion control, thinning of overcrowded forests, removal of dead trees in high-use areas, prescribed burning and habitat improvement are a few of the many projects that are being undertaken in order to maintain or restore natural conditions within the park.
Interpretive programs offered during the summer include nature walks, campfire programs, and junior ranger programs for children ages 7 through 12. Check the posted schedule for details.
Cover Photo (Ehrman Mansion) by David Weintraub, All Others by Ken McKowen
Camping
There are 175 campsites in the campground. Each site has a table and stove. Restrooms with sinks and flush toilets are located nearby. Shower facilities and a sanitary dump station are also available during the summer. family campsites can accommodate a maximum of eight people and three vehicles. Ten group campsites can each accommodate up to 40 people and 10 vehicles. The campsites are suitable for tents, trailers up to 40 feet, and motor homes up to 30 feet. Reservations for family campsites can made up to eight weeks in advance by calling MISTIX at 1-800/444-7275. Group campsite reservations can be made up to 12 weeks in advance. Reservations are strongly advised during the summer (mid June through labor Day).
The park remains open throughout the winter months. One restroom is heated, and the road and parking spaces are kept clear of snow, though considerable forethought and good camping equipment are important. Winter conditions at this elevation (6,200) include frequent snow storms and deep snow packs. Temperatures go down to near zero.
Fishing
Deep-line fishermen can try their luck along Lake Tahoe's 300-foot-deep underwater ledges by trolling for lake trout (Mackinaw) and Kokanee Salmon. Top-lining (trolling near the surface) for rainbows is also popular. Shore fishing does not tend to be productive, though the lake's tributaries can be. Be aware that these streams have a very short open season, usually from July 1 through September 30.
Hiking, Biking, and Cross Country Skiing
Trails serve almost every part of the park. A short loop trail through the Z'Berg Natural Preserve, the Dolder Trail follows the lakeshore and passes the world's highest working lighthouse. For those with more time, the General Creek Trail is a 6 ½ mile loop, offering an optional side trip to Lily Pond. Lost Lake, a beautiful alpine lake, is a full 15 mile round trip, and should only be tackled by seasoned hikers with ample time (6 to 7 hours).
Mountain bike use has increased significantly over the last few years. Mountain bikers are asked to be responsible riders, treading lightly, staying on designated riding trails only and announcing their presence when coming up on hikers. Trails not shown as hike/bike trails are off limits to bikes. Please help us protect the park by not creating new trails. The paved West Shore Bike Trail parallels the highway through the park as far as the south boundary where it officially ends.
Dogs must be kept on leash (six-foot maximum length) and are allowed only in the developed areas of the park. Dogs are not permitted on park trails.
Those wishing to enter Desolation Wilderness through the park will need to obtain a wilderness permit from the U.S. Forest Service for both day-use and overnight trips. Permits are available at the South Lake Tahoe Forest Service Headquarters, the Taylor Creek Visitor Center, or (when staffed) William Kent Campground. Day-use permits are available at most Forest Service trailheads.
During the winter, rangers groom two of the four cross-country ski trails and offer ski lessons or tours practically each weekend during January, February and March. You can Obtain the Sierra District's Fall and Winter Hike Schedule by sending a stamped, self-addressed envelope to: Sierra District State Parks, P.O. Drawer D., Tahoma, CA 96142.
Swimming and Boating
The Park's beach and central pier are popular places for swimming, sunbathing, picnicking, and fishing. Please swim with appropriate caution; Tahoe's waters are quite cold. Nearby marinas provide boat launching, mooring, and rentals for fishing, water skiing or just exploring. Due to space limitations, boats may not be beached or moored overnight at Sugar Pine Point. There is a special boat camp at Emerald Bay State Park.
To view local maps, click on...