Lake Tahoe Boating & Watersports
Boating in Lake Tahoe, Places to Go by Boat in Tahoe
Check Out the Best Places to Go by Boat in Lake Tahoe!
$nbsp;
Sand Harbor Lake Tahoe
...Click here for more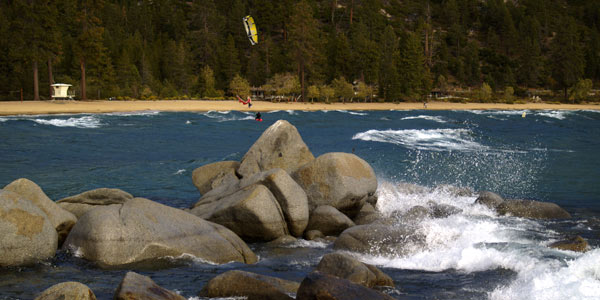 Lake Tahoe Beaches
One thing you can count on at such a gorgeous body of water as Lake Tahoe is that there will be lots of fun boat-friendly beaches. These beaches are either very close to boat launches or allow free boat docking on the beach. Just be careful to avoid those rocks!
Lakeside Beach: This privately owned beach has a daily fee to access it, but it has a great playground, a beautiful view and nearby restaurants that can make it one of the best Lake Tahoe places by boat.
Connolly Beach: If you're looking for a smaller beach with shallow water perfect for wading little ones, Connolly Beach is perfect.
El Dorado Beach: Shallow waters and long beautiful beaches doused in the golden sunlight makes the name of this beach pretty perfect!
Pope Beach: This is a Lake Tahoe favorite with tranquility, beauty, and a short walk to the famous Beacon Bar & Grill!
Baldwin Beach: One of the most popular beaches on Lake Tahoe, Baldwin Beach has gorgeous white sands that are often home to fairs, festivals and other fun events.
Emerald Bay Lake Tahoe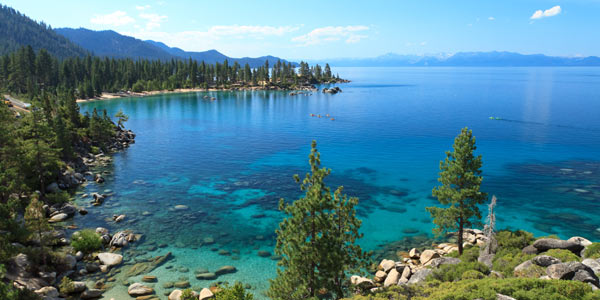 Places to See by Boat in Lake Tahoe
These great Lake Tahoe places by boat are accessible straight from the lake, making them the perfect places to go by boat in Lake Tahoe. Just make sure that these Lake Tahoe places by boat let you dock your boat for a substantial length of time! Some only allow brief docking for pick up and drop off.
Emerald Bay Lake Tahoe: Emerald Bay is a beautiful area at the Southwest end of the Lake Tahoe. This state park is known for its beautiful views and sunken ships from years ago. Emerald Bay has a 5 M.P.H speed limit that is strictly enforced. Emerald Bay is home to the Vikingsholm Castle and also has a campground that has a pier and public moorings available on a first come basis.
Sugar Pine Point State Park: Sugar Pine Point State Park is home of the Ehrman Mansion and has a public pier to tie up to and a great picnic area. With camping, great vacation rentals, boating on Lake Sugar Pine and beautiful alpine mountain scenery Sugar Pine is a popular destination for all travelers.
Thunderbird Lodge Historic Site: This huge stonewall mansion is truly a castle on the Northeast shore of Lake Tahoe. Enjoy great public tours and exciting historical facts all in a beautiful dramatic and romantic setting. This is one of the best Lake Tahoe places by boat for the whole family to enjoy.
Pine Lodge at Sugar Pine Point
...Click here for more
One great way to spend a nice summer day is to boat over to one of the exciting places to go by boat in Lake Tahoe. At Lake Tahoe places by boat you can get away from the crowds, anchor or just beach your boat, picnic, swim or just enjoy the peacefulness. There are several coves located around Sand Harbor that are easily accessible by boat, but keep watch for rocks and if you are going fast offshore - keep the red buoys between your vessel and the shore and you will be fine at all of these Lake Tahoe places by boat.

View Map of Lake Tahoe Things To Do
Tahoe City Kayak Has All You Need For a Day Out on the Lake!

Address: 521 N Lake Blvd Tahoe City, 96145

Enjoy The Highest Quality Boat Maintenance And Repair!

Address: 7360 North Lake Boulevard Tahoe Vista, CA 96148

Spend The Day Outside with North Tahoe Watersports.

Address: 8398 North Lake Boulevard Kings Beach, CA 96143

North Shore (NV) / Incline & Crystal Bay

Offers all of your water sports desires at one location! Open during the summer season only.

Address: 995 Lakeshore Blvd Incline Village, NV 89451
Places to go by boat in Lake Tahoe can be great destinations for travelers whether or not you are moving by boat. These beaches and Lake Tahoe things to do are fun adventures both by boat and by car or foot.
Make sure to check out great hotel resorts, vacation rentals, or cabins and condos close to your favorite attractions in Lake Tahoe to make your stay the best it can be!