Things to Do in Lake Tahoe Spring 2013: Tahoesbest.com Announces the Top Lake Tahoe Events for Spring 2013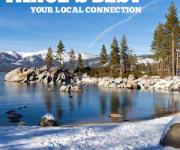 Spring in Lake Tahoe is in true transition. The season starts out with more spring skiing in Lake Tahoe, but many prefer the skiing now to skiing in the winter because of the warmer temperatures and smaller crowds. Eventually all of the ice and snow starts melting away to reveal colorful flowers, lush greenery and a sunny beach atmosphere. Celebrate the arrival of Spring 2013 by planning a trip to Lake Tahoe and participating in some of these top events and activities that Tahoesbest.com has compiled here.
Heavenly Spring Loaded
For a fun way to spend Spring Break 2013 in Lake Tahoe, check out the Heavenly Spring Loaded festival. Combining some of the most popular Lake Tahoe activities such as skiing competitions on the last batches of mountain snow, pond-skimming, free concerts and wild parties. This Tahoe festival gets underway on March 29 and continues all the way through April 14. The Heavenly Mountain Resort is located South Lake Tahoe, which is home to some fantastic Lake Tahoe hotels. Plan a stay at the 3 Peaks Resort and Beach Club, which offers very affordable rates and comfortable amenities only a few minutes away, adding to the appeal of its ideal South Lake Tahoe location.
Carriage Ride Through South Shore
The Spring season is when Lake Tahoe begins to transform from an icy winter wonderland to a lush green paradise, and one of the best ways to view all of the gorgeous Spring Lake Tahoe 2013 awakenings is from the comfort of a carriage ride. South Lake Tahoe is lovely any time of year, but trotting down the cobbled streets of the historic area with a special someone or the whole family nestled into a horse-drawn carriage is a truly memorable Lake Tahoe Spring activity. Don't forget the camera, as guests will definitely want to snap photos of the cute shops and beautiful flowers scattered throughout the South Shore.
Lake Tahoe Cruises
Take advantage of the gorgeous weather that begins to appear come Spring in Lake Tahoe by sailing the waters on a relaxing cruise. Combine sightseeing of some Lake Tahoe landmarks with a serene boat cruise by hopping on board The Tahoe Queen. An authentic Mississippi paddlewheeler, a cruise aboard this boat is an unique experience, and their Emerald Bay Sightseeing Cruise will be filled with interesting tidbits about the area and amazing scenery. For those who simply want to spend an evening with friends and family as they eat and dance to their heart's content, the M.S. Dixie II offers a Lake Tahoe sunset dinner cruise. Take in the sunset and enjoy the live on-board entertainment.
Reno Jazz Festival
Music lovers should coordinate their trip to Lake Tahoe so that it aligns with the world-renowned Reno Jazz Festival, one of the best events near Lake Tahoe of the season. Lasting from April 25-27th at the University of Nevada-Reno, this festival is celebrating its 51st anniversary with clinics, concerts and competitions, which are sure to delight the amateur musician and seasoned professional alike. Plan a day trip to Reno, which is about an hour drive from Tahoe, and it's easy to find places to stay in Reno or these wonderful Lake Tahoe hotels.
Fishing in Tahoe
A great way to kickstart the Spring season is by planning a Lake Tahoe fishing trip. The Tahoe Sport Fishing Company is a popular fishing fleet on South Lake Tahoe, and the knowledgeable captain and deckmate will guide passengers to the prime fishing locations, while offering tips to new fishermen and advanced ones alike. The South Lake Tahoe waters make for a tranquil and picturesque backdrop for waiting for some salmon and trout to bite. Guests staying in North Lake Tahoe can experience some awesome fishing with Sierra Fin Addicts Guide Service. This group supplies instruction in capturing some some Rainbow and Brown fish, and their sea journeys last for half days. After going on one of these Lake Tahoe fishing trips, passengers will easily see why fishing is one of the most popular things to do in Lake Tahoe.
Why delay in arranging a Spring vacation to Lake Tahoe when Tahoesbest.com has made it easy by narrowing down all of the top activities and events of the season?