Things to do in Lake Tahoe April 2013: Tahoesbest.com Announces the Top Activities and Tahoe Events in April 2013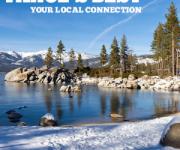 Spring has officially arrived, but enjoy a final few days of a winter wonderland by planning a Lake Tahoe vacation. The Tahoe slopes still see plenty of snow in April, so squeeze some snowsports into the trip itinerary before the region transitions into summer. A fun concert or festival may be the perfect complement to a daytime ski adventure, so take a look at one of these exciting Lake Tahoe Events. Tahoesbest.com has also kept the budget-conscious traveler in mind by compiling some of the best Lake Tahoe hotel deals and things to do.
Skiing and Snowboarding in Lake Tahoe
April marks the beginning of the transition into Spring for Lake Tahoe, as the snow starts to melt away and leave in its place some fresh flowers and gorgeous greenery. Therefore, any visitors should definitely take advantage of skiing and snowboarding this month, as it may be the last chance to do so until winter. From advanced skiers looking forward to brush up on their skills to beginners looking to glide down the mountainside at a leisurely pace, Lake Tahoe ski resorts have trails to satisfy every skill level, and there are still some Lake Tahoe ski packages that make one last ski trip to Tahoe an easy decision.
There are so many fun things to do in Lake Tahoe this month, and many of these activities will take place at the ski resorts. Take advantage of the Spring Loaded Festival at Heavenly Mountain Resort. This event is ongoing until April 14th, and combines many of the most popular Tahoe activities like skiing and pond-skimming with free concerts and fun parties.
Concerts in Tahoe April 2013
This April, come see indie band the Local Natives, who will be playing at Harrah's Casino on April 13th. Elvin Bishop will also be performing at Harrah's, and his show is on April 6th. The hit 80's band Foreigner will be playing at Silver Legacy Casino in addition to a show at Harrah's. Catch the Postal Service at Grand Sierra Resort on April 9th. For visitors looking for more of a music festival experience, The 10th Annual Telegrass Festival will be taking place on April 7. This Lake Tahoe festival will feature live bluegrass bands, and also has some relay races and seasonal brews to add to the fun atmosphere of the festival. Jazz fans can even head over to Reno for the world-renowned Reno Jazz Festival, which will take place from April 25th to April 27th.
Paddling in Lake Tahoe
The warmer weather also means that fans of paddling can look forward to plenty of opportunities to get up on their board and splash around in Lake Tahoe. Tahoe Water Adventures is the go-to spot for Lake Tahoe kayak and paddle board rentals; visitors can even get some lessons from them in various water sports, so beginners don't need to be apprehensive about trying kayaking or paddling for the first time. Action Water Sports of Incline Village is another option for Lake Tahoe kayak rentals, and they also offer power boats, jet skis and fishing charters to rent as well. Anyone who wants to learn how to wake-board, water ski or wake-surf can consult the experts at Action Water Sports for some instructive lessons. This is the time of year to get back out on the water, whether it's in a kayak, on a paddle board or fishing in Lake Tahoe.
April Hotel Deals in Tahoe
Many of the top hotels in Tahoe are offering some deals and specials this month that will allow even the last minute trip planners out there to save some money.
Guests at Northstar Resort are usually required to book a room for a minimum of three nights, but by acting quickly they can have that requirement waived and can book a two night stay instead. Book a trip this month by April 6 to use this great deal.
Ferrari Crown Resort offers a dreamy location at the lakefront, with a private beach and comfortable amenities for their guests, and they offer discounted lift tickets for top Lake Tahoe ski destinations like Squaw Valley, Northstar, Diamond Peak and Homewood. This deal expires on April 28th to coincide with the end of the snow season in Tahoe, so get it before its gone for good.
Looking for more a little adventure? Live in luxury for a bit with a stay at the Lake Tahoe Regency Hyatt. Book the Hyatt Ski Package by April 19th, which includes two adult lift tickets per night stayed to the Diamond Peak slopes, which are only 2 minutes away from the hotel, as well as 15% off spa treatments for a little pampering and other incentives.
Don't procrastinate in taking a Lake Tahoe vacation when Tahoesbest.com has done the difficult work by narrowing down the must-do Lake Tahoe activities, the can't miss events and best hotel deals around.