Tahoe's Best Tips for a 2014 Winter Vacation to Lake Tahoe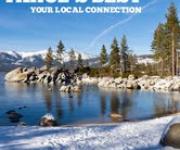 It's always a perfect time to visit Lake Tahoe, and with snow being "slow to show" this year, the editors of TahoesBest.com have come up with some tips to best enjoy a winter vacation to Lake Tahoe with or without the powder. From hiking to winter fishing, there are many ways enjoy the pristine wonders of Lake Tahoe this winter. This guide includes things to do and places to stay this winter 2014 in Lake Tahoe, so be stress free and plan the perfect getaway.
Tahoe's Best Things to Do This Winter 2014
Huh? Yes, a hike does not always mean up the trail with a huge backpack and through the woods. Many Tahoe communities, like South Lake Tahoe and Tahoe City, have paths and walkways that make a day hike in the winter months a walk in the park. Lake Tahoe boasts over 300 days of sunshine every year, making it a mecca for incredible hiking no matter the season. Discover the wonderful world of Lake Tahoe hiking and enjoy the sunshine. Tip: Pack sunscreen. Sometimes winter sun can do even more harm to the skin!
Who says that fishing is a summer only sport? The fish are jumping and the Lake is calling, so get out and reel in some dinner. Sierra Fin Addicts and Tahoe Sport Fishing in South Tahoe are both open year round, so get out for a family fishing day, or perhaps a father/son experience. Sierra Fin Addicts provides the rods, the reels, the bait, and complimentary snacks and drinks! They will even fillet the fish. Hint: Bring a jacket. Winter is a wonderful time to fish, but it can get cold out on the Lake.
A winter trip to Lake Tahoe means escaping the stress of everyday life, so go the extra mile and enjoy a day at the spa. There is no better place to enjoy spa treatment than the calming atmosphere of Lake Tahoe. Try Mountain Aloha Massage & Body Work in South Lake Tahoe for an incredibly relaxing escape. Hint: Try for a couples massage. Nothing is more romantic that rejuvenating with the one you love.
Long days of hiking and exploring result in hungry stomachs! With so many restaurants around Lake Tahoe, it's hard to decide where to dine. The editors of TahoesBest.com can't stop raving about Fat Cat Bar & Grill in Tahoe City. The friendly ambiance, delicious food and tasty suds keep us coming back from more.
North Shore, South Shore. No instruction needed.
Tahoe's Best Places to Stay This Winter 2014
For the perfect location, some of the best rates, and incredible amenities, there is no beating 3 Peaks Resort & Beach Club in South Lake Tahoe. Not only do hotel rooms start at only $45, 3 Peaks Resort also offers a luxurious 5 bedroom cabin for family vacations or group getaways. Hint: 3 Peaks is an easy walk to the Gondola, and has a private beach!
Luxury on the slopes at Squaw Valley in North Lake Tahoe.
Tired of getting stuck paying the bill when vacationing with a large group? Don't let your friends mooch this year and find the perfect vacation rental with Split VR. This incredible company makes it easy for friends and family to pool their money together. Hint: This vacation rental company has rentals all over the Lake, so find the best spot.
Great for the entire family in Tahoe's North - some folks never leave!
Lake Tahoe Resort Hotel boasts an amazing stateline location in South Lake Tahoe, spacious rooms, and incredible amenities. With packages including a design your own winter package, Lake Tahoe Resort Hotel allows travelers to enjoy all the perks of winter in Lake Tahoe from the comfort of this accessible location.
Great location, great rates and nice sized rooms in downtown South Lake Tahoe.