Lake Tahoe Nordic & Cross Country Skiing Guide
Cross Country and Nordic Skiing In Tahoe
Check out these popular ski areas for cross country skiing in Lake Tahoe
$nbsp;
Ski For Miles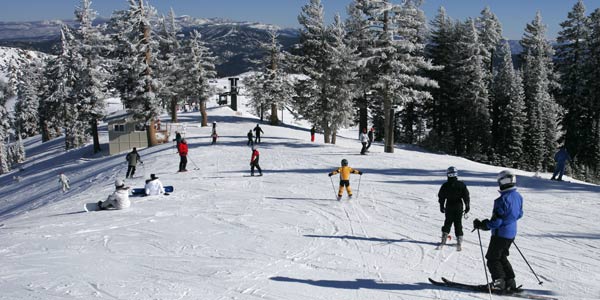 Spooner Lake Cross Country Ski Area
Spooner Lake Cross Country Ski Areaoffers affordable skiing for the whole family. Even if you don't win the lottery and score a windfall of serious money, you can still make it out to Spooner Lake. The prices are low enough that you can happily pay them and feel that the skiing experience is truly worth it.
Downhill skiing may be fun, but Nordic skiing in Lake Tahoe is really fun. You can get acquainted with the sport by riding on the beginner trails at first. Once you've found your legs and your balance, the intermediate trails will be such a blast for you.
This star on our Lake Tahoe Nordic skiing guide offers ski trails that are spread out across 9,000 acres. While you're partaking in this most excellent sport, you can whiz by the beautiful views of Lake Tahoe and the Sierra Mountains. Take a break in the day lodge, where you can get snacks and beverages, sit by the fireplace and converse with your travel companions.
If you need lodging, there are two overnight wilderness cabins available. You can get to them by skiing, hiking or mountain biking.
Enjoy The Views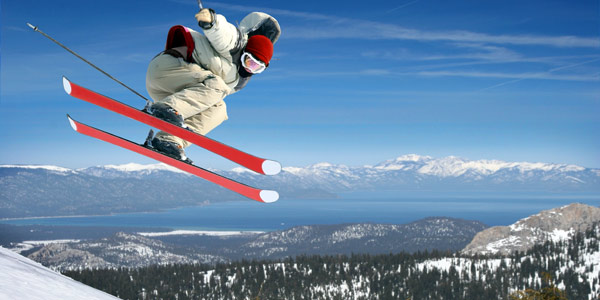 Royal Gorge XC Ski Resort
This Lake Tahoe Nordic skiing guide spotlights Royal Gorge XC Ski Resort for its diverse trail system. Royal Gorge XC Ski Resort spans across 150 miles of terrain and affords you majestic views of the area. No equipment? No problem. You can get the equipment you need by renting them here.
Once you're all dressed up and ready to get onto the snow, there is a helpful ski school to show you how to do this thing called Nordic skiing. If you're already familiar with the art and sport of Nordic skiing, go ahead and charge your way across the mountain on your fun skis.
Enjoying the sport of Nordic skiing all day long makes a person hungry. Luckily, this ski resort offers dining at Summit Station Cafe. Fill up on a stuffed sandwich, layered with meats and cheeses and veggies. Drink your nutrients with a warm, fresh soup. For an especially nutritious and low-carb meal, satisfy your empty stomach with a big salad. The desserts end your meal on a sweet note.
Royal Gorge XC Ski Resort prides itself on offering the best service throughout your visit. The service is personalized to make you feel as important as you are.
Snow As Far As The Eyes Can See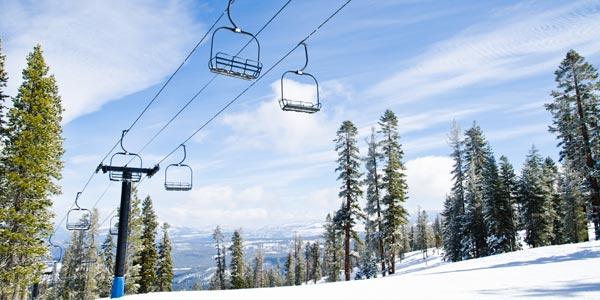 Lake Tahoe CROSS COUNTRY Ski Guide

Lake Tahoe cross-country skiing gets more and more popular every year. Many people like it better than its big-boy cousin downhill skiing for many reasons including the price of a day pass and rentals. Some skiers prefer the traditional method of cross country skiing and others like the skating-style. Both offer skiers a fantastic day in the crisp outdoor air in the beautiful Sierra Nevada and great overall exercise.
This Lake Tahoe cross-country ski guide points you to the popular places to ski including Tahoe Cross Country Ski Area, Tahoe XC, Royal Gorge Cross Country Ski Resort, Tahoe Donner Cross Country Skiing and Spooner Lake Cross Country Ski Area. Interested in learning how to cross country ski or rent equipment? Most of the ski areas offer lessons and rentals at a competitive and affordable price. Check out the local ski rental shops too for good deals. If you are interested in telemark skiing you should hit the downhill ski resorts as telemarking is different than cross-country skiing.

View Map of Lake Tahoe Things To Do
Ski Royal Gorge Cross Country Tahoe

Address: 9411 Hilside Dr Soda Springs, CA 95728

North Shore (NV) / Incline & Crystal Bay

The Ultimate Cross Country Skiing Awaits You At Spooner Lake.

Address: 3709 Highway 28 Glenbrook, NV 89413

Tahoe XC Ski Area, The Place Where Families & Pets Can All Play In The Snow!

Address: 925 Country Club Drive Tahoe City, CA 96145
Lake Tahoe Nordic Skiing Guide
Lake Tahoe cross country skiing puts itself at the top of many visitors' must-do lists while they're here. Lake Tahoe cross country ski resorts give visitors a place to rest their weary heads after a fun and full day on the mountain. This Lake Tahoe nordic skiing guide shows you where to go. Nordic skiing in Lake Tahoe provides exercise that is as leisurely or as challenging as you'd like to make it. Go with your family and friends to enjoy the day together.
Those looking for a leisurely experience will find that the beginner trails are ideal for them. On the other hand, the intermediate to advanced trails keep you on your toes. You'll want to make sure that you have mastered the beginner trails before you give the more advanced trails a go. Among fun outdoor activities in Lake Tahoe, cross country skiing provides a way for the entire family to make wonderful memories together. Once you've had your fill of exercise for the day, fill up on something to eat using restaurant deals and promotions in Lake Tahoe.