As the Tahoe Biking Season Begins, TahoesBest.com Announces the Top Tahoe Bike Companies in 2013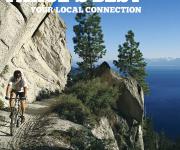 Biking enthusiasts visiting Tahoe start pumping air in those bike tires and dusting off helmets, because Tahoe mountain biking season is taking off! As the winter's snow starts to melt, the majority of the trails under 7,500 feet are open to bike riders. In the South Shore, bike riders are welcome to take to the trails on Powerline, Corral, Cedar, and Sidewinder, while Mr. Toad's opens on May 19, 2013. As for the North Shore, trails including Lloyds, Animal, and Sawtooth Ridge, among others, are prepped for eager bikers to hit the dirt. So in light of the opening biking season,TahoesBest.com has revealed top biking companies in Tahoe.
Wanna Ride Tahoe Bike Tours
Visiting South Lake Tahoe and looking for an adventure? Wanna Ride Tahoe Bike Shuttle and Tours provides the biking gear and trail maps necessary for visitors and locals unfamiliar with the Tahoe trails to enjoy a bike ride. Wanna Ride tours sets guests up with the opportunity to explore some of Tahoe's most scenic trails, and the company even offers a trusty tour guide to accompany guests on the trails should they request one.
South Lake Tahoe Wanna Ride offers multiple routes that accommodate the varying fitness level of every guest from beginner to advanced trails. The biking company also includes family packages to ensure the kids can keep up with Mom and Dad.
Factory Bike Tahoe City
The Factory Bike Tahoe City is the mecca for bike rentals in North Tahoe. The biggest bike rental in all of North Tahoe, Factory Bike offers the best selection of bikes from six-speed beach cruisers to 21-speed mountain bikes. The Tahoe bike rental shop also includes a variety of bikes for the kiddos including bikes that they can ride on their own, as well as trailer bikes, which they can hook onto the back of Dad's bike.
The family friendly Factory Bike shop will also fix and spruce up guests' bikes to make sure they are trail ready. Tahoe bike shop offers adjustments and custom-built bikes to make every bike lover happy.
Olympic Bike Shop
Whether Lake Tahoe guests are in the market for a bike for a day or a bike for life, Olympic Bike Shop can help. The Tahoe bike shop sells and rents both new and used bikes for bikers of all experience levels and biking styles. From road bikes and cruisers to mountain bikes and tandems, Tahoe guests will surely find the bike of their dreams.
And for those sticking around Tahoe for a few days and want to ride every day? No problem! The Olympic Bike Shop allows guests to rent bikes for multiple days anywhere from one to seven days. This provides the perfect opportunity for Tahoe visitors to try out different trails and see all of the breathtaking scenery Tahoe has to offer.