Things to Do in Tahoe May 2013: TahoesBest.com Announces the Top Activities and Events in Lake Tahoe This May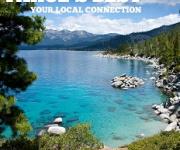 With the snow all but melted away and warmer weather here to stay, this month in Lake Tahoe says that Spring has officially arrived, and all of the Tahoe summer activities start back up again and begin to spike in popularity.
May in Tahoe is a wonderful time every year, as the lake and trails grow active, and travelers start flocking to the area to participate in their favorite outdoor activity. Cinco de Mayo celebrations, Mother's Day, Memorial Day weekend and other special events will be taking place throughout the month.
Tahoesbest.com has assembled all the need to know information on the top reopenings, concerts, holidays and things to do in Tahoe May 2013.
Mother's Day in Tahoe
Make this Mother's Day in Tahoe truly unforgettable with a special itinerary that will show mom how important she is. For a twist on the traditional Mother's Day Brunch, treat her to a luxurious Tahoe brunch cruise, taking advantage of the gorgeous scenery and giving mom the day she deserves. For a memorable experience back on land, visit one of the fantastic Tahoe casinos. Mom can try her hand at the slots or video poker for an entertaining afternoon and then relax poolside, play a game of golf or enjoy a nice meal at any of the Tahoe casinos afterwards. To ensure mom is truly pampered, head to one of the Lake Tahoe spas, where she can indulge in a rejuvenating facial or a relaxing massage.
Memorial Day in Tahoe
Say hello to the Summer season by celebrating Memorial Day Weekend in Lake Tahoe! Check out one of the awesome vacation rentals in Lake Tahoe so that you can enjoy the weekend at a home away from home, with all the amenities that make this holiday in Tahoe special. Cook up a barbeque in the warmer Spring weather, play games on the entertainment systems, relax by the pool or hot tub and be sure to make a beeline to the white sands and crystal clear waters of the Lake Tahoe beaches.
What to do in Tahoe this May
The arrival of May means that the sunshine and warmer temperatures are here to stay for the next several months, so take advantage of the exciting Tahoe outdoor activities. Fishing in Lake Tahoe is popular all year-round, and waiting for the big one to bite on the serene Tahoe waters is one of the most fun Tahoe activities for the whole family. Find professional fishing charters and get all the fishing secrets to help reel in the big guys, or go out on your own by renting a boat or some fishing gear. Check out the entire guide to boating in Lake Tahoe, because in addition to fishing, now is the perfect time to pick all the water sports back up. Try paddling for the first time, waterski or wakeboard, hop on a jet ski or get in a kayak, or head down the river on an exciting water rafting expedition. More of a land-lover? Explore the varied terrain of the area on bike or foot on the fantastic Lake Tahoe trails.
Tahoe Events May 2013
The Cinco De Mayo Festival takes place on May 4 and May 5 at Grand Sierra Resort and Casino, and will feature two full days packed with a variety of live entertainment and plenty of tasty Mexican food. Sammy Hagar will be putting on a Cinco De Mayo celebration at Harrah's May 4, 2013, which is a must-see for rock fans. The Shins will be performing at Montbleu Resort and Casino on May 11. Foodies won't want to miss the Best of Tahoe Chefs, a charitable event that takes place on May 19 at the Ritz-Carlton. This night of glamour consists of the most renowned chefs serving up their signature dishes, and the proceeds go to a wonderful cause to aid cancer patients. The Northstar Golf Course, one of the most popular golf courses in Tahoe, also reopens on May 17th in preparation for the summer season. Edward Sharpe and the Magnetic Zeros will be putting on a memorable performance at Montbleu Resort come May 23, 2013. Iconic band Jefferson Starship will be playing some of their biggest hits at Harrah's to close out the month on May 26.
In addition to all that's happening this month, many of the best hotels in Lake Tahoe are providing another great reason to visit. Several of the hotels and resorts are offering hotel deals like discounted rates on rooms, package deals that include a day on the golf course, a Tahoe cruise or complimentary meals, champagne and other goodies. Be sure to check out all the current Tahoe hotel deals to get the most out of a trip this May!