The Best Things to Do on Mother's Day in Lake Tahoe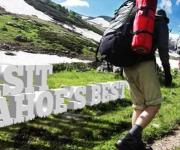 Spring is in the air and Mother's Day is just around the corner! Plan something extra special for mom this year with a trip to her favorite destination - Lake Tahoe!
This is a fantastic time of year to visit, as the temperatures are rising and there are tons of ways to treat mom to a vacation she'll never forget - whether she wants to take a weekend off to relax, let loose or have an outdoor adventure.
TahoesBest.com announces all the best things to do with mom for Mother's Day 2013 in Lake Tahoe.
Lake Tahoe Spas
To ensure that mom feels truly pampered on this special day, take advantage of some of the fantastic Lake Tahoe spas that will have her feeling rejuvenated in no time. The fresh mountain air and sublime Springtime weather are rehabilitating on their own, but couple those elements with a relaxing massage or facial, and mom will being feeling and looking her best. One World Healing Massage is the perfect spot to unwind and to have a masseuse work on that pesky kink in your back. Their experienced therapists perform Swedish and deep-tissue massages that will help with travel stiffness. Biospirit Day Spa is another great option for Mother's Day, as it offers full services, so indulge in a rejuvenating facial to get the skin glowing. For another great relaxing activity, check out one of the great yoga studios in Lake Tahoe. This is a great activity that the whole family can enjoy together one morning or afternoon, re-energizing for the exciting day ahead.
Casinos in Lake Tahoe
Trying to hit the jackpot at the casino is another one of the most popular things to do in Tahoe, and treating mom to an afternoon at the slots will be a memorable addition to any Mother's Day getaway. Horizon Casino is by far one of the best value casinos in Lake Tahoe. This casino has everything imaginable, from great gambling to awesome entertainment and delicious on-site dining, and the crowds are always lively making for an exciting atmosphere. Horizon Resort Casino is currently offering golf packages, so if mom likes to hit the green, definitely check out these amazing Lake Tahoe deals! Horizon is a South Lake Tahoe casino, but if the family wants to hang out in North Lake Tahoe, check out the Hyatt Regency Resort Spa and Casino. A picturesque setting that emphasizes the area's beauty is complemented by a full-service 24 hour Casino. Bond with mom at the entertaining video poker games and slot machines, and maybe she'll win enough to treat the family to lunch!
Outdoor Activities in Tahoe
Lake Tahoe's climate and varied terrain lends itself well to all of the outdoor activities which are the area's biggest draw. Arrange for a day of golf at one of the renowned golf courses in Lake Tahoe, which would be an ideal inclusion to the vacation itinerary whether mom is an experienced golfer or is game for trying it for the first time. Fishing is another activity that will bring mom and kids closer together, and is a serene way to take advantage of Tahoe's natural elements which is fun whether a private fishing charter has been rented from Action Water Sports of Incline Village, or a group expedition has been reserved for first-timers with Tahoe Sport Fishing Company. TahoesBest.com has a great guide to fishing in Lake Tahoe, whether you're a beginner or just looking for the best spot to rent a boat or drop a line.
The majestic Sierra Nevada mountains provide the perfect backdrop for a vigorous hike with mom, and there are so many fabulous trails in the area that customizing the perfect hike to match the group's skill level is easy. If mom is a bit of a daredevil, consider mountain biking on one of the trails, which will provide an exhilarating adventure and breathtaking scenery. There hiking and biking trails all over Lake Tahoe for adventurers at any level, so don't hesitate to get out there and break a sweat this Mother's Day.
Where to Stay in Tahoe
Deciding which of the Lake Tahoe hotels to stay at for a Mother's Day getaway just depends on which would be the best fit for mom and her family. The Resort at Squaw Creek is a top-notch resort that provides any amenity imaginable - swanky rooms, gorgeous views and relaxation await a stay at this Tahoe hotel. 3 Peaks Resort and Beach Club offers up more of an intimate experience, with its charming and comfortable cabins that are in close proximity to all of the top Tahoe attractions. Bringing the whole family along, or just want to treat mom to something extra special? Check out one of the vacation rentals in Lake Tahoe to find a home or cabin that will make this the most unforgettable Mother's Day ever!