The Best Things to do In Lake Tahoe January 2013: TahoesBest.com Plans for the Month Ahead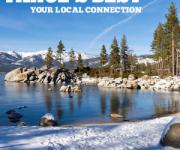 It's a new month and a new year, and Lake Tahoe has several events, things to do and opportunities for a great time this month. TahoesBest.com recommends several things to do in Tahoe this January, and a few deals to take advantage of while you're at it.
2013 has arrived, and with it, brings another year of activities. There are lots of things to do in Lake Tahoe this month. Some of the best things are ongoing, like taking advantage of the ski resorts over the next few months, and some are just this month. Discover all the best things to do in Lake Tahoe this January to start off the New Year in the most epic way possible.
Skiing in Tahoe Of course. This is the main reason to plan a trip to Lake Tahoe for the next few months and all the rest of the things happening this month are just icing on the cake. All of the Lake Tahoe ski resorts are up and running the season has gotten off to a great start.Many of the resorts and hotels in Tahoe are offering great deals that include discounted rooms and complimentary lift tickets for those that aren't season pass holders. Forest Suites Resort is offering a package that includes 2 free Heavenly Resort lift tickets. Tahoe Mountain Resorts Lodging Winter Savings includes 2 nights in a suite at the Village at Northstar and 2 days skiing at Northstar California. Horizon Casino Resort is catering to those who only have a little while to spare, and offers a 1-night package with a lift ticket to Kirkwood. Now is the time to snag those Tahoe hotel deals and winter savings and hit the slopes!
Last Chair Music FestivalThis weekend and next, Lake Tahoe welcomes a few DJs to Squaw Valley. Passion Pit and Foster the People will be in Lake Tahoe over the next two weekends with Lettuce, Bonobo, Random Rab, NiT GriT and Michal Menert. Four nights of bumpin' beats at one of the best venues in North Lake Tahoe. Squaw Valley is selling tickets to the shows, as well as combination tickets that include admission to the show and one adult lift ticket that, valid for one day that weekend (Friday or Saturday). Season passholders can score tickets for a little cheaper than everyone else. This isn't the only concert in Tahoe this month though. There's more January concerts, performances and events in Lake Tahoe, including Jonny Lang at Harrah's on January 12th and Jay Leno on January 25th at the Silver Legacy Resort.
Learn to Ski and Ride WeekThere are two Learn to Ski and Ride events this January 7-11 in Lake Tahoe. Everyone ages 7 and up can learn to ski or snowboard this winter at Tahoe Donner and Diamond Peak Ski Resort. Monday through Friday, January 7-11, Tahoe Donner will offer Learn to Ski or Snowboard packages at a discounted rate. Included in the package is an all-day lift ticket, rental equipment and a two hour group lesson. Diamond Peak is also hosting a Learn to Ski and Burton Learn to Ride packages on the same dates, for $29. These packages include one beginner lift ticket, rental equipment and a 1 hour, 45 minute lesson at either 10am or 2pm each day.
College Week at Sierra at TahoeAll it takes is a valid college ID from January 14-18, 2013 to get access to $57 full-day lift tickets at Sierra at Tahoe. Join the fellow co-eds for a week on the slopes, and stick around that weekend to see UC Berkeley's Big Band at Sierra-at-Tahoe at the base area and on the slopes Saturday and Sunday. The following week, Sierra-at-Tahoe is hosting NSAA Safety week and will be conducting giveaways, discounts on helmets and safety equipment, and educating skiers, riders and employees on the importance of safety. Join in on the fun activities they have planned throughout the week.
Anytime in January is a good time for a trip to Lake Tahoe. Keep up to date with the all the things to do, events and Lake Tahoe ski reports to plan the most unforgettable winter vacation.