The Best Things to do in Lake Tahoe In February 2013: TahoesBest.com Announces the Best Tahoe Events This Month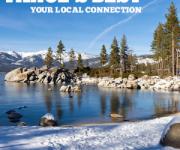 In February 2013, many people will be celebrating Valentine's Day, a long President's Day weekend and taking advantage of one of the remaining months of winter in Lake Tahoe. There will be plenty to do during each occasion, from romantic outings to special family-friendly activities. Book a room and start planning a trip this February, and make sure to include a few of these awesome things to do in Lake Tahoe all month long.
Super Bowl Parties in Lake Tahoe Don't miss Super Bowl Sunday 2013! Check out the Super Bowl Bash at Alpine Meadows at Last Chair Bar for $5 wings and nachos and $3 Coors Light, $3 Red Zone Shots and $5 Whiskey Gingers. Prizes are going to be given at the end of every quarter, so get there early and stay for the whole game. There's also going to be a Super Bowl Showdown at Squaw, hosting the game on a 16x21 foot "Diamond Vision" screen at the KT Base Bar. Most of the bars in Lake Tahoe will have the game on February 3rd, so any place is a good one to cheer on the 49ers, or the Ravens...
Lake Tahoe ConcertsStart the month of February off with one of the best concerts in Lake Tahoe this month! Ben Folds Five will be performing at Harrah's Lake Tahoe on February 2, 2013. Montbleu Resort is hosting several concerts throughout the month, including Iration on February 15, George Benson on February 17th, Jo Koy on February 23rd and STS9 on February 28th. Right after Valentine's Day, Harrah's new nightclub, Peek, will have it's grand opening, and Paris Hilton will be hosting!
Valentine's Day in Lake Tahoe This is the perfect opportunity for a romantic getaway in Lake Tahoe. Head out for a few days of world-class skiing, a romantic Snowshoe hike or a dinner date at one of the fine dining restaurants or a sunset cruise. There are tons of romantic things to do in Tahoe, whether this Valentine's Day is full of adventure or a luxurious weekend in a hotel suite. Any lady, or couple, will enjoy a trip to one of the spas in Lake Tahoe for a relaxing massage and rejuvenating day of pampering.Check out some of the romance packages offered in some of the current Lake Tahoe hotel deals. Many hotels are offering complimentary lift tickets to the nearby ski resorts, so you have a little extra dough to splurge on a romantic dinner. Other romance packages include champagne, a complimentary breakfast or a late check-out to make this trip last as long as possible!
Events at Tahoe Ski ResortsSeveral of the ski resorts in Tahoe are hosting special events this month. Check out the Women's Camp at Sierra-at-Tahoe February 2nd-3rd for a weekend of learning and fun for skiers and boarders. On February 9th, don't miss the Slide Back Retro Ski Party at Mt. Rose-Ski Tahoe, and keep the party going for the Fat Tuesday Mardi Crawl at Squaw Valley on February 12th. The Kid-O-Rama is going to be a week-long celebration (February 15-23) with trucks, parties, skating and concerts at Squaw Valley. For some friendly fun after Valentine's Day, challenge your boo to a race on "cupid's course" at Northstar California. This is going to be an epic month at these Tahoe ski resorts, make sure you're a part of it!
Check out all the great things to do in Tahoe while winter is still here! Many of the hotels in Tahoe are offering awesome deals and incentives that are hard to say no to, from lift tickets deals to Tahoe ski resorts to sweet Valentine's Day packages to charm any loved one with.