The Best Resorts for Spring Skiing in Lake Tahoe: TahoesBest.com Announces the Top Lake Tahoe Events and Lift Ticket Deals at Ski Resorts Spring 2013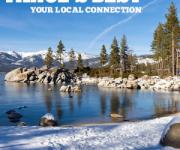 Many people prefer skiing in the spring because they don't have to deal with the harsh winter temperatures and bulky down jackets, and are more free to perfect their techniques and enjoy a playful day on the mountain. Plan a ski trip to Tahoe this spring, and enjoy these things and more at one of the best ski resorts for spring skiing. There are great times waiting in Lake Tahoe, so don't wait - Spring will be over before you know it. TahoesBest.com announces the best Lake Tahoe hotels for a ski trip this spring. These hotels and resorts are loaded with tons of things to do, conveniently located near the best ski resorts and are offering some deals that will be hard to pass up.
This is often considered the best ski resort for spring skiing and snowboarding due to the high altitudes. Higher elevation, deeper snow and lots of great events over the next few months are more than enough reasons to come to Kirkwood Lake Tahoe this spring. Head to Kirkwood for Easter break and bring the whole family to join the Easter Egg Hunt and later that night, check out the Tahoe Adventure Film Festival - a family friendly event that features some of the best sports adventure movies of the year.
Horizon Casino Resort is offering a Tahoe ski deal through April 14th for one night with one free lift to Kirkwood Mountain and additional lift tickets available for $64. This is the perfect deal to book for a weekend getaway. Enjoy a day of skiing, a night in the casino, an afternoon in the spa - this is one of the last chances you'll get to ski in Tahoe before the seasons over, so make it count.
These two resorts have great exposure and are conveniently located near the best restaurants, nightlife and things to do in Tahoe. What's even better is that one lift ticket provides access to both ski resorts, over 6,000 acres of skiable terrain. There are tons of events happening at Squaw Valley this spring. Get a groove on at one of the festivals and concerts like SnowBash on April 13th and 14th and the Village Apres Music Series going on every weekend throughout March and April. There's also a Spring Music Series to check out at Alpine Meadows over the next few months. Also at Alpine Meadows are great events like the Ice Bar Party on March 24th and April 7th or Snow Golf at the only top-to-bottom snow golf course on April 13th.
Take advantage of the Squaw Valley Ski and Ride package at Squaw Creek this spring, which includes great rates for 2-3 nights of deluxe accommodations and 2 adult lift tickets to both ski resorts!
Boasting some of the most beautiful panoramic views in the area, Heavenly is a must visit ski resort in Tahoe before the ski season is over. This Spring at Heavenly, the Heavenly Spring Loaded festival brings together some of the best things to do during springtime in the mountains! This two week event is a non-stop party with concerts, competitions, gambling, partying and some of the best ski and snowboard conditions of the year. From March 29 through April 14, head to Heavenly for an unforgettable experience.
Horizon Casino Resort is one of the best places to stay in Lake Tahoe this spring, especially for those planning on spending time at Heavenly Ski Resort. Book the Heavenly Ski Package at Horizon Casino Resort for 1, 3 or 5 nights and take advantage of rooms starting as low as $149. In addition, this Tahoe ski package includes one adult lift ticket to use throughout the stay. Additional tickets starting at $89 each. Enjoy all of the fun things to do on site at Horizon Casino Resort, and a convenient location just minutes from Heavenly Mountain.
Some of the steeper trails close as the weeks pass, but there is still lots of fun in Lake Tahoe to be had throughout the season. There's no better time to start planning a ski trip to Lake Tahoe.