TahoesBest.com Reveals The Best Lake Tahoe Hotels With Deals for the Weekend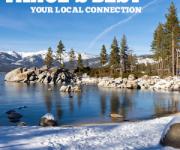 It's going to be a beautiful weekend in Lake Tahoe, so now the time to start thinking about a trip to one of the best ski resorts in the world. TahoesBest.com lists the best Lake Tahoe hotels with deals to use for a trip this weekend.
There's really never a bad time for a trip to Lake Tahoe, but there's no time like the present. The temperatures are perfect for a weekend getaway packed with skiing, partying and even some time for relaxing. There are quite a few hotels in Lake Tahoe offering deals for a last-minute trip, or any future trip you might be planning. Pick a Lake Tahoe ski resort to visit like Northstar, Heavenly, Diamond Peak or Kirkwood and find a hotel with a great deal nearby. TahoesBest.com has made a list of some of the best hotels offering deals and ski packages close to many of the top ski resorts this weekend.
South Tahoe Lift Ticket DealsForest Suites Resort in South Lake Tahoe is less than 100 yards away from the Heavenly lift gondola, and offers 2 free lift tickets with each suite for a long weekend. Stay 5 nights and receive 2 free lift tickets to Heavenly, Northstar or Kirkwood Ski Resort. Forest Suites is also offering 2 free lift tickets to Sierra at Tahoe on 4 night stays. Enjoy days filled with skiing at Tahoe's finest resorts, but the fun doesn't stop there. Forest Suites is just minutes from all the things to do at Heavenly Village including great restaurants and shopping. Get out there and enjoy this vacation to the max, or stay in and relax in a luxury 1 or 2 bedroom suite and take advantage of any of the on-site spa services.
Discounted Hotel Rates in South Lake TahoeThe Blue Lake Inn in South Lake Tahoe is another great Tahoe hotel just a few short minutes from the Heavenly Gondola and all the attractions at Heavenly Village. The Blue Lake Inn offers a complimentary breakfast every morning, complete with Starbucks coffee, and it's hard to beat these great Tahoe hotel deals. On top of the already low prices at The Blue Lake Inn, they also offer up to 30% off on winter getaways. Enjoy a comfortable and affordable hotel in Lake Tahoe, and to make it even better, bring the family pet along. He probably needs a getaway too.
North Tahoe/Incline Village DealsThe Hyatt Regency Lake Tahoe Resort Spa and Casino is a great place to spend a weekend and really let loose. This hotel offers luxury rooms loaded with amenities and some of the best things to do in Tahoe both on site and nearby including a 24 hours gym, tons of variety at the casino and a four year-round restaurants. This season, the Hyatt Regency is offering a Diamond Ski Package that's pretty hard to resist. The Diamond Peak Ski Resort is just 2 minutes from the Hyatt, and guests receive 2 complimentary adult lift tickets for every night of their stay. There's a complimentary door-to-slope shuttle every 30 minutes and ski valet. After a long day or two on the slopes, relax a little before going back to real life with 15% off at the Stillwater Spa. This Tahoe hotel really has the whole package.
Several Lake Tahoe hotels that provide the perfect spot for a weekend getaway, but some of them are currently offering some killer deals that make the decision to book a trip to Tahoe this weekend an easy one. It's time to start thinking about a trip this winter, and these deals are just waiting to be used up.