The Best Tahoe Hotel Deals Spring 2013: Tahoesbest.com Reveals the Top Last Minute Tahoe Ski Packages and Spring Savings in Lake Tahoe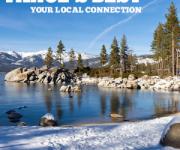 Spring in Lake Tahoe is an ideal time of year to visit, as winter sports like skiing and snowboarding are still ongoing, but the area is also transitioning to warmer weather with greenery and flowers beginning to blossom, and summer activities like golfing, hiking, paddling and more are steadily becoming be available to visitors. Save some money with the great discounts and Tahoe hotel deals, whether it's a ski trip to take advantage of the end of ski season, a family vacation, a romantic getaway or anything else. TahoesBest.com can help find the best deals to make this trip affordable and ensure that it's loaded with all of the best things to do in Tahoe.
Tahoe Vacation Rental Deals
Staying in a hotel is nice, but having a beautiful home to yourself is even better. This South Lake Tahoe Rental is nestled into the Sierra Nevada mountains, and is ideal for for a romantic Lake Tahoe getaway or a fun family vacation. TahoesBest.com has named this South Tahoe Vacation Rental a top choice for a pet friendly rental for their convenience, amenities and great deals. This Spring this fantastic retreat has a few irresistible savings, including their Spring deal is $175 a night with a three-night minimum, and lasts from April 1 to May 30, 2013. Those planning on staying at this beautiful Lake Tahoe vacation rental in June can still secure rates of $250 a night, and the deals extend to the summer with July and August rates at $350 a night. Guests who stay connected through social media, like their Facebook page and save 10% off nightly rate year-round.
South Lake Tahoe Hotel Deals
Looking for a cozy and intimate place to stay on this next Lake Tahoe trip?
The 3 Peaks Resort & Beach Club is a year-round destination for travelers, and there are currently rooms available for as low as $42 a night this Spring. This South Tahoe hotel features spacious rooms, a private Lake Tahoe beach once things warm up this spring, and a convenient location near top restaurants, casinos and the Heavenly Gondola.
Horizon Casino Resort Lake Tahoe offers deals for every occasion this spring. Their ski packages will accommodate travelers looking to take advantage of the last days of the ski season in Lake, and the golf getaway package will easily accommodate those ready for a vacation during the warmer days of spring in Lake Tahoe. It's almost time to start golfing in Tahoe again, and this hotel is located near some of the best golf courses in Lake Tahoe. This South Tahoe resort has it all, from luxurious suites to relax in to all the entertainment one could hope for in the casino, and every trip here is full of excitement.
Anyone searching for a North Lake Tahoe hotel that combines a stunning setting with all of the fantastic amenities of a full-service resort should check out The Resort at Squaw Valley, which is offering some truly great deal packages this Spring. Optimally located near top ski resorts and other fun things to do in Lake Tahoe, this resort is a perfect choice for anyone looking to fit some skiing into their spring itinerary before the snow melts away. The Ski and Ride package expires on 5/16 to coincide with the end of the Lake Tahoe ski season, and includes a deluxe guest room for two to three nights, along with two adult lift tickets to Squaw Valley or Alpine Meadows. Those coming with the family for a Tahoe Spring Break can take advantage of the Spring Break Bed and Breakfast package which is being offered until 5/14 and consists of a breakfast credit for the delicious in-hotel restaurant, in addition to deals on the room rates.
Another wonderful option for a North Lake Tahoe vacation stay is the Hyatt Regency Lake Tahoe Resort. This hotel is the epitome of mountain luxury, and is offering a Bed and Breakfast package that is worth taking advantage of at this Lake Tahoe hotel. The breathtaking views, convenient location and first-class amenities are complemented by breakfast in the hotel restaurant to help get an energy boost for skiing of any of the other popular Lake Tahoe activities that are nearby.
Many Lake Tahoe ski resorts are now selling passes for the 13/14 ski season. This is ones of the lowest prices they'll be listed at all year, so it makes sense to plan ahead and purchase a ticket now to save some money for a Lake Tahoe trip in the future. Check out deals for all the ski resorts in Lake Tahoe to find last minute savings for before this ski season runs out, or to start planning ahead for next season. Spring is the time for savings in Lake Tahoe, so save a weekend to come out to Tahoe and take advantage of all the discounted rooms and awesome discounts on things to do in Tahoe this Spring, like skiing, rafting and boating!