Things to Do in Lake Tahoe in Fall 2013: Best Fall Activities in Lake Tahoe Announced by TahoesBest.com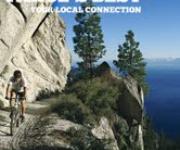 There really isn't a bad time to visit Lake Tahoe, and fall in Lake Tahoe brings a chance to plan a peaceful getaway before the flocks of ski bums cram into their buses and make their way up for the snowy season. With so many things to do in Lake Tahoe, the editors of TahoesBest.com have put together a guide to Lake Tahoe in the fall.
Enjoy the peaceful wonder of Lake Tahoe during the fall with quintessential Lake Tahoe activities without the crowd. The experts at Tahoesbest.com recommend Hang Gliding Tahoe, fly fishing, hiking and finishing it all up with a refreshing massage.
Hang Gliding Tahoe
Soar above the pristine lake with Hang Gliding Tahoe. There is nothing more exhilarating than looking down on a deep blue lake, with a bird's eye view of the mountains. Fall is the perfect time to try it out; just as long as there is no nose diving involved! As the weather gets colder, Hang Gliding Tahoe brings out the good stuff with heated clothing, so it's never too cold to fly.
Try a Hand at Fly Fishing
Get those waders on and reel in the big boys! With the Lake Tahoe record breaking salmon recently caught, be the next to grab one of those delicious water dwellers. Don't flounder around alone, because Matt Heron Fly Fishing provides not only classes for all levels, but guided trips to local fishing goldmines.
Hiking in Lake Tahoe
No snowshoes necessary...yet! Though we love hiking through the snow, there is nothing like a Lake Tahoe fall hike before the snow hits. From the famous Tahoe Rim Trail to popular short hikes, Lake Tahoe is a mountaineer's mecca. Get the mini mountain men and women out on the trails on a family friendly hiking trail.
Spa Time at One World Healing
With so much Lake Tahoe exploration, be sure to get some relaxation time in as well. One World Healing Massage is open 7 days a week and is available for in- office visits or out- calls by appointment. From traditional Swedish massage to deep tissue or prenatal massages, One World Healing can be the perfect end to an activity packed Lake Tahoe vacation.