Sushi Pier Tahoe
South Shore (NV)
Location
177 Lake Tahoe Blvd
Stateline
,
NV
Cuisine

Asian

Hours

Mon.- Sat. 11:30am - 9:30pm, Sun. 11:30am - 9pm

Price

$$
Pricing Guide - Cost of one meal
$ - $10 and under $$ - $11-30 $$$ - $31-60 $$$$ - $60 and above
Summary
Features: This all-you-can-eat sushi bar restaurant is a favorite in South Lake Tahoe, perfect for super hungry patrons ready to take their stomachs to the limit. Family-owned and operated Sushi Pier Stateline Nevada also serves a variety of hot and cold sake.
Why We Dine: At this premier sushi joint, the $18.95 all-you-can-eat lunch deal is perfect for those looking to chow down after a long day. For being in Nevada, more than three and a half hours away from the ocean, the sushi is super fresh.
All-you-can-eat: For those who think they can compete in food eating contests, this price is well worth it compared to ordering a la carte. Sushi Pier South Lake Tahoe keeps on serving the goods until you can take no more.
Friendly atmosphere: This Lake Tahoe Sushi Pier restaurant boasts a family friendly atmosphere that manages to be sophisticated, casual, and intimate all at the same time.
Happy Hour: Like many sushi restaurants, Sushi Pier South Lake Tahoe offers a nice happy hour. Two drinks for the price of one!
Inside Knowledge: The wait can be long at Sushi Pier Tahoe, so try to go at earlier hours or preferably lunch instead of dinner. Even when you get seated during busy times, your sushi will take longer to prepare. Reservations are unavailable.
We Recommend:
Long Rolls: When you're eating all-you-can-eat, don't waste valuable stomach space on hand rolls and nigiri, which feature a disproportionate amount of rice. Instead, try the various creative long rolls such as the Mountain, How We Roll, 007, and the Ava, mixing and saving room for more flavors.
Sake Selection: Sushi Pier South Lake Tahoe features the uniquely Japanese smooth sake in its full-bar. Available served both hot and cold, sake is the perfect solution to washing down that extra bit of rice at the end of your meal.
Restaurant Amenities
Buffet
Easy Parking
Full Bar
Kid Friendly
Outdoor Seating
Take-Out Available
Wheelchair Access
Happy Hour
Sushi Pier Tahoe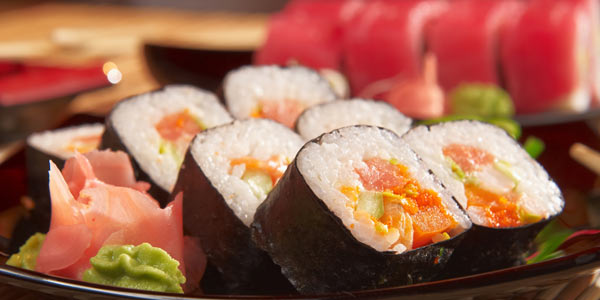 Sushi Pier Tahoe Information
Info
Location:
177 Lake Tahoe Blvd
Stateline, NV 89449
View Map
Phone:
775.588.8588
Hours of Operation:
Mon.- Sat. 11:30am - 9:30pm, Sun. 11:30am - 9pm
Additional Info:
All you can eat everyday
Quick Facts
The Sushi Pier Stateline Nevada offers all-you-can-eat sushi seven days a week.
Long waits are common at the Sushi Pier South Lake Tahoe location, so don't get discouraged.
Order any drink you want from the full bar at Sushi Pier.
The family friendly atmosphere inside Sushi Pier is inviting and a great place for a family dinner.
Restaurant Website:
http://sushipiertahoe.com/
Restaurant Menu:
http://legacy.ybsitecenter.com/images/kop/var/bz/103376/894257-Menu.pdf

Fun things to do in South Shore (NV)
User Average Review
Overall:
Menu:
Ambience:
Location:
Service:
Based on 0 reviews
Rating Distribution
0.0% recommended it
Sushi Pier Tahoe Reviews

There are currently no reviews!


Not what you're looking for? Check out these nearby restaurants.
*Some images shown above are not actual photos from the restaurant, but category representations. Visit the restaurant's web site for actual photos.
Need some nearby lodging? Check out these great South Shore (NV) hotels
The Luckiest Players Can Be Found At Lakeside Inn and Casino Lake Tahoe!

Address: 168 Highway 50 Stateline, NV 89449

Harrah's Lake Tahoe Resort and Casino Is the Best Family Friendly Casino Resort in Tahoe

Address: 15 Hwy 50 Stateline, NV 89449

Enjoy Newly Renovated Luxury Accommodations at Harveys Resort and Casino

Address: 18 Hwy 50 Stateline, NV 89449

Find Everything You Came to Tahoe for at the MontBleu Resort Casino and Spa

Address: 55 Hwy 50 Stateline, NV 89449

Ridge Pointe Tahoe Hotel has Condos with Excellent Views

Address: 455 Tramway Stateline, NV 89449