TahoesBest.com Announces the Best Tahoe Hotels to Stay Warm This Weekend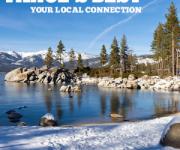 With 5-6ft of snow expected by Sunday, December 23rd, it's going to be a cold weekend in Tahoe. Conditions are perfect and snow bunnies will be hopping their way to the slopes so TahoesBest.com has narrowed down the best Tahoe hotels to stay warm this weekend.
Conditions in Tahoe are shaping up beautifully for this weekend and into the Holiday break. With 5-6 ft of fresh fluffy powder expected by Sunday, the skiing and boarding at all the Tahoe ski resorts is expected to be epic. It's a great time to book a last minute trip to this winter wonderland, take in the views and spend a few days skiing or snowboarding in the powdery slopes of Lake Tahoe.
For all last minute travelers, here are TahoesBest.com's picks for the best Tahoe Hotels to stay warm this weekend:
This weekend is going to be some of the best skiing and snowboarding of the year in California. Mountain enthusiasts won't want to miss the action so book a last minute stay at one of the best Lake Tahoe hotels for this weekend and spend the next few days playing in powder.