A Tahoe Winter Wonderland: A Guide to the Best Winter Accommodations in Lake Tahoe by TahoesBest.com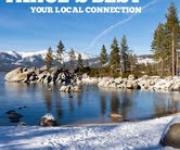 Lake Tahoe is known for its incredible winters, with beautiful snow capped mountains and that wonderful smell of pine drifting through the crisp air. Lake Tahoe winters bring so many incredible activities and things to do in Lake Tahoe, so TahoesBest.com has put together a guide to all of the best accommodations to consider when planning a Lake Tahoe winter getaway. Lake Tahoe travelers can use this guide to find the best places to stay this winter.
Hotels and Resorts
With so many options for incredible Lake Tahoe hotels and resorts, it is hard to choose just one. For rather than booking single nights and trying them all (the musical chairs of vacationing), try one of these all star accommodation choices.
-3 Peaks Resort & Beach Club
Located in South Lake Tahoe, 3 Peaks Resort & Beach Club boasts not only an incredible location, but unbeatable accommodations with cabin style decoration. From cozy one-bedroom rooms to a five-bedroom cabin, 3 Peaks Resort & Beach Club offers everything for a memorable winter vacation.
-The Resort at Squaw Creek
Lake Tahoe vacationers will love The Resort at Squaw Creek, a luxury resort that has everything from fine dining to an ice-skating rink! Bring the munchkins and enjoy the Mountain Buddies program, with winter outdoor activities for kids to enjoy while parents get some alone time.
-The Village at Northstar
With accommodation options for romantic escapes or the hustle and bustle of family vacations, The Village at Northstar gives vacationers the best ski in - ski out options for a Lake Tahoe winter getaway. With shops, restaurants and things to do found in The Village at Northstar, Lake Tahoe travelers won't even have to get in the car!
Vacation Rentals
Lake Tahoe vacation rentals give vacationers a more private experience, but it's tough to locate the best option when it seems like half the buildings in Lake Tahoe are rental homes. The options are endless, but here is a guide to the Lake Tahoe vacation rentals that deserve a shout out.
-Tahoe Select Rentals
With incredible Lake Tahoe vacation rentals all over South Lake Tahoe, Tahoe Select Rentals has a massive array of possibilities. From modest cabins to luxury homes, Tahoe Select Rentals offers the best assortment of accommodations in South Lake Tahoe. Ranging in price, size and location, it is hard to miss when looking for the perfect vacation rental in South Lake Tahoe.
-Buckingham Tahoe Luxury Properties
With gorgeous possibilities for relaxing white winter escapes, Buckingham Luxury Vacation Rentals in South Lake Tahoe brings comfort to the next level. Imagine gazing upon a still and pristine Lake Tahoe after a long day of exploring and skiing. These is no better way to enjoy a Lake Tahoe vacation.
-Carnelian Bay Vacation Rentals
Carnelian Bay Vacation Rentals provides the best options for vacation rentals in North and West Shores of Lake Tahoe. Affordable cabins and beautiful lakeview options give Lake Tahoe vacations the chance to sit back and relax as the snow falls.