A Guide to Spring Weddings in Lake Tahoe, by TahoesBest.com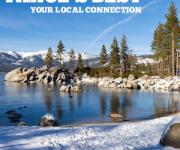 Spring is a beautiful time of year in Lake Tahoe, with snow on some of the mountains, and crisp, warmer air at all the beautiful resorts and beaches. Indoor and outdoor weddings are both popular choices in Lake Tahoe this time of year, and of course no happy couple can go wrong with either in these parts. TahoesBest.com recently revealed the best wedding venues in Tahoe this year, and is now here to help with a guide to help out with every wedding detail, from the best photographers to honeymoon suite. Don't just think these are only applicable in the spring though, because all these Tahoe wedding services work hard to make bride and grooms happy year-round, and make every wedding a memory that will be cherished by everyone in attendance forever.
Wedding Planners in Tahoe
Those who are planning a destination wedding in Tahoe, and those who live nearby, can rest assured that every detail of their dream wedding will be taken care of with one of the fabulous wedding planners and coordinators in Tahoe. Wedding Planning by Felicia Events provides a full range of customizable services that take care of every aspect of the wedding, including full coordination, supervised wedding planning, wedding day assistance and everything in between for event locations all over the Tahoe and Reno area. Felicia is a passionate wedding coordinator that loves helping couples find the perfect venue, plan the perfect menus for every wedding event, assist with out of town guests and transportation, and even caters to eco-friendly ideas and budget planning. Check out all of the best wedding coordinators in Tahoe to ensure the entire wedding planning process and day-of events will be hassle free and that everything will turn out exactly the way you've always wanted it.
Tahoe Wedding Photographers
It's guaranteed that every wedding in Tahoe will be beautiful and memorable - there's no place in this area that doesn't take everyone's breath away. Every special moment at a wedding deserves to be captured by someone who will do the moment and the memory justice, and these wedding photographers and videographers are the best in their trade. Leslie Timmerman Photography has been capturing special occasions for more than 20 years, and there are few others that capture the experience, emotions and candid shots the way that she does. Tim Halberg is a wedding photographer with a motto every happy couple in can feel good about - Adventurous. Playful. Indulgent. Tim Halberg exceeds at capturing the playful moments and the free spirited essence at decadent Tahoe weddings. His photos have been featured in many prominent publications, and will surely earn a spot in a wedding album. Michael Forrest Photography strives for a mix of classic photography, artistic beauty and spontaneous candid shot, which makes a wedding album more special than anyone could imagine. Michael offers custom packages to fit every clients needs.
Tahoe Wedding Catering
One of the most important aspects of the wedding for the guests is the food, and TahoesBest.com knows the best caterers in Lake Tahoe to make a wedding this spring unforgettable. Later this season, many will enjoy an outdoor wedding either on-site or cated by Murphy's Pub in South Lake Tahoe. They offer so many different cuisines, including their famous Irish food, and will cater anywhere in Tahoe, but their venue is especially beautiful this time of year! As You Wish Catering is an excellent choice for weddings in Tahoe and Reno, as they specialize in all of the freshest ingredients, various cuisines and provide 100% satisfaction guaranteed.
Full Service Weddings in Lake Tahoe
Many venues in Tahoe offer full-service weddings that allow every bride and groom to customize a menu with the gourmet chefs onsite. Beach Retreat & Lodge Tahoe provide several fabulous wedding packages that take advantage of the various options weddings at this beautiful beach venue can offer. Choose between their beach weddings, a ceremony on their pier or say 'I do' in their wedding chapel, which has some of the best views of the water and surrounding mountains. South Lake Tahoe Weddings provide so many different wedding packages at locations around Tahoe, and work with the best wedding coordinators and venues to create a wedding every bride and groom will be thrilled with.
Planning a wedding can be stressful, but Tahoe wedding planners and full-service resorts make the planning easy, and the photographers, caterers, entertainers and fabulous venues make this a wedding that everyone will enjoy and remember forever. TahoesBest.com can help find the best wedding assistance in the area for every need, and even the best hotels in Tahoe for the guests and Lake Tahoe deals to make all the rest of a weekend's adventures affordable. Planning a wedding doesn't have to be stressful this spring!