Lake Tahoe Winter Guide: Winter Vacation 2013 - 2014 Things to Do and Where to Stay Compiled by TahoesBest.com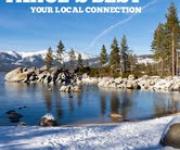 LAKE TAHOE, CA--(Marketwired - Nov 11, 2013) - So let the snowball fights and sled rides ensue! With another Lake Tahoe winter only weeks away, the editors of TahoesBest.com have put together a winter vacation guide to the upcoming snowy season. No need to stress about where to stay or what to do this winter vacation, we have it covered! So sit back with a cup of steamy hot cocoa and leave the planning to the pros.
TahoesBest.com recommends cuddling up at 3 Peaks Resort, the Pepper Tree Inn, The Ridge Resort or a vacation rental for the best winter vacation lodging options. Don't miss out on the fun and try a Lake Tahoe helicopter tour, snowmobiling, or hiring a personal chef to cook for an after ski get together.
Where to Stay
3 Peaks Resort and Beach Club - South Lake Tahoe, CA
Whether Grandma wants to go on a family vacation, or it's a romantic winter getaway, the 3 Peaks Resort and Beach Club has the perfect accommodations. From comfortable hotel rooms, to classy suites, to an incredible five bedroom cabin, 3 Peaks Resort and Beach Club offers a convenient Lake Tahoe location for an even more convenient low price (starting at $39).
Pepper Tree Inn - Tahoe City
Perfectly located 2-star motel/hotel in the heart of downtown Tahoe City and just across the street from Commons Beach & the Tahoe City Marina. Guests can walk to restaurants and bars and easily drive to any of the North Shore ski resorts. Consistently high guest ratings and comments such as "great prices," "excellent value" and "scenic views." Free continental breakfast and wireless Internet make this a solid all-around choice.
The Ridge Resort - South Lake Tahoe, NV
Situated high above Lake Tahoe amongst the towering Sierra Nevada pines, The Ridge Resort offers spectacular majestic views that will simply take your breath away. A full-service resort that offers high quality amenities, beautiful condominium style rooms, specials, packages and deals and more. Bottom line -- Views, views and more views... and all just 5-minutes from South Shore's vibrant downtown.
Horizon Casino Resort - South Lake Tahoe, NV
Central location, over 500 rooms, casino (with the newest and hottest slots), world-class entertainment, free live music and dancing, bar, restaurants (buffet to gourmet), eight (yes 8) on-site movie screens -- all at an affordable price in the heart of South Lake Tahoe. Walk to Lake and Heavenly Gondola.
The Village at Northstar™ - North Lake Tahoe
Luxurious condominium style accommodations are slopeside in the new Village at Northstar™ and homes & cabins available at Old Greenwood, Lake Tahoe's premier four season resort community. Specials and seasonal deals available. Best feature is you feel like you've been dropped directly into a beautiful ski village with no reason or desire to ever leave...
Vacation Rentals in Lake Tahoe - Offered Lake wide
In Tahoe there are literally hundreds of vacation rental cabins, homes and condos located all around the Lake and in all price categories from "cheap" to "super-luxury." Vacation rentals in Lake Tahoe are perfect for groups, families trying to pack'm all in, or couples looking for a more intimate getaway. Features & amenities range from showroom quality kitchens, Jacuzzi tubs, pool tables, high tech entertainment systems to lakeside & ski-in/ski-out. $$$ Hint -- If you are with a group of any size, the cost per person, per night is often much lower with a rental when compared to a hotel or resort. Best advice -- there is always last-minute inventory available but book early if you want choices.
What to do
Soar through the sky with Reno Tahoe Helicopters, and enjoy the best vista in Lake Tahoe. Tour duration lasts anywhere from 10 to 60 minutes, and options include both South and North shore landmarks. View the splendor of Lake Tahoe from the clouds for $70 to $400. Children under 2 fly free!
Sierra Mountain Snowmobiling
Zoom through the powder on a Lake Tahoe snowmobile! This exhilarating Lake Tahoe activity is a must try, and is an incredible way to explore the mountainous terrain. Snowmobiles can fit up to two riders, so grab a friend and zip through the snow. Cost is $50 per half hour.
Personal Chef Service
Make any trip to Lake Tahoe a memorable one with Chris' Kitchen Collaborative. Personal Chef Chris A. Taylor works with patrons to compile the perfect personalized menus with exquisite service. Make this winter vacation one to remember, and invite Chris to the vacation rental to cook up something special for a dinner party (or family feast!). Chris is able to accommodate any dietary needs, and make the meal unforgettable. For more information, visit www.CKCproject.com.
Lake Tahoe Fishing
Yes, fishing! Some of the most experienced career anglers offer guide services on Lake Tahoe year-round. It sounds nuts but it's not and the fishing is awesome in the winter with the Mackinaw season open all year.
Ski & Snowboard
Breathtaking views, majestic mountains, sunny days and over 400 inches of snow each year. If that all sounds good then pick from one of Tahoe's over 18 world-class resorts. Tahoe's popular and vibrant South Shore boasts Heavenly (one of the "big boy" resorts in acreage with terrain in both CA and NV) and Kirkwood (locals love it). On the North Shore the popular resorts are Squaw Valley (hosted the 1960 Winter Olympics), Alpine Meadows (lots of snow and now joined with Squaw for shared tickets), Sugar Bowl (easy access from the Bay Area), Diamond Peak (views...) and Northstar (families love it). Homewood is your best (only only) option on Tahoe's beautiful West Shore. All have plenty of lodging options.