Family Friendly Lake Tahoe Winter Activities: Top Things to Do in Lake Tahoe With Kids This Winter 2013-2014 Listed by TahoesBes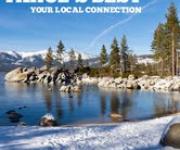 With winter upon us, TahoesBest.com editor Lindsey Skinner explains, "Lake Tahoe is such a family and kid oriented winter vacation destination -- there are soooo many incredible things to do. For kids, it's (obviously) not about the after ski wine-tasting or a romantic Emerald Bay dinner cruise… It's about hot chocolate and bundling up with the family after a long day on the slopes, sledding hill or that snowball war zone in a nearby meadow."
So pack the bags, grab the kids and enjoy Tahoe's best things to do with kids this winter compiled by the editors of TahoesBest.com. Here's a sample of Tahoe's best of the best:
Helicopter Ride
Yeah! The perfect activity for both parents and kids to enjoy. Lake Tahoe helicopter tours not only provide the most breathtaking views of Lake Tahoe, they are an exhilarating adventure and kids absolutely love them. Share a memorable helicopter ride with Reno Tahoe Helicopters and watch faces light up with excitement.
Fishing on Lake Tahoe
Most people wouldn't think fishing and winter belong in the same sentence, but Lake Tahoe winter fishing proves them wrong! There's nothing like a little father/son bonding over a morning of fishing. Pack a picnic and spend the day together. Fishing is allowed around Lake Tahoe year round -- just be sure to buy a permit or check out one of the many talented and experienced guides like Tahoe Sport Fishing out of South Tahoe.
Sledding
There's nothing like a little old fashion fun... so grab a sled and hit the hills! Buy a sled at most gift shops/corner stores, or opt for the old school way and use a trash can lid. For free sledding try Tahoe Meadows at Mount Rose. Or pay for amenities (aka bathrooms) at North Tahoe Park, Granlibakken, or Hansen's Resort ($5 - $10). Lake Tahoe family fun!
Skiing/Snowboarding
Ski resorts have ski and snowboard classes for never-ever beginners up to experts, so be sure to get the kids out on the slopes for an entertaining experience. Need a place to rent skis? Try Porters in North Tahoe and Heavenly Sports in South Lake Tahoe for great deals on adult and children ski rentals.
Festival of Trees
A kid's holiday favorite -- Festival of Trees is back for its 5th annual event. This festive event will take place Wednesday, December 4 through Sunday, December 8 at the MontBleu Convention Center. Kids love writing letters to Santa, the "Teddy Bear Hospital," and sitting on Santa's lap. Don't miss family night on December 6 ($25 admission per family).
Sleigh Ride
An all time Lake Tahoe family favorite, horse drawn sleigh and carriage rides always have kids swooning. Join in on the Lake Tahoe winter fun with a sleigh ride that has kids talking about the magic for months to come. One hour rides are $50 per adult, and $25 for children under 11. Sleighs come equipped with comfortable blankets for snuggling close and enjoying the ride. Check TahoesBest.com for details.
Ice Skating
Nothing says Lake Tahoe winter vacation like a day spent ice skating. Try the Heavenly Village Ice Rink (outdoor), The Resort at Squaw Creek (outdoor), Northstar Village Ice Skating Rink (outdoor), Truckee Ice Rink (outdoor), or the South Tahoe Ice Arena (indoor) for a fun filled afternoon of skating. The kids will love it, and we know parents will get a kick out of it too.