Mokelumne Wilderness is located between Highway 88 to the north and Highway 4 to the south. This wilderness is just south of the Lake Tahoe Basin. The Mokelumne Wilderness is a 105,165 acre wilderness that is jointly managed by the Eldorado, Stanislaus, and Toiyabe National Forests. Permits are required for overnight hiking. Wood fires are prohibited and allowed in other areas. For the Mokelumne Wilderness day hikes accessible from HWY 88, please see our Mokelumne Wilderness page. For day hikes in other parts of the Wilderness and for overnight hiking information, follow these links to either the Eldorado or Stanislaus National Forests.
Granite Chief Wilderness overlooks the northwest portion of the Lake Tahoe Basin and is adjacent to the Alpine Meadows and Squaw Valley Ski Resorts on the Tahoe National Forest. This 25,680 acre wilderness is not as crowded as Desolation and hikers are not required to have wilderness permits at this time. Campfires are allowed with a current California campfire permit. Some camping restrictions are in effect in the Five Lakes Basin and along portions of Five Lakes Creek to protect fragile resources. Please see the Granite Chief Wilderness page for current information.
Mount Rose Wilderness is one of the nation's newest designated wilderness areas and is located in the extreme northeastern portion of the Lake Tahoe Basin This wilderness lies on both the Lake Tahoe Basin Management Unit and Humboldt-Toiyabe National Forest. Access to this scenic area can be obtained from the Mt. Rose Hwy. (Hwy 431). Wilderness permits are not required. Campfires are allowed with a current campfire permit. Additional information can be obtained by visiting the Humboldt-Toiyabe National Forest.
Meiss Country is another spectacular area for exploring. Though not designated a wilderness by Congress, this 20 square mile area between Luther Pass (Hwy. 89) and Carson Pass (Hwy. 88) contains 6 major lakes in a glacial sub-alpine zone. Hikers, equestrians, and mountain bikes are allowed (mountain bikes are not allowed on the Pacific Crest Trail). California campfire permits are required. Please see the Meiss Country page for additional information.
Awesome Map of Wilderness Areas in Lake Tahoe
You can select a wilderness area by clicking on the map below. This will take you to a page or different web site containing more detailed information about that wilderness.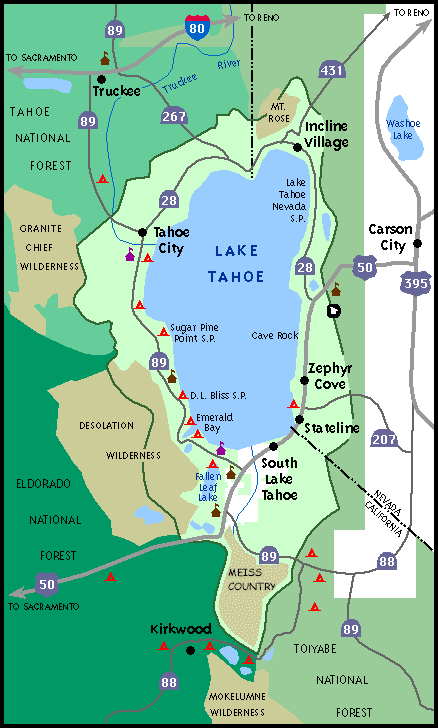 Leave No Trace
Wilderness areas can provide breathtaking vistas and quiet solitude. They are special places that require special behavior from each of us. Regulations alone will never guarantee protection of these special places, that will come only with your understanding of what not to do when visiting. Please learn more about Wilderness Ethics.
Information presented on this WWW page is considered public information and is provided as a public service by TahoesBest.com and the USDA Forest Service.