Tahoe's Best Things to Do Other Than Skiing This Winter 2013 - 2014: Top Activities Without a Chairlift Listed by TahoesBest.com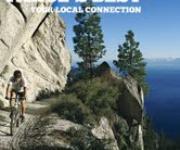 With winter just around the corner, the tourism specialists at Tahoesbest.com have compiled a list of some of the best Tahoe activities other than skiing and boarding. Lake Tahoe isn't just for Olympic gold medal skiers, so explore the endless amount of other activities available around the Lake. This editor's list features ideas ranging in price, age, and interest.
Hang Gliding - Ages 6 and up
Though hang gliding might not be the first thing that comes to mind during the winter, Hang Gliding Tahoe offers incredible views of the Sierra Nevada mountains topped with snowy caps. Heated clothing provides flyers with protection from the cold, and the bird's eye view makes it all worth it. Why it made the list: Lake Tahoe vista from the clouds, plus it's exhilarating!
Price: $200+
Snowmobiling - All Ages
Lake Tahoe Snowmobile Tours (North Shore in Tahoe Vista) and Sierra Mountain Sports (Lake Tahoe Blvd. in South Shore) both offer snowmobile rentals (Sierra also sells and repairs snowmobiles). Sierra offers over 30 machines daily on a first-come, first-serve basis with no wait and two track locations in South Tahoe. Why it made the list: Zooming through the powdery snow is fun.
Price: Avg. $50 / per machine/ per half-hour
Helicopter Tour - All ages
Scenic tours of Lake Tahoe from a chopper, baby! Fly with up to 6 people through the incredible mountainous terrain of Lake Tahoe. Reno Tahoe Helicopter Tours flies (weather permitting) all year round. With tours all over Lake Tahoe, bring a camera and explore Lake Tahoe from the best vantage point - above the Lake. Why it made the list: It's not every day we have the chance to fly in a helicopter, high above one of the most beautiful places in the world.
Price: $70+
Yoga - All ages
Lake Tahoe and yoga go together like ski slopes and chairlifts - but without the fear of getting off the lift. Lake Tahoe Yoga offers creative classes that stray away from the ordinary yoga class. Try a CrossFit + Yoga combo, Yoga Storytime for children, or another fun filled yoga experience. Classes range from beginner to advanced, so wake-up the inner yogi with a yoga class during this winter vacation. Don't miss their Happy Hour Yoga classes (creatively named Poses & Pints and Serene Sips), two yoga classes with drinks to follow. Why it made the list: Innovative yoga classes made us fall in love! Plus, pay in cash and save $2.
Price: $10+
Massage - Adults
Lake Tahoe is a place of serenity and rejuvenation, and vacations to Lake Tahoe often act as healing escapes. Massages can contribute big time to that healing effect, so drift into the ultimate bliss. One World Healing Massage in South Lake Tahoe offers a wide array of massages, including Deep Tissue, Swedish, and Craniosacral. With two locations, One World Healing Massage makes rejuvenating easy. Why it made the list: Relax at home (or at the vacation rental) and make it a house call!
Price: $70+
Hiking - All ages
Tahoe's favorite summer pastime is even more exciting during the winter! Rent some snowshoes and explore the region by foot. With trails sprinkled all around the lake, hiking is the best way to get a workout without sliding down the slopes rear end first. Lake Tahoe Powder House, located in South Lake Tahoe, rents snowshoes, so grab a pair and start exploring! Why it made the list: Any Lake Tahoe things to do list would be incomplete without hiking!
Price: Free with snowshoes
More of the best things to do other than ski or board this winter in beautiful blue Lake Tahoe:
Fishing: yes, fishing is year-round in Tahoe! Hook up with a seasoned and experienced guide (there are many) and bring home your limit of Mackinaw (Lake Trout).
Shopping: Any list would be remiss without one of America's favorite past times. Try the Shops at Heavenly, Boatworks Mall or Cobblestone Center in Tahoe City, Downtown -Truckee, The Village at Squaw and the Village at Northstar.
Casinos: People can debate whether hitting the casinos is a true "activity" but in Tahoe is certainly is. Find resort casinos 24/7 on the North Shore in Crystal Bay & Incline Village (the Hyatt) and on South Tahoe on the "Nevada side" (Lakeside Casino & Spa, Harrah's, Harveys, Montbleu and the Horizon with the "loosest slots").