Detailed Map of Lake Tahoe
The following map of Lake Tahoe gives you a general idea of the highways directly around Lake Tahoe as well as where majority of Lake Tahoe golf courses, Lake Tahoe casinos and airports are. You will notice that the majority of parks, Lake Tahoe ski resorts, golf courses and casinos are either on the north shore, south shore or west shore. Use this map to help you decide, which are around Tahoe you wish stay in.
When deciding where to stay in Lake Tahoe, keep in mind that North Lake Tahoe has an older, classic Tahoe feel with many vacation rentals, cabins and lodges. On the other hand, South Lake Tahoe is much more modern with large resorts and newer Lake Tahoe casinos.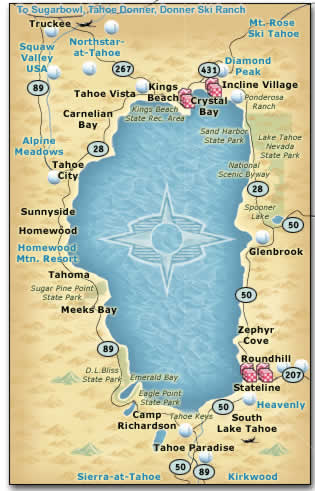 Getting to Lake Tahoe - Tahoe Highway Map and Road Maps
The map below is a basic highway map, zoomed out to show Sacramento and Lake Tahoe. You can see the various highways you can take to reach Lake Tahoe as well as which ones will get you to South Lake Tahoe and the ones that will guide you towards Truckee and the North Shore.
Where is Lake Tahoe? Tahoe is split down the middle sharing California's eastern border with Nevada's western border. On the map below you can see that Reno is situated just a little northeast of Lake Tahoe. Reno boasts the largest airport serving Lake Tahoe and is an international airport as well. If you are flying in to Lake Tahoe, Reno would be the best option, and from there you can rent a car ro grab a shuttle or taxi which are very fast, convenient and priced right. If you are driving to Lake Tahoe the highway map below shows the highways from Reno, Carson City, and Sacramento... from the Bay Area you take Highway 80 to Sacramento and from LA you head north to Sacramento.
More Useful Tahoe Maps
The following set of links will give you their respective area maps and city maps. Use these to help you plan your trip to Lake Tahoe and give you a better idea of what each city has to offer!
North America Map
Western United States Map
Regional State Map
State Highway Map
Local Highway Map
Lake Highway Map
Below are a couple maps for the Tahoe Rim Trail, which is also a part of the Pacific Crest Trail extending from Mexico to the Canadian border. The Tahoe Rim Trail is not recommended for beginners, but for seasoned hikers. Anyone who is a veteran of long backpacking adventures will find the Tahoe Rime Trail to be not only a challenge, but an unforgettable experience!
Tahoe Rim Trail Map
Tahoe Rim Trail Map (PDF)
The following maps are individual city maps for the towns and and cities around Lake Tahoe. Once you have figured out where you want to stay and what areas of Tahoe you wish to visit, use these maps to guide you around each town. Some maps are larger than others and might be easier referenced online versus being printed out.
Incline Village
Kings Beach
Lake Tahoe
Reno w/Downtown Insert
Reno/Sparks
Reno/Tahoe w/Mileage
Tahoe City
Truckee
U.S. Forest Service - Wilderness Areas