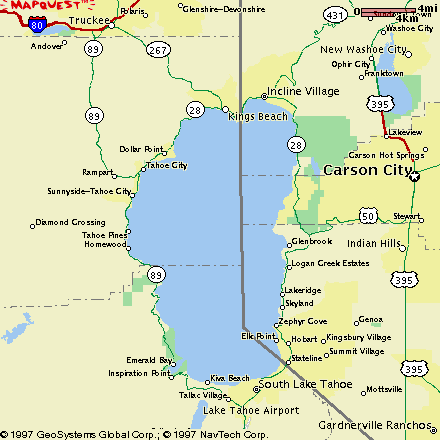 If you are tired grab the TART bus line!
Located in Incline Village, this paved bike path is a 3 mile out and back (total 6 miles) of mostly flat terrain parallel to Lakeshore Blvd. (annotated as Lakeshore Dr. on the map). This out and back is suitable for beginners and provides access to a public beach and great views of Crystal Bay and some of the finest houses in the area. The best parking may be found at the intersection of Highway 28 and Lakeshore Blvd. The path ends at Selby Drive where you can cross Lakeshore Blvd. and head back.
Like to climb? This out and back should satisfy the best and wear out the rest. Starting at the intersection of Highways 28 and 431 there is 1500 feet of vertical elevation over 8.5 miles to reach the Mount Rose Summit. Advanced riders only.
Parking is available near Preston Field which is 1/4 mile south of the intersection of the two highways. A great vista view may be had about half way up, watch for cars pulling in and out. Near the top there is a brief reprieve as you travel past the meadows. Elevation 8,911 is another 1.5 miles away!
Another very popular ride for roadies is the loop formed by Highway 89 from Tahoe City to Truckee, Highway 267 from Truckee to Kings Beach and Highway 28 from Kings Beach back to Tahoe City. The entire loop is 36-37 miles long and is suitable for advanced riders. Beginners can ride the Tahoe City to Truckee sections of the loop as an out and back.
Parking is available at any one of the three towns on the loop. The section of the loop from Tahoe City to Truckee is about 13.5 miles long and is mostly flat. You should use the paved bike-path on the 4.5 mile section of the loop from Tahoe City to Midway Bridge. This section of the loop can be congested from time to time. The remaining distance to Truckee is all highway.
In Truckee you can use either Donner Pass Road or West River Road to access Highway 267. The section of the loop from Truckee to Kings Beach features a 1400' climb before dropping back near lake level at Kings Beach.
The section between Kings Beach and Tahoe City on Highway 28 features a 600 foot climb at Dollar Point. Again, it is best to use the paved bike-path from Dollar Point to Tahoe City.