Balloons Over Lake Tahoe
South Shore (CA)
Location
P.O. Box 19215
South Lake Tahoe
,
CA
Type

Guided Tours

Region

South Shore (CA)
Summary
Features: Lifting riders up to 10,000 feet above sea level, Lake Tahoe Balloons provide incredibly majestic sights and an overwhelmingly sublime experience for all. Experienced and friendly Federal Aviation Administration certified pilots and a perfect safety record guarantee a worry-free time.
Why We Go: There may be no better way to experience the beauty of Lake Tahoe than from a bird's eye view, soaring 3,000 to 4,000 feet above the lake. Balloons over Lake Tahoe promises a memory that will last a lifetime.
A Luxurious Time: From the early morning pick-up to the continental breakfast to the celebratory champagne afterwards, Lake Tahoe Balloons really takes care of you and makes sure that the money you spend on this experience is well worth it.
Unlike Anything Else: Really, no other tour or thing to do in Tahoe will be anything like being in balloons over Lake Tahoe. Even the launch and take-down which happens all on the only-ship-of-its-kind Tahoe Flyer is fascinating to watch.
Lake Cruise: Don't forget that before and after the hot air balloon ride, you will get to cruise through beautiful Lake Tahoe aboard the Tahoe Flyer. Not a bad complimentary prize in addition to the main adventure of Lake Tahoe Balloons.
Inside Knowledge: Only one Lake Tahoe Hot Air Balloon goes up each day, and each trip only carries 12 passengers. Factoring in potential bad weather, you will want to book in advance and give yourself a few extra days in Tahoe just in case your first attempt doesn't pan out.
Do's and Don'ts:
Do Get Plenty of Sleep the Night Before: It's an early wake up call for Lake Tahoe Balloon rides and you don't want to be too sleepy to enjoy the scenery the next day.
Do Dress in Layers: It's frigid early on before the sun comes out, but then it gets a bit toasty while you're up in the balloon and the fire blasts overhead.
Don't Be Scared: Many tourists scared of heights have experienced Lake Tahoe Balloons and reported very little reason to be fearful of the ascension. You will be surprised at how smooth the entire experience is.
Don't Forget Your Camera: It's hard to capture exactly the spectacular sights you will see aboard the balloons over Lake Tahoe. Make sure to snap a few shots so you can show your friends how far you were able to see.
Balloons Over Lake Tahoe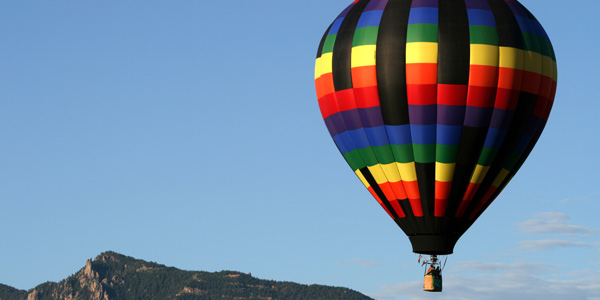 Balloons Over Lake Tahoe Information
Info
Hours:
By Reservation
When to Go:
Summer
Age Restriction:
8+
Phone:
800.872.9294
Website:
http://www.laketahoeballoons.com
Important Information:
Make sure to call beforehand to ensure that weather conditions (including precipitation and winds) are suitable for going out that day.
Quick Facts
Lake Tahoe Balloons offers a truly one-of-a-kind hot air ballooning experience that takes off and lands on a ship right in the middle of Lake Tahoe itself.
Reservations are required for Lake Tahoe Balloon rides, with departures in the early morning.
Breakfast and celebratory champagne is complimentary with each Lake Tahoe Balloons journey.
The entire Balloons over Lake Tahoe experience lasts roughly one hour.
Address:
P.O. Box 19215
South Lake Tahoe, CA 96151
View Map

Need a place to eat in South Shore (CA)
User Average Review
Overall:
Location:
Fun Factor:
Service:
Value:
Based on 0 reviews
Rating Distribution
0.0 out of 5 Stars
0.0% recommended it
Balloons Over Lake Tahoe Reviews

There are currently no reviews!


Fun things to do in South Shore (CA)
Balloons Over Lake Tahoe Hotel

Other hotels in South Shore (CA).
*Some images shown above are not actual photos from the attraction, but category representations. Visit the web site for actual photos.
Need a place to stay? Check out these nearby hotels
You can walk to Gondola & Casinos, is Pet Friendly, Offers Deals and has a Private Beach

Address: 931 Park Avenue South Lake Tahoe, CA 96150

Forest Suites Resort at Heavenly Village offers hotel rooms & oversized suites that sleep 4-6 adults.

Address: One Lake Parkway South Lake Tahoe, CA 96150

Stardust Tahoe Rests in the Heart of Tahoe's Best Shopping and Entertainment

Address: 4061 Lake Tahoe Blvd South Lake Tahoe, CA 96150

The Americana Village Tahoe Is One Of The Best Cheap Tahoe Hotels

Address: 3845 Pioneer Trl South Lake Tahoe, CA 96150

Discounts, Deals and FREE Breakfast! On-site restaurant, pub & pool!

Address: 3600 Lake Tahoe Blvd. South Lake Tahoe, CA 96151