Thanksgiving in Lake Tahoe: The Best Lodging Deals to Gobble Up This Season Cooked Up by TahoesBest.com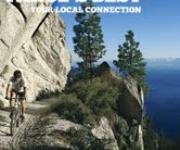 Last week marked the coming winter with the first significant snowfall in Lake Tahoe, and with Thanksgiving around the corner now is the time to start planning holiday trips. Lake Tahoe travelers are advised to get their fill on Lake Tahoe hotel deals, so the editors of TahoesBest.com have put together a list of the best hotel deals to take a bite out of during the upcoming long Thanksgiving weekend. Snatch up deals at Forest Suites Resort, Lakeside Inn and Casino, Resort at Squaw Creek and Inn by the Lake.
Forest Suites Resort - South Lake Tahoe
No need to slave away in the kitchen this year, let Forest Suites Resort treat the family to a Thanksgiving dinner feast. Reserve a 2 bedroom suite for a 3 night stay and leave the cooking to the pros. Package includes an 8 lb turkey, mashed potatoes, stuffing, green bean casserole, dinner rolls, and pumpkin pie. No need to stress over the perfect stuffing recipe this year, but be sure to book this special quickly so you aren't the last one to the dinner table.
Lakeside Inn and Casino - South Lake Tahoe
Venture off the beaten path this Thanksgiving and try a not-so-common meal instead of the usual turkey and stuffing. Lakeside Inn and Casino is serving a steak and lobster package special until December 20, 2013. The editors of TahoesBest.com say start a new Thanksgiving tradition and enjoy this surf and turf special. Package includes a night stay any day of the week, two steak and lobster meals, and two breakfast specials.
Resort at Squaw Creek - Squaw Valley
The holiday season lights up Resort at Squaw Creek, and brings deals to the table. For families traveling to Lake Tahoe over Thanksgiving weekend Resort at Squaw Creek offers a Magical Memories Bed and Breakfast package, with a $199 deluxe guestroom stay and $50 in daily resort credit to spend on amenities or restaurants.
Inn by the Lake - South Lake Tahoe
For a bed and breakfast extravaganza Inn by the Lake in South Lake Tahoe brings the best breakfast feast. Stay one night at Inn by the Lake and receive breakfast for two at the Bear Beach Cafe. Inn by the Lake also offers complimentary bike/snowshoe use, so hope for snow and get outside adventuring around this Thanksgiving.