Sunset Sleigh Ride and Dinner
South Shore (NV)
Location
PO Box 5905
Stateline
,
NV
Type

Tours

Region

South Shore (NV)
Summary
Features: Tahoe Sleigh Rides brings you and your family across the snowy landscape on a dashing sleigh ride. Borges Sleigh Rides Lake Tahoe offers rides led by 2,000 pound blonde Belgian draft horses.

Why We Go: Tahoe Sleigh Rides satisfies your curiosity about what it feels like to go on a sleigh ride. You've heard about them in holiday songs and stories. Now you can experience them for real, and the Sunset Sleigh Ride and Dinner is by far the best deal in South Lake Tahoe.
The Nostalgia: There's something utterly charming about riding a sleigh through the winter snow. Tahoe Sleigh Rides represents a throwback to a different time, when horses were the fastest form of transportation and sleigh rides were a must-enjoy activity each and every holiday season.
The Views: Feast your eyes upon the sparkling white landscape that opens itself up before you on your sleigh ride.
The Packages: Tahoe Sleigh Rides offers wedding packages that will leave you with the most romantic memories of your big day. Some people get married in chapels, but you spice it up with an exciting event on a sleigh.
Inside Knowledge: Tahoe Sleigh Rides knows that you might be famished and ready to eat after your riveting sleigh ride. That's why the dinner package is such a treat. You'll return from your sleigh ride and promptly be off to your gourmet restaurant meal.

Do's and Don'ts:
Do Listen To The Tales: While you're on the sleigh ride, you'll be listening to more than just the sound of horse hooves in snow. You'll also hear stories about times that are now past.
Do Admire The Horses: These are no donkeys you're looking at. Rather, these 2,000 pound blonde Belgian draft horses are the ones impressing you with their regal demeanor and look.
Don't Knock The History: Sunset Sleigh Ride and Dinner has been around since 1967, and in that time, they have only continued to build upon their excellent reputation.
Don't Let The Moment Escape You: During either a 30 minute or one hour ride, you will want to soak up every second of the experience rather than spacing out and barely remembering any of it later.
Sunset Sleigh Ride Lake Tahoe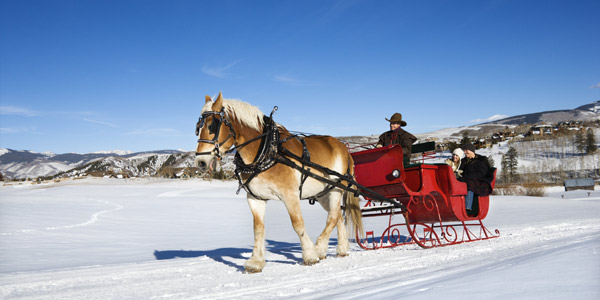 Sunset Sleigh Ride Lake Tahoe Information
Info
Hours:
Call For Details
When to Go:
Winter
Age Restriction:
None
Phone:
775.588.2953
Website:
http://www.sleighride.com/
Quick Facts
Tahoe Sleigh Rides has taken guests on fun-filled rides since 1967!
Borges Sleigh Rides Lake Tahoe makes you feel like you're in a holiday card that's come to life.
Lake Tahoe Sleigh Ride is perfect for couples and families alike.

Address:
PO Box 5905
Stateline, NV 89449
View Map

Need a place to eat in South Shore (NV)
User Average Review
Overall:
Location:
Fun Factor:
Service:
Value:
Based on 0 reviews
Rating Distribution
0.0 out of 5 Stars
0.0% recommended it
Sunset Sleigh Ride Lake Tahoe Reviews

There are currently no reviews!


Fun things to do in South Shore (NV)
Sunset Sleigh Ride Lake Tahoe Hotel

Other hotels in South Shore (NV).
*Some images shown above are not actual photos from the attraction, but category representations. Visit the web site for actual photos.
Need a place to stay? Check out these nearby hotels
The Luckiest Players Can Be Found At Lakeside Inn and Casino Lake Tahoe!

Address: 168 Highway 50 Stateline, NV 89449

Harrah's Lake Tahoe Resort and Casino Is the Best Family Friendly Casino Resort in Tahoe

Address: 15 Hwy 50 Stateline, NV 89449

Enjoy Newly Renovated Luxury Accommodations at Harveys Resort and Casino

Address: 18 Hwy 50 Stateline, NV 89449

Find Everything You Came to Tahoe for at the MontBleu Resort Casino and Spa

Address: 55 Hwy 50 Stateline, NV 89449

Ridge Pointe Tahoe Hotel has Condos with Excellent Views

Address: 455 Tramway Stateline, NV 89449