Lake Tahoe Carriage Ride
South Shore (NV)
Location
50 Highway
Stateline
,
NV
Type

Guided Tours

Region

South Shore (NV)
Summary
Features: Lake Tahoe offers a variety of fun outdoor activities fit for almost any age. Borges Carriage Rides is a family owned business that has been around for decades. This Lake Tahoe carriage ride is a good choice for those who are seeking a relaxing and quiet ride through the beautiful historic parts of the area. Whether its a group of friends, a family with young children or a couple, Borges Carriage Rides can provide a unique and memorable experience.
This Lake Tahoe horse drawn carriage tour lasts 30 minutes, but private one hour tours are available, as well as dinner sleigh rides. Guests can feel free to bring their camera to capture the scenery as they ride along on a stunning blonde Belgian horse.
Why We Go: Carriage rides Lake Tahoe can be a fun experience for the whole family, especially those with young kids. Children are usually given the opportunity to feed and pet the friendly horses after the tour. Guests can take pictures during the tour and pose with the carriage and horse afterward. Below are a few highlights that Borges Carriage Rides offers:
Sleigh Rides: Sleigh rides are ideal during the winter months when there is fresh snow on the ground. Guests can ride comfortably along with other passengers, blankets are provided. The hand-made sleighs vary in size from an intimate 2 person sleigh to a larger one that sits 20 people.
Carriage Rides: This Lake Tahoe carriage ride is ideal during the warmer summer days. Guests can enjoy learning about Lake Tahoe's rich history and local events as they ride along in an elegantly European style horse drawn carriage. Carriage and sleigh tours last 30 minutes.
Dinner: Borges Carriage Rides does offer exclusive dinner carriage and sleigh rides. This 30 minute tour begins at Embassy Suites Stateline and dinner is served Echo Restaurant.
Inside Knowledge: Borges Carriage Rides stables more than six Belgian horses in Gardnerville. This beautiful breed of horse is characterized by its often chestnut color coat and prominent white mane. They are a strong breed of horse and typically grow to weigh as much as 2,000 pounds.
Do's and Don'ts:
Do Use for Weddings: Borges Carriage Rides offers ceremony services. They can provide a non-denominational Minister to perform an outdoor ceremony as well as professional photographer for $550. A beautifully decorated wedding carriage can transport the bride, groom and wedding party to any location around Lake Tahoe.
Do Go for Dinner: Guests can enjoy a delicious gourmet meal at Echo Lounge inside the Embassy Suites. After a 30 minute picturesque carriage or sleigh ride along the shores of Lake Shores guests will be taken to the restaurant for dinner. Patrons will have their choice of delectable California casual cuisine style dishes including fresh pizzas, burgers, pastas, fish and steak. A special kids menu is also available for children 10-years-old and younger.

Don't Forget to Follow: Borges Carriage Rides maintains active social media pages on Facebook, Twitter and YouTube. People can "follow" them for the latest news, updates, pictures and videos about carriage rides in Lake Tahoe.
Don't Forget Your Camera: Lake Tahoe is a stunning place to visit year-round, with a pristine blue lake that stretches for miles, lush forest and tall Jeffrey pine trees. Whether one is visiting in the summer or winter, guests can feel free to bring their cameras along to record their fun and relaxing sleigh ride.
Lake Tahoe Carriage Ride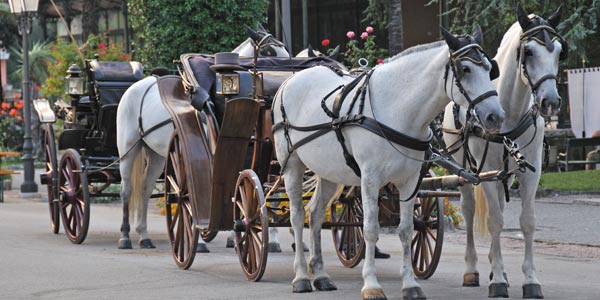 Lake Tahoe Carriage Ride Information
Info
Hours:
Vary
When to Go:
Weather permitting, best to go between 10am and sunset.
Age Restriction:
None
Phone:
775.588.2953
Website:
http://www.sleighride.com/
Quick Facts
Carriage Rides Lake Tahoe offers a horse drawn carriage and sleigh rides for people of ages, including families with young kids.
Horse drawn carriage and sleigh rides are 30 minutes long but private 1 hour tours are available.
Adult tickets are $25, and $10 for children younger than 11 years-old.
Private tours are $50 for adults, $25 for children.
Address:
50 Highway
Stateline, NV 89449
View Map

Need a place to eat in South Shore (NV)
User Average Review
Overall:
Location:
Fun Factor:
Service:
Value:
Based on 0 reviews
Rating Distribution
0.0 out of 5 Stars
0.0% recommended it
Lake Tahoe Carriage Ride Reviews

There are currently no reviews!


Fun things to do in South Shore (NV)
Lake Tahoe Carriage Ride Hotel

Other hotels in South Shore (NV).
*Some images shown above are not actual photos from the attraction, but category representations. Visit the web site for actual photos.
Need a place to stay? Check out these nearby hotels
The Luckiest Players Can Be Found At Lakeside Inn and Casino Lake Tahoe!

Address: 168 Highway 50 Stateline, NV 89449

Harrah's Lake Tahoe Resort and Casino Is the Best Family Friendly Casino Resort in Tahoe

Address: 15 Hwy 50 Stateline, NV 89449

Enjoy Newly Renovated Luxury Accommodations at Harveys Resort and Casino

Address: 18 Hwy 50 Stateline, NV 89449

Find Everything You Came to Tahoe for at the MontBleu Resort Casino and Spa

Address: 55 Hwy 50 Stateline, NV 89449

Ridge Pointe Tahoe Hotel has Condos with Excellent Views

Address: 455 Tramway Stateline, NV 89449