Char-Pit
North & West Shore (CA)
Location
8732 North Lake Blvd
Kings Beach
,
CA
Cuisine

American

Hours

Open for Lunch and Dinner

Price

$$
Pricing Guide - Cost of one meal
$ - $10 and under $$ - $11-30 $$$ - $31-60 $$$$ - $60 and above
Summary
Features: Char-Pit Burgers Kings Beach is one of the best places to grab a bite after a day on the water. Nothing goes better with fun in the sun than a huge juicy hamburger fresh off the grill - or right out of the char pit!
Why We Dine: The classic burger choices at Char-Pit Kings Beach are big, delicious and exactly what we are looking for in a burger. We also love that Char-Pit Restaurant Kings Beach offers beers, milkshakes and delicious french fries to complement our burgers.
The Location: Kings Beach is one of the most scenic and popular beaches on Lake Tahoe and the fact that Char-Pit Lake Tahoe is right on the shore makes us love it even more.
The Sides: There is nothing better than grabbing a good serving of fries, onion rings or coleslaw to go with a delicious burger and Char-Pit Kings Beach does their sides just as well as their amazing burgers!
The Variety: Although Char-Pit Restaurant Kings Beach is known for its burgers, they also have to-die-for tacos, BBQ ribs and sandwiches. They even have a veggie burger for those of us who don't love meat.
Inside Knowledge: Char-Pit Lake Tahoe has a dive-like ambiance and the outdoor seating might appear to be a little worn down, but don't let the vibe throw you; the food is delicious and the hole-in-the-wall spirit of the place just makes it that much better!
We Recommend:
A Beach Party: Char-Pit Kings Beach offers the option to buy Char-Pit Kings Beach burgers "By the Box" and get 6 Old Fashioned Burgers with or without cheese - perfect for a group of friends chilling on the beach.
Avocado Bacon Cheeseburger: This burger is truly a Californian classic and whether you are a Cali veteran or you're new to the area, you will love the Avocado Bacon Cheeseburger at Char-Pit Lake Tahoe.
Restaurant Amenities
Catering Services
Kid Friendly
Outdoor Seating
Premier Location
Small Atmosphere
Take-Out Available
Wheelchair Access
Waterfront
Happy Hour
Specialty Beers on Tap
Char-Pit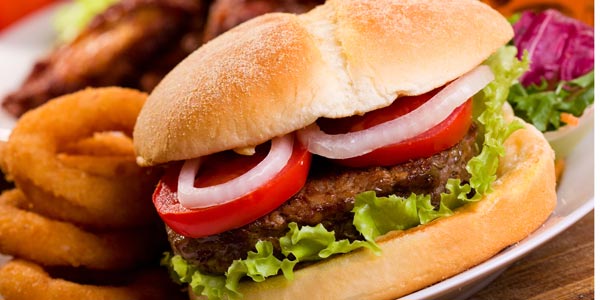 Char-Pit Information
Info
Location:
8732 North Lake Blvd
Kings Beach, CA 96143
View Map
Phone:
530.546.3171
Hours of Operation:
Open for Lunch and Dinner
Quick Facts
Char-Pit Kings Beach has been serving up huge burgers since 1962.
Each burger at Char-Pit Kings Beach is either 1/4 lb or 1/2 lb.
Char-Pit Restaurant Kings Beach is famous for burgers but also has sandwiches and BBQ.
Restaurant Website:
www.char-pit.com
Restaurant Menu:
http://www.char-pit.com/menu-main.shtml

Fun things to do in North & West Shore (CA)
User Average Review
Overall:
Menu:
Ambience:
Location:
Service:
Based on 0 reviews
Rating Distribution
0.0% recommended it
Char-Pit Reviews

There are currently no reviews!


Not what you're looking for? Check out these nearby restaurants.
Need some nearby lodging? Check out these great North & West Shore (CA) hotels
Nightly Rate*

AAA Four-Diamond, full service, luxury resort at the base of Squaw Valley in North Lake Tahoe.

Address: 400 Squaw Creek Rd Olympic Valley, CA 96146

The Village at Palisades Tahoe offers guests several Specials, Packages & Deal options!

Address: 1750 Village East Rd Olympic Valley, CA 96146

Lakefront accommodations with a private beach and a welcoming atmosphere

Address: 8200 N. Lake Blvd Kings Beach, CA 96143

Luxurious accomodations slope side in the new Village at Northstar™ and at Old Greenwood, Lake Tahoe's premier four season resort community.

Address: 4001 Northstar Drive Truckee, CA 96161

The Cedar Glen Lodge Tahoe Offers Great Family Friendly Accommodations and Activities

Address: 6589 N Lake Blvd Tahoe Vista, CA 96148