Sierra-at-Tahoe Ski Resort
South Shore (CA)
Location
1111 Sierra-At-Tahoe Road
Twin Bridges
,
CA
Type

Skiing & Boarding

Region

South Shore (CA)
Summary
Features: Sierra at Lake Tahoe gives you variety with 46 trails upon which to make snow fly. Ski Sierra at Tahoe has plenty of kids' areas so that your youngsters can have their own adventures.

Why We Go: Sierra at Lake Tahoe has cheap prices for tickets, equipment rentals, and lessons. Sierra Ski Resort South Lake Tahoe is a great place for beginners, although intermediate and advanced skiers and riders will also have plenty to keep them busy.
The Prices: Pay less money than you might expect to at Sierra Ski Resort South Lake Tahoe.
The Beginner-Friendly Slopes: Guests love that this place is appealing for beginners. When you have friends in your group that are new to skiing or snowboarding, it's nice they can still come along and find plenty of beginner areas for comfortable riding.
The Location: When you're coming from the bay area, you'll love that Ski Sierra at Tahoe is relatively close.
Inside Knowledge: Sierra at Lake Tahoe has a small-town ambiance that will make you feel like you're surrounded by great neighbors.

Do's and Don'ts:

Do Keep Your Bank Account Full: You'll barely have to touch your bank account when you come to this affordable ski resort.
Do Practice Your Tricks: Get fancy with it. Have fun doing jumps, boxes, and rails. You'll find that there are plenty here!
Don't Feel Like A Loner: The staff are welcoming and accommodating here. Guests appreciate the neighborly spirit at Sierra Ski Resort.
Don't Miss A Meal: Whether you want yummy Hawaiian food or fresh hummus and sandwiches, you'll find an eatery with the cuisine that you're craving.
Sierra-at-Tahoe Ski Resort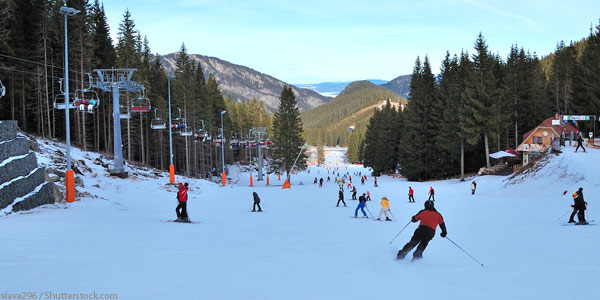 Sierra-at-Tahoe Ski Resort Information
Info
Hours:
Mon.- Fri. 9am- 4pm, Sat.- Sun. 8:30am- 4pm
When to Go:
Winter
Age Restriction:
None
Phone:
530.659.7453
Website:

Quick Facts
Ski Sierra at Tahoe is an affordable place to have lots of fun in the snow.
Sierra at Lake Tahoe is conveniently located relatively close to the bay area.
Sierra Ski Resort South Lake Tahoe has a variety of runs for skiers and riders at every skill level.
Address:
1111 Sierra-At-Tahoe Road
Twin Bridges, CA 95735
View Map

Need a place to eat in South Shore (CA)
Sierra-at-Tahoe Ski Resort Resort Information
Type
Alpine (Downhill)
Info
46 runs, 25% beginner, 50% intermediate, 25% advanced, 2,212 vertical feet, 480 inches annual snowfall, 6,640' base elevation, 8,852' summit elevation, longest run: 2.5 miles, 5 terrain parks
Lessons
Friendly instructors will guide you through everything from putting on your ski or snowboard equipment to cruising down the hill in a relaxed and confident manner. The two and a half hour lessons will cover the important things that you need to know about shredding. If you love learning in social atmospheres, the group lessons will be perfect for you. If you would love more individualized attention, you can take private lessons just for you or for you and your family together.
Ski Reports
Hours & Seasons
Lift Operations
Weekends & Peak Periods: 8:30am - 4pm
Weekdays: 9am - 4pm
Facilities & Services
Outfit yourself in the hottest gear from Sierra Mountain Sports Shop. Find the well-known brands that you know represent quality and style. Swoop up some Burton, 686, North Face, and Sessions merchandise. Keep yourself as warm as can be with insulated jackets, pants, and gloves. This shop hooks you up with the brands you want at reduced prices.
Rentals
Sierra at Lake Tahoe gives you high-tech equipment for riding the mountain. Rossignol skis incorporate auto turn technology that make it easier to steer and maintain control. You'll get hooked up if you're a snowboarder, too! Burton's Chopper snowboards are designed with raised edges and symmetry in the shape. This design makes it easy even for three-year-olds to maintain balance.

Things to do in Tahoe during the Winter
User Average Review
Overall:
Location:
Fun Factor:
Service:
Value:
Based on 0 reviews
Rating Distribution
0.0 out of 5 Stars
0.0% recommended it
Sierra-at-Tahoe Ski Resort Reviews

There are currently no reviews!


Fun things to do in South Shore (CA)
Sierra-at-Tahoe Ski Resort Hotel

Other hotels in South Shore (CA).
*Some images shown above are not actual photos from the attraction, but category representations. Visit the web site for actual photos.
Need a place to stay? Check out these nearby hotels