Kirkwood Mountain Resort
South Shore (CA)
Location
1501 Kirkwood Meadows Dr
Kirkwood
,
CA
Type

Skiing & Boarding

Region

South Shore (CA)
Summary
Features: Kirkwood Mountain Resort is one of the most highly-regarded and all-encompassing mountain adventure destinations in all of Lake Tahoe. With everything from the most wickedly steep double black diamonds to cross country trails to snowshoes and zip lining, there is truly something for everyone willing to venture to the outskirts of South Lake Tahoe.
Why We Go: With such a full array of services, facilities, and programs, there are seriously more reasons to go than we have space for in this recap.
Short Lines: Because of its location more removed from Lake Tahoe proper, Kirkwood Ski Resort manages to keep the crowds down to those that really want to go the extra mile for their top-notch resort. With slopes already being very wide, there is hardly any blockage or other annoyances from fellow skiers and snowboarders.
Good Balance of Difficulties: One of the most comprehensive lesson offerings makes Kirkwood great for beginners and families, but there is also no shortage of intense expert runs with wall-like drops. There is even Kirkwood X Country Skiing for those who want to be challenged by a different type of skiing.
Special Programs: Kirkwood Ski Resort strives to be a full-on resort with its wide array of offerings apart from the standard ski and snowboard runs. A fantastic backcountry expedition program, cross country skiing, zip lining, snowshoes, a tube hill, and more are also available on the premises.
Inside Knowledge: Utilize the free shuttles as much as possible to get from area to area while down by base camp. Also, the Power Express shuttle picks folks up from various stops in South Lake Tahoe for a $15 round-trip fee. This will save you the hassle of navigating the unfamiliar journey yourself, as Highway 88 can be a scary drive.
Do's and Don'ts:
Do Go Buy One Get One Free: Several locations in town sell specials deals for Tahoe Kirkwood offering buy one get one free deals. Perfect for going in even-numbered groups.
Do Stay for Multiple Days: With the array of activities available at Kirkwood, you can alpine ski for a few days and then switch to Kirkwood X country skiing the next day.
Don't Go Without Tire Chains: The dirt parking lot and the route up to Kirkwood Ski Resort can be treacherous with black ice and dangerous conditions at times. Do not attempt the drive ill-prepared.
Don't Tackle A Run Out of Your Skill Level: Don't underestimate the black diamond runs at Kirkwood Ski Resort. You will end up sliding down your butt for the entire side of the mountain if you try to stop at any point in the middle, with serious injury a possible outcome.
Kirkwood Mountain Resort Lake Tahoe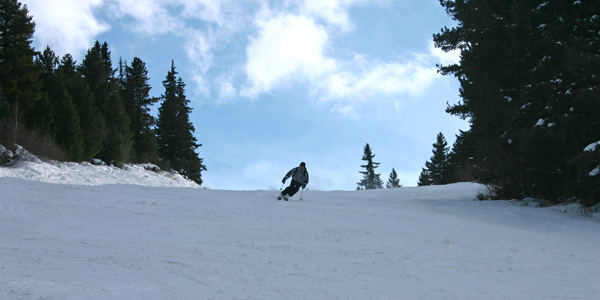 Kirkwood Mountain Resort Lake Tahoe Information
Info
Hours:
8am- 5pm
When to Go:
Weekdays
Age Restriction:
All ages
Phone:
209.258.6000
Website:
http://www.kirkwood.com
Quick Facts
Located 35 miles from South Lake Tahoe, Kirkwood Mountain Resort possesses a unique position atop the Sierra Crest.
In addition to alpine slopes, Kirkwood X Country Skiing offers more than 80 kilometers of groomed trails.
Kirkwood Mountain Resort offers several specials for college students, and large groups of 20 or more.
Address:
1501 Kirkwood Meadows Dr
Kirkwood, CA 95646
View Map

Need a place to eat in South Shore (CA)
Kirkwood Mountain Resort Lake Tahoe Resort Information
Type
Info
72+ trails, 2,300 skiable acres, 14 lifts, 15% beginner, 50% intermediate, 20% advanced, 15% expert, top to bottom snowmaking coverage on four runs, base elevation 7,800', top elevation 9,800', vertical rise 2,000', 600 inches of average annual snowfall, half pipe, two terrain parks, longest run of 2.5 miles
Kirkwood X Country Skiing: 80 kilometers groomed trails, 7,800' elevation, located 1/4 mile east of Kirkwood next to Kirkwood Inn, dogs allowed on two trails
Lessons
The Tahoe Learning Center operates out of the Main Village with a full selection of group and private lessons. Four designated lifts for beginners are ideal for the first-timer, with packages available for all ages. Lesson plans are available for kids as young as 2-4 with the Small Fry Program. the Mini Rippers, Little Rippers, and Mountain Explorers provide age specific training for skiers aged 3-12, while snowboarders have the Burton Groms (ages 5-6) and a separate Mountain Explorers (ages 7-12) plan. After purchasing a lesson plan, new skiers and snowboarders can sign up for the TLC Experience Pass, which provides everything from free group lessons and a season lift pass to free demos and discounted retail for newcomers to enjoy a fantastic introductory season on the slopes.
Ski Reports
Hours & Seasons
Open for both Winter Season and Summer Season: 8am- 5pm
Facilities & Services
Expedition: Kirkwood Outfitters is the premier high adventure program in Tahoe, offering avalanche certification courses, powder cat tours, beacon training, private guides and an array of specialty clinics. High Alpine Adventure Center offers all of Kirkwood's non-ski activities, such as tubing and canopy tours. Kirkwood Mountain Sports in the Village Plaza offers all of the latest and greatest gear and equipment needed to tackle the backcountry, as well as the finest skiing and snowboarding apparel brands. Ski shuttles pick visitors up from various stops around South Lake Tahoe. The Edge located in Mountain Village handles all repairs and tuning to maximize your experience. Body Slopes Massage in the Mountain Club Fitness Center offer an array of massages and rejuvenating spa service. Several locations offer wedding ceremonies, while the Red Cliffs Day Lodge is a fantastic events facility for large groups, including wedding receptions.
Rentals
Both Village Center Rentals in Village Plaza and Timber Creek Rentals at The Tahoe Learning Center offer a full complement of ski and snowboard rentals. The latest Telemark equipment is also available at Timber Creek.

Things to do in Tahoe during the Winter
User Average Review
Overall:
Location:
Fun Factor:
Service:
Value:
Based on 0 reviews
Rating Distribution
0.0 out of 5 Stars
0.0% recommended it
Kirkwood Mountain Resort Lake Tahoe Reviews

There are currently no reviews!


Fun things to do in South Shore (CA)
Kirkwood Mountain Resort Lake Tahoe Hotel

Other hotels in South Shore (CA).
*Some images shown above are not actual photos from the attraction, but category representations. Visit the web site for actual photos.
Need a place to stay? Check out these nearby hotels