Tahoe Keepers
South Shore (CA)
Location
870 Emerald Bay Road, Suite 108
South Lake Tahoe
,
CA
Type

Boating

Region

South Shore (CA)
Summary
Features: Lake Tahoe Keepers strives to protect Lake Tahoe from harmful aquatic invasive species by providing easy training, online education and free Tahoe boat inspections. All watercraft owners are required to Clean, Drain and Dry your boat or non-motorized watercraft after every launch.
Boat Owner? View the Tahoe Boat Inspection CLEAN-DRAIN-DRY video here.
Accessible roadside inspection stations are located around the lake. Alpines Meadow Ski Resort, Northstar at Tahoe Resort, Spooner Summit and Homewood Ski Resort are a few of the boat inspection stations in Tahoe.
Everyone is invited to become a member of the Tahoe Keepers and help protect Tahoe's trademark blue waters. Below are more reasons why it's important to become a Tahoe Keeper.
It's Free: It is free to become a member of the Tahoe Keepers. More importantly, those who are aware and regularly clean, drain and dry their boat and other watercraft are helping to keep Lake Tahoe's waters pristine and free of aquatic invasive species.
It's Easy: The online training is easy to follow and complete. Once members have registered to become a Tahoe Keeper and pass a brief quiz, they will receive Proof of Training Credentials as well as Tahoe Keeper decals to place on their watercraft or boat.
It Matters: Aquatic invasive species are harmful to Lake Tahoe, and other natural bodies of water, because they disrupt the natural food chain and the water's ecosystem. If boats and watercraft are not properly inspected and cleaned after every use, AIS can cling and hide in rudders, hulls and paddles. In a short period of time, aquatic invasive species can multiply and damage boats and their gear. Once a body of water has become infested with AIS it is very costly and nearly impossible to extinguish.
Inside Knowledge: Some of the most threatening aquatic invasive species include quagga mussels, New Zealand mudsnails, and Eurasian watermilfoil and curlyleaf pondweed. They have the ability to rapidly multiply and once they have infested a body of water they are very expensive to remove.
The best way to keep Lake Tahoe pristine and free of AIS is through prevention and educational programs such as Tahoe Keepers.
Do's and Don'ts:
Do Become A Tahoe Keeper: It is easy and free to become a Tahoe Keeper. And if you live and play in the Lake Tahoe it is important to remember to help keep it blue and preserve it for future generations to enjoy.
Do Protect Your Favorite Place: It only takes a few extra minutes to clean, drain and dry your boat but the benefits are immeasurable. By taking responsibility of your watercraft you are helping to protect Lake Tahoe.
Don't Neglect Drain Drying: Remove any plants or debris from the watercraft when you are cleaning and drying your boat or watercraft. Most aquatic invasive species can hide in debris and mussels can survive as long as 30 days out of water.
Don't Forget To Spread The Word: The best way to protect Lake Tahoe is through education and spread of word. Become a Lake Tahoe Keeper and help spread awareness of the importance of cleaning, draining and drying your boat.
Tahoe Keepers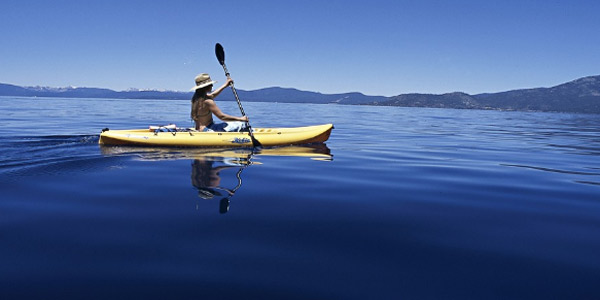 Tahoe Keepers Information
Info
Hours:
Year-Round
When to Go:
n/a
Age Restriction:
None
Phone:
888.824.6267
Website:
http://tahoekeepers.org
Quick Facts
Tahoe Keepers are trained and certified to inspect and decontaminate their own watercraft. It's important to Clean, Drain and Dry boats and other watercraft after every use to help prevent the spread of aquatic invasive species (AIS) in Lake Tahoe.
It is easy to become a Lake Tahoe Keeper! Anyone can become a member of the Lake Tahoe Keepers by completing the online training, short quiz and registering as a Tahoe Keeper.
Lake Tahoe Keepers play a large role in maintaining Lake Tahoe blue and free of dangerous aquatic invasive species. Become a Tahoe Keeper yourself to truly make a difference for the lake we all love so much!
Boat inspection stations in Tahoe provide FREE inspections for non-motorized watercraft, including kayaks, canoes, paddle boards and inflatable rafts.
Address:
870 Emerald Bay Road, Suite 108
South Lake Tahoe, CA 96150
View Map

Need a place to eat in South Shore (CA)
User Average Review
Overall:
Location:
Fun Factor:
Service:
Value:
Based on 0 reviews
Rating Distribution
0.0 out of 5 Stars
0.0% recommended it
Tahoe Keepers Reviews

Fun things to do in South Shore (CA)
Tahoe Keepers Hotel

Other hotels in South Shore (CA).
Need a place to stay? Check out these nearby hotels
You can walk to Gondola & Casinos, is Pet Friendly, Offers Deals and has a Private Beach

Address: 931 Park Avenue South Lake Tahoe, CA 96150

Forest Suites Resort at Heavenly Village offers hotel rooms & oversized suites that sleep 4-6 adults.

Address: One Lake Parkway South Lake Tahoe, CA 96150

Stardust Tahoe Rests in the Heart of Tahoe's Best Shopping and Entertainment

Address: 4061 Lake Tahoe Blvd South Lake Tahoe, CA 96150

Comfortable hotel rooms, suites and cabins in a convenient location for every season you're traveling!

Address: 901 Park Avenue South Lake Tahoe, CA 96150

The Americana Village Tahoe Is One Of The Best Cheap Tahoe Hotels

Address: 3845 Pioneer Trl South Lake Tahoe, CA 96150