Tahoe City Kayak
North & West Shore (CA)
Location
521 N Lake Blvd
Tahoe City
,
Type

Watersports

Region

North & West Shore (CA)
Summary
Features: Tahoe City Kayak is a great one-stop destination for those seeking a thrilling outdoor adventure by kayak. Kayak Tahoe City offers affordable kayak and paddle board rentals, along with water sport gear, instructional classes and guided tours through Lake Tahoe's gorgeous turquoise waters. Lake Tahoe Kayak Rentals is a great way to see the lake up close and enjoy Tahoe's lush green scenery.
Why We Go: Lake Tahoe Kayak Rentals caters to almost every person's needs and fitness level. Whether one is just starting out and wants personal one-on-one lessons or one is an experienced water buff seeking a challenging workout, Tahoe City Kayak can provide the right resources. Once one has their kayak or paddle board ready, they can venture out onto the lake or sign up for guided tour. Below are a few options for guided Lake Tahoe Kayak Tours.
Lakeside Lunch Tour: This is an easy Tahoe City Kayak tour beginning at 9am in Tahoe City. Participants will enjoy a casual rowing pace along North Shore Lake Tahoe. The tour costs $95 per person and includes lunch at one of Lake Tahoe's most popular waterfront grills, Jake's on the Lake. The tour concludes at 1pm.
Sand Harbor: This is a moderate Kayak Tahoe City tour beginning at 9am in Sand Harbor. Participants will enjoy the views of one of the most beautiful white sandy beaches at Lake Tahoe, including areas where huge boulders stick out from the surface of the water. This tour costs $90 per person and includes a box lunch. Tour concludes at 1pm.
Emerald Bay: This is a strenuous Tahoe City Kayak tour launching from D.L. Bliss State Park at 9am. During this four hour tour, participants can experience some of Lake Tahoe's most captivating landmarks, including Fannette Island. The cost of this tour is $95 per persona and includes a box lunch. Tour concludes at 2pm.
Inside Knowledge: Lake Tahoe Kayak Rentals provides a $5 discount coupon on their website for customers to use as a discount on kayak rentals.
Do's and Don'ts:
Do Make Reservations: One needs to call 48 hours in advance to make a reservation. Those who book their rentals online still need to call to confirm their reservation.
Do Bring a Friend: All Tahoe City Kayak tours require a two person minimum for all guided tours, if only one person books a tour there will be a double charge.
Don't Forget to Plan Ahead: Kayak Tahoe City offers special tours throughout the year including Moonlight Paddle Kayak Tours, which only takes place during a full moon in June, July, August and September. This easy kayak tour launches just before sunset from Tahoe City. Guests will treated to a special nighttime kayak tour guided only by moonlight. The cost of this tour is $60 per person.
Don't Forget Your Coupon: Those who print the online coupon and bring it with them will receive $5 their kayak rental at Tahoe City Kayak.
Tahoe City Kayak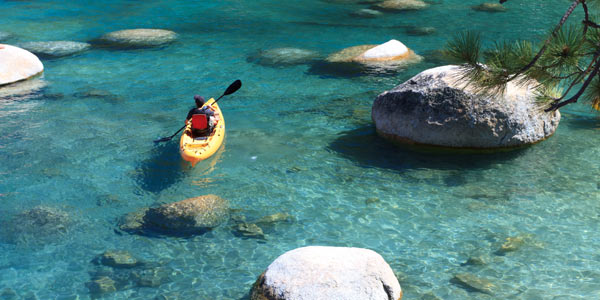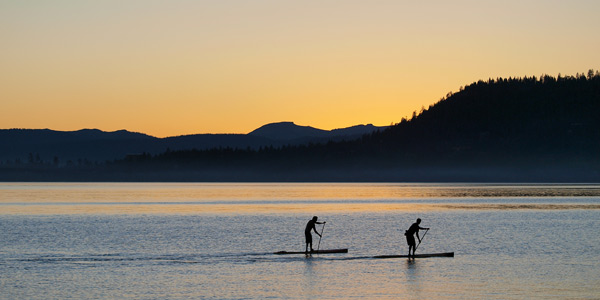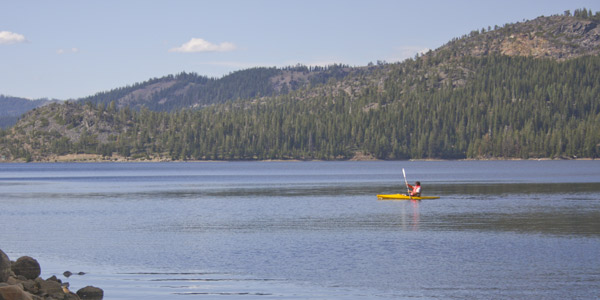 Tahoe City Kayak Information
Info
Hours:
Open daily 9am- to 6pm
When to Go:
Best to go in the morning or early afternoon when there is less boat traffic on the lake.
Age Restriction:
All ages.
Phone:
530.581.4336
Website:
http://www.tahoecitykayak.net/index.html
Quick Facts
Tahoe City Kayak is

a convenient one-stop shop for kayak and stand up paddle boarding rentals, guided tours and lessons.

Lake Tahoe Kayak Tours begin May 1st and end Sept. 30th.

Tahoe City Kayak offers guided tours around King's Beach, Emerald Bay, West Shore and Sand Harbor.
Kayak Tahoe City lessons range from $95 (two hours) to $120 (three hours), and s

ingle kayak rental rates range from $20 (hourly) to $60 (full day).
Address:
521 N Lake Blvd
Tahoe City, 96145
View Map

Need a place to eat in North & West Shore (CA)
User Average Review
Overall:
Location:
Fun Factor:
Service:
Value:
Based on 0 reviews
Rating Distribution
0.0 out of 5 Stars
0.0% recommended it
Tahoe City Kayak Reviews

There are currently no reviews!


Fun things to do in North & West Shore (CA)
Tahoe City Kayak Hotel

Other hotels in North & West Shore (CA).
*Some images shown above are not actual photos from the attraction, but category representations. Visit the web site for actual photos.
Need a place to stay? Check out these nearby hotels
Nightly Rate*

Beautiful Lakeside Suites in North Lake Tahoe

Address: 7276 N Lake Blvd Tahoe Vista, CA 96148

Shooting Star Bed and Breakfast Carnelian Bay is a Cozy Getaway on the North Shore of Lake Tahoe

Address: 315 Olive Street Carnelian Bay, CA 96140

North Shore (NV) / Incline & Crystal Bay

Tahoe Inn Kings Beach is an Affordable Business-Friendly Hotel in North Lake Tahoe

Address: 9937 N Lake Tahoe Blvd Kings Beach, CA 96143

The Lake Of The Sky Inn Tahoe City Is One of the Best Cheap Hotels Near Squaw Valley

Address: 955 N Lake Blvd Tahoe City, CA 96145

Have Your Own Personal Cabin Retreat on Lake Tahoe at Red Wolf Lakeside Lodge Tahoe Vista

Address: 7630 N Lake Blvd Tahoe Vista, CA 96148