Kings Beach State Recreation Area
North & West Shore (CA)
Location
North Lake Boulevard
Kings Beach
,
CA
Type

Parks & Beaches

Region

North & West Shore (CA)
Summary
Features: Kings Beach State Recreation Area is just as much fun for Grandma and Grandpa as it is for young Johnny and Sue. Kings Beach SRA has a play area for kids, kayak and paddle board rentals for the sporty ones in your group, and swimming in the lake for all interested parties.

Why We Go: The hardest decision you'll be making when you come to Kings Beach Recreation is which fun activity you want to do first.
The Water: Swim like the fish at heart that you are. Kings Beach SRA boasts water that is sparkling and clear!
The BBQ Grills: Throw hot dogs and burgers onto the flaming hot grill. Guests love coming to Kings Beach State Park and barbecuing up an amazing feast.
The Rentals Area: Unleash your inner professional athlete. You can do that by renting kayaks and paddle boards at Kings Beach SRA. Get out on the water and show your friends and family (and other admiring onlookers) what you've got. You can even rent a jet ski, sailboat, or paddle boat, as well as go parasailing.
Inside Knowledge: For the most relaxing experience, make your visit to Kings Beach SRA during the weekdays. Spread your things out and enjoy the bountiful amount of space that you have to yourself. Leave the crowds to those coming on weekends! For you, Kings Beach State Park is going to provide you the most peaceful time.

Do's and Don'ts:
Do Expect To Pay For Parking: You'll pay $8 for a spot in Kings Beach Recreation's parking lot.
Do Rent Toys: You and yours can speed around the water on jet skis or get an upper body workout in kayaks. Buy yourself a fun time with one of the many equipment rentals.
Don't Eat At A Restaurant: Have fun and make your own meal. Buy food that you can barbecue on the grill and prepare it at Kings Beach SRA.
Don't Dress For Tropical Weather: It's certainly not the Bahamas, and you'll want to wear layered clothing. You can remove layers from your outfit when you feel warm and add layers back on when you start to feel cold.
Kings Beach State Recreation Area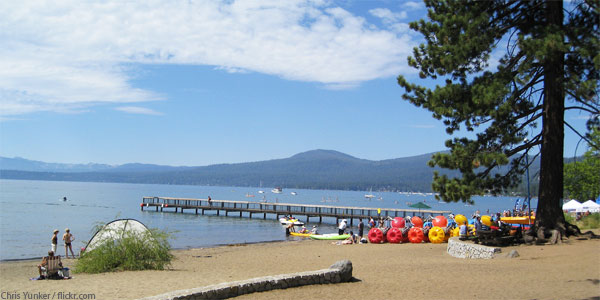 Kings Beach State Recreation Area Information
Info
Hours:
Mon.- Sun. Dawn- 10pm
When to Go:
Summer
Age Restriction:
None
Phone:
530.546.7248
Website:
http://www.parks.ca.gov/?page_id=511
Quick Facts
Kings Beach State Recreation Area is a family-friendly Lake Tahoe destination.
Kings Beach SRA has a BBQ area, a jungle gym for children, and a pier.

Kings Beach State Park offers equipment rentals for a variety of water sports.

Address:
North Lake Boulevard
Kings Beach, CA 96143
View Map

Need a place to eat in North & West Shore (CA)
User Average Review
Overall:
Location:
Fun Factor:
Service:
Value:
Based on 1 review
Rating Distribution
3.0 out of 5 Stars
100.0% recommended it
Kings Beach State Recreation Area Reviews
Kings Beach State Recreation Area Hotel

Other hotels in North & West Shore (CA).
*Some images shown above are not actual photos from the attraction, but category representations. Visit the web site for actual photos.
Need a place to stay? Check out these nearby hotels
Nightly Rate*

AAA Four-Diamond, full service, luxury resort at the base of Squaw Valley in North Lake Tahoe.

Address: 400 Squaw Creek Rd Olympic Valley, CA 96146

The Village at Palisades Tahoe offers guests several Specials, Packages & Deal options!

Address: 1750 Village East Rd Olympic Valley, CA 96146

Lakefront accommodations with a private beach and a welcoming atmosphere

Address: 8200 N. Lake Blvd Kings Beach, CA 96143

Luxurious accomodations slope side in the new Village at Northstar™ and at Old Greenwood, Lake Tahoe's premier four season resort community.

Address: 4001 Northstar Drive Truckee, CA 96161

The Cedar Glen Lodge Tahoe Offers Great Family Friendly Accommodations and Activities

Address: 6589 N Lake Blvd Tahoe Vista, CA 96148