Mt. Rose Ski Tahoe
North Shore (NV) / Incline & Crystal Bay
Location
22222 Mt Rose Hwy
Reno
,
NV
Type

Skiing & Boarding

Region

North Shore (NV) / Incline & Crystal Bay
Summary
Features: The closest Lake Tahoe ski resort to Reno, Mt. Rose Ski North Tahoe also boasts the highest base elevation of any resort in Lake Tahoe. More than 60+ trails and a good variety of experience levels in addition to various family-friendly packages make Mt. Rose a popular destination for many.
Why We Go: During the winter seasons, enjoying snow sports is the thing to do in Lake Tahoe. Mt. Rose Ski Resort Tahoe offers a great location that allows visitors from Reno to make the easy day trip as well.
High-speed Lifts: New "Six Pack" high speed lifts launch skiers and snowboarders 1,800 vertical feet in only three and a half minutes. Perfect for larger groups that want to stick together, and also for minimizing time not spent on the slopes.
Panoramic Views: Mt. Rose Ski Resort Tahoe features the highest base elevation of any resort in Tahoe, and thus features particularly spectacular panoramic views of the entire region.
Beginner Packages: Mt. Rose Ski North Tahoe offers some of the best packages for first-time skiers and snowboarders, providing an all-day ski pass, full rental gear, and a 90-minute lesson all for less than $70.
Inside Knowledge: Be sure to look out for frequent promotions from Mt. Rose Ski Tahoe. Online daily lift tickets for teens can go for as low as $10. Tuesday's lift tickets are sometimes 2-for-1, and Ladies Day Thursdays offer specials for females only.
Do's and Don'ts:
Do Arrive Early: Just about everything is better early on in the morning. The lines are shorter, the slopes are more open, and there are even early bird specials. Most of all, you get more bang for your buck on the day pass.
Do Spend Money on Lessons if Necessary: Even if it's not your first time out, don't let your ego get in the way of optimizing your experience. Mt. Rose Ski North Tahoe offers an array of lessons that will help improve your confidence and skills, allowing for more fun during the rest of your trip.
Don't Break the "Rose No's": No dogs, no alcoholic beverages, no sledding, and no uphill traffic is allowed at Mt. Rose Ski Tahoe. For safety and common sense reasons, please abide by these rules.
Don't Tackle a Difficulty Level Outside Your Comfort Level: Unless you are truly adventurous and willing to fall badly multiple times, attempting a slope that is categorized higher than what you are comfortable with can be a very bad and time consuming idea.
Mt. Rose Ski Tahoe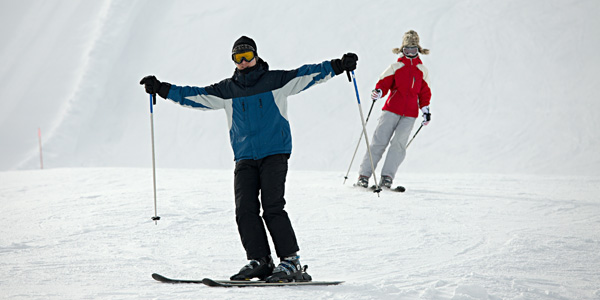 Mt. Rose Ski Tahoe Information
Info
Hours:
8:30am- 4pm
When to Go:
Weekdays, Winter
Age Restriction:
None
Phone:
800.754.7673
Website:

Important Information:
Mt. Rose Ski Tahoe closes certain runs based on a lack of snowfall, so make sure to check the snowfall for an optimal experience.
Quick Facts
Mt. Rose Ski Resort Tahoe is 11 miles away from North Lake Tahoe and 22 miles from Reno. They claim to be the closest Lake Tahoe skiing destination to Reno.
Starting in the 1930s, long before the Mt. Rose highway was constructed, local inhabitants of the Reno began skiing in the Mt. Rose Ski Tahoe area.
Mt. Rose Ski Resort Tahoe is family-oriented with special group deals that cater well to beginners.
Address:
22222 Mt Rose Hwy
Reno, NV 89511
View Map

Need a place to eat in North Shore (NV) / Incline & Crystal Bay
Mt. Rose Ski Tahoe Resort Information
Type
Alpine (Downhill)
Info
60+ runs, 20% beginner, 30% intermediate, 40% advanced, 10% expert, 1800 feet vertical drop, 350 inches annual snowfall, snow making 28% coverage, 8,260 ft. base elevation, 9,700 ft. summit elevation, longest run: 2.5 miles, 2 terrain parks
Lessons
The Mt. Rose Ski and Snowboard School offers group lessons for both novices and experts. A novice package including a 90-minute lesson, rental equipment, and an all-day beginner lift ticket runs at an affordable $79, while the lesson only will cost $39. 2 & 3-day flight plans are also available at Mt. Rose Ski North Tahoe for multiple lesson days and a more complete training. Multiple performance workshops offer 90-minute group lessons for more advanced skiers and boarders looking to hone their craft. Early bird private lessons are only $50 with an additional person costing $25. Window private lessons during the rest of the day run $75.
Rosebuds Children's Ski & Snowboard Camp is specifically geared for skiers and snowboarders under the age of ten. The program consists of an on-hill educational experience with parents that must remain on-site. All lessons include a lift ticket, rental equipment and a helmet. Packages are available in both 3-session days and 2-session days, with classes broken down into different levels.
Ski Reports
Hours & Seasons
Lift operation: 9am- 4pm (Blazing Zephyr 6 Chair: 8:30am- 4pm)
Lodge hours: 8am- 6pm weekdays, 7:30am- 6pm weekdays
Facilities & Services
Mt. Rose Ski Tahoe's 431 Sports and Apparel Shop offers all of the auxiliary clothing and gear necessary to enjoy a day on the mountain. Winters Creek Lodge is a new facility perfect for a ski rest, large group event, or even hosting a wedding.
Rentals
Ski, snowboard, and even snowshoe rentals are available on single day and multi-day plans. 431 Sports & Apparel handles clothing rentals, while the Summit Pro shop located downstairs in the Main Lodge offers high performance equipment.

Things to do in Tahoe during the Winter
User Average Review
Overall:
Location:
Fun Factor:
Service:
Value:
Based on 0 reviews
Rating Distribution
0.0 out of 5 Stars
0.0% recommended it
Mt. Rose Ski Tahoe Reviews

There are currently no reviews!


Fun things to do in North Shore (NV) / Incline & Crystal Bay
Mt. Rose Ski Tahoe Hotel

Other hotels in North Shore (NV) / Incline & Crystal Bay.
*Some images shown above are not actual photos from the attraction, but category representations. Visit the web site for actual photos.
Need a place to stay? Check out these nearby hotels
North Shore (NV) / Incline & Crystal Bay

AAA Four Diamond Lake Tahoe hotel resort casino and spa in a luxury lakeside setting!

Address: 111 Country Club Dr Incline Village, NV 89451

North Shore (NV) / Incline & Crystal Bay

The Hyatt High Sierra Lodge Offers Large Two Bedroom Condos with Full Kitchens and Fireplaces

Address: 989 Incline Way Incline Village, NV 89451

North Shore (NV) / Incline & Crystal Bay

The Parkside Inn at Incline Village Offers Cheap Family Friendly Accommodations Near Diamond Peak

Address: 1003 Tahoe Blvd Incline Village, NV 89451