Hang Gliding Tahoe
North Shore (NV) / Incline & Crystal Bay
Location
2640 E. College Parkway
Carson City
,
NV
Type

Guided Tours

Region

North Shore (NV) / Incline & Crystal Bay
Summary
Features: Hang Gliding Tahoe shows you the views of South Lake Tahoe from up above, flying high in an Apollo Trike instructed by FAA flight instructor Paul Hamilton.
Why We Go: Hang Gliding Tahoe is beautiful, adventurous and fun! Not only that, but it's also great for the whole family and can be experienced year-round.
Flying Height: The best part of hang gliding in Tahoe is the beautiful views from above. You won't be able to see these things if you stay on the ground for your entire visit.
Safety First: The Apollo Trike, used for Lake Tahoe Hang Gliding, tests higher than most conventional airplanes for G-forces. The machines are maintained and inspected by FAA certified mechanics, and they take serious precautions when it comes to weather and safety for all! You even get the reassurance of a backup parachute.
All Year Tour: Unlike many things you can do while you're here on vacation, Hang Gliding Lake Tahoe isn't confined to the summer or the winter, but rather you can go any time of the year! The sights are just as beautiful in December as they are in July!
Inside Knowledge: There is a weight limit set by the FAA, so Hang Gliding Tahoe can't legally take anyone that weighs more than 250 lbs up in the air.
Do's and Don'ts:
Do Weigh Yourself: Hang Gliding Tahoe follows the legal weight limit set by the FAA, so be aware of this restriction before trying to book a tour.
Do Take Weather into Account: With hang gliding in Tahoe, and any kind of aviation, weather is always a factor that will determine whether your trip will go through or not.
Don't Wear Open Toed Shoes: Hang gliding Lake Tahoe can get pretty chilly with the winds, even in the summer. Long pants, a light jacket and even more layers in the winter months are recommended for fliers.
Don't Do Something Else Instead: Hang Gliding in Tahoe is the way to go. It's a completely different experience than parasailing, sailplane riding, a balloon ride or a helicopter tour and none of these other options will get you the same thrill.
Hang Gliding Tahoe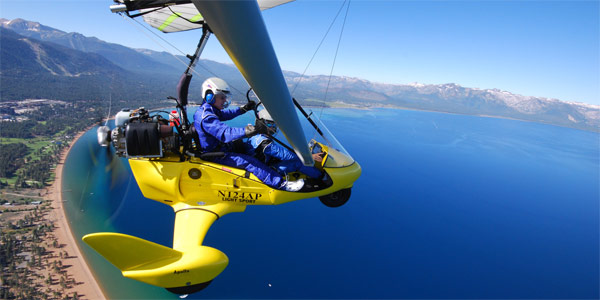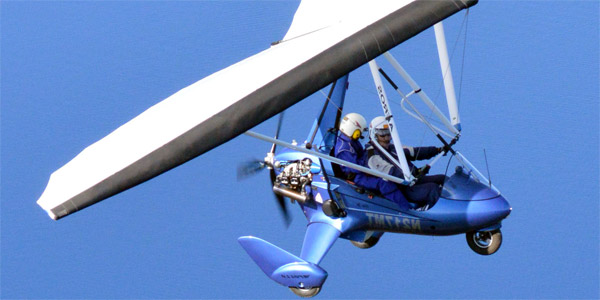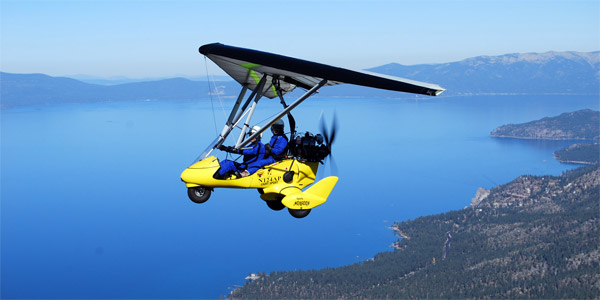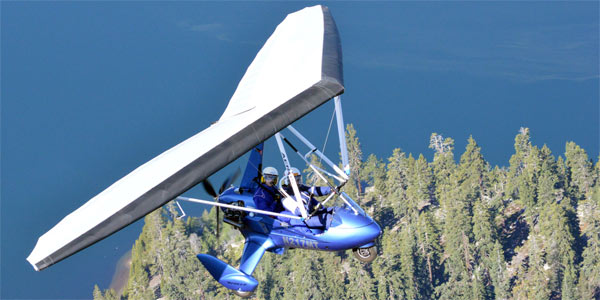 Hang Gliding Tahoe Information
Info
Hours:

When to Go:
Mornings
Age Restriction:
Ages 6 and up.
Phone:
775.772.8232
Website:
http://hangglidingtahoe.com/
Quick Facts
Hang Gliding Tahoe is run by FAA Flight Instructor Paul Hamilton at the Carson Aviation Adventures flight school.
The newest program "Fly Together" allows couples (or any relation of two people) who want to go hang gliding in Tahoe to do just that, fly together, but still in their own aircraft!
Not visiting during the warm weather summer months? No problem! Hang Gliding Lake Tahoe goes year round, and the snow is just as beautiful as the sun!
Address:
2640 E. College Parkway
Carson City, NV 89706
View Map

Need a place to eat in North Shore (NV) / Incline & Crystal Bay
User Average Review
Overall:
Location:
Fun Factor:
Service:
Value:
Based on 0 reviews
Rating Distribution
0.0 out of 5 Stars
0.0% recommended it
Hang Gliding Tahoe Reviews

There are currently no reviews!


Fun things to do in North Shore (NV) / Incline & Crystal Bay
Hang Gliding Tahoe Hotel

Other hotels in North Shore (NV) / Incline & Crystal Bay.
Need a place to stay? Check out these nearby hotels
North Shore (NV) / Incline & Crystal Bay

AAA Four Diamond Lake Tahoe hotel resort casino and spa in a luxury lakeside setting!

Address: 111 Country Club Dr Incline Village, NV 89451

North Shore (NV) / Incline & Crystal Bay

The Hyatt High Sierra Lodge Offers Large Two Bedroom Condos with Full Kitchens and Fireplaces

Address: 989 Incline Way Incline Village, NV 89451

North Shore (NV) / Incline & Crystal Bay

The Parkside Inn at Incline Village Offers Cheap Family Friendly Accommodations Near Diamond Peak

Address: 1003 Tahoe Blvd Incline Village, NV 89451