Fantasy Inn and Wedding Chapel
South Shore (CA)
Location
3696 Lake Tahoe Boulevard
South Lake Tahoe
,
CA
Hotel Type

Motels & Inns

Offers Promos

No

Pets Allowed

No

2. Find your check in date below.
3. Rate shown is average rate for 2 nights.
* Room Rates shown above reflect the average nightly rate for a 2 night stay with the calendar date as the check-in date, our visitors should verify actual rates, promotions and deals directly with the hotel as we make no guarantees regarding rates, but only provide them as a convenience.

Quick Facts
Check-In 3pm
Check-Out 11am
Attractions Nearby
Restaurants Nearby
Parking Available
Pets Allowed
Weddings
52 Rooms
2 Floors
Fantasy Inn and Wedding Chapel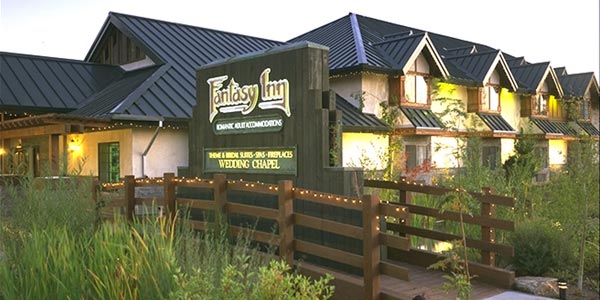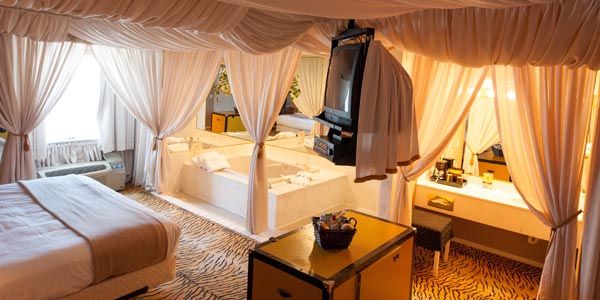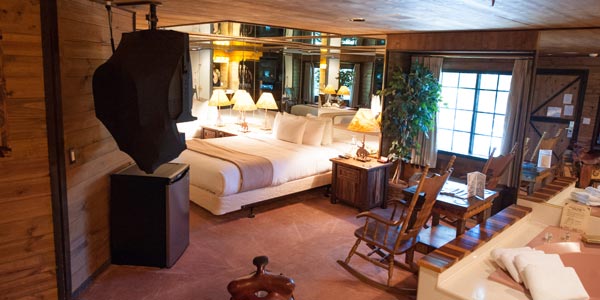 Fantasy Inn and Wedding Chapel
Features: Fantasy Inn and Wedding Chapel in South Lake Tahoe is an original romantic getaway with wedding services and 14 one-of-a-kind theme rooms. Between the excellent location close to all of the best snow resorts, lake activities and casinos in Lake Tahoe and the extravagant theme rooms with personal Jacuzzis, the Fantasy Inn Tahoe is one of the best couples destinations in Lake Tahoe.

Why We Stay: We love the quirky vibe at the Fantasy Inn Tahoe and with such great deals and perfect location, a stay at the Fantasy Inn and Wedding Chapel is always a great romantic vacation. The entire hotel is geared toward providing an adult fantasy to couples in need of a romantic getaway; the rooms and wedding services do exactly that.
Theme Rooms: The 52 rooms at the Fantasy Inn Lake Tahoe are all unique and feature amazing mirrors, European showers with 2 showerheads and 2 person Jacuzzis, but 14 of them go even further with extravagant themes. Check out our rooms tab to find out more about how you can live like Romeo and Juliet or Anthony and Cleopatra on your next romantic vacation!
Wedding Packages: This wedding chapel in Lake Tahoe goes to any length to make your wedding the fantasy you want it to be; their name is Fantasy Inn and Wedding Chapel for a reason! The wedding packages at Fantasy Inn Lake Tahoe provide everything you need from professional photography to a horse and carriage for the bride and groom.
Inside Knowledge: One of the best ways to enjoy your in-room whirlpool spas is to bring your own favorite bath amenities. The Fantasy Inn and Wedding Chapel does provide lotion, body wash, conditioner and shampoo but with your favorite scents and products you can ensure the most personalized experience possible.
Do's and Don'ts:
Do Choose Your Theme: The Fantasy Inn Tahoe has so many amazing theme rooms to choose from you can't really go wrong, but find the one that fulfills your fantasy for the best vacation experience!
Do Look Your Best: The numerous mirrors in most of the Fantasy Inn Tahoe rooms will make it hard for you to escape yourself. This can be a fun surprise and make for an exciting night, but make sure you feel comfortable catching glances of yourself at every turn.
Don't Stay Inside: The fun vibe of the Fantasy Inn and Wedding Chapel might entice you to spend all your time in your theme room, but it's in South Lake Tahoe! Don't miss out on all of the best Lake Tahoe adventures just steps from your door!
User Average Review
Overall:
Service:
Cleanliness:
Location:
Room Quality:
Based on 0 reviews
Rating Distribution
0.0% recommended it
Fantasy Inn and Wedding Chapel Reviews

Check out some things to do while you're in Tahoe.
Fantasy Inn and Wedding Chapel Guest Rooms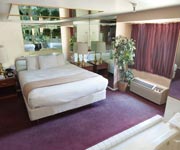 Princess Rooms
Each Princess room includes a king-sized bed, 5-ft deep personal whirlpool spas for two, European showers, toiletry amenities including lotion, bubble bath and shampoo, swivel TV with remote-controlled Pay Per View, refrigerator and coffee maker.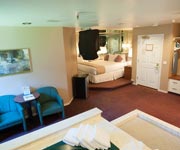 Royal Spa Rooms
In this room the personal spas are a whopping 7-ft deep and are heart- or oval-shaped. The king bed is set in a mirrored alcove with clear view of the TV with Pay Per View, the European shower, refrigerator, coffee maker and - of course - the luxurious royal decor.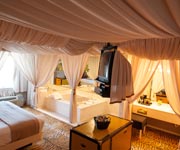 Mini Theme Rooms
These theme rooms include 5-ft spas as well as the TV, king bed, European shower, refrigerator and coffee maker. Take your choice of a stay in the Fantasy Inn Lake Tahoe Tropical Treehouse room with greenery and wicker furnishings, the Arabian Nights room that features elegant drapes of ivory, gold, and burgundy or the Sultan's Tent room with luxurious long, white tent-like drapes and animal print carpeting.
Theme Rooms
These 444-sq-ft rooms feature large 7-ft deep personal spas, swivel TV with Pay Per View, king-sized bed in a mirrored alcove, European shower and refrigerator. The first theme option is the Tahoe Room with wood furniture and a cozy cabin-like vibe. Alternately you can find yourself on the other side of the world in the Anthony and Cleopatra room. Try the Queen's Quarter for ultimate royal pampering or the Western Room to find yourselves on a ranch in the Midwest!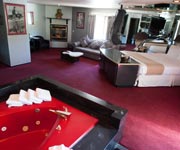 Fireplace Theme Rooms
These huge 584-sq-ft rooms have elaborate themes that will truly have you feeling as though you stepped into a different part of the country or world. Try the Caesar's Indulgence room, the Marie Antoinette room, the Penthouse, the Graceland room or the Mystic Mountain room to truly fulfill your wildest fantasies at the Fantasy Inn South Lake Tahoe. And don't forget the chance to cuddle by the fireplace!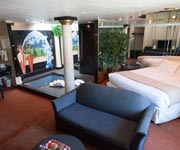 Deluxe Theme Rooms
With huge over-sized Jacuzzis, fireplace, refrigerator, and round bed tucked away in a mirrored alcove, these rooms are the height of extravagance in their themed glory. Stay in the Romeo and Juliet room, the Rainforest room, or the Romans room for your ultimate romantic getaway.
Not the right fit? Check out these other great South Shore (CA) hotels
You can walk to Gondola & Casinos, is Pet Friendly, Offers Deals and has a Private Beach

Featured Promo

Rates From $56 A Night! - 3 Peaks Resort & Beach Club

Address: 931 Park Avenue South Lake Tahoe, CA 96150

Forest Suites Resort at Heavenly Village offers hotel rooms & oversized suites that sleep 4-6 adults.

Featured Promo

Family Summer Package "Stay 4 get 1 FREE" at Forest Suites Resort

Address: One Lake Parkway South Lake Tahoe, CA 96150

Comfortable, affordable rooms within walking distance to South Lake Tahoe attractions

Address: 3892 Lake Tahoe Blvd South Lake Tahoe, CA 96150

South Lake Tahoe's only all-suites hotel.

Featured Promo

Romance Package at Lake Tahoe Resort Hotel

Address: 4130 Lake Tahoe Boulevard South Lake Tahoe, CA 96150

Aston Lakeland Village Beach And Mountain Resort Offers Cozy Luxury Accommodations.

Address: 3535 Lake Tahoe Blvd South Lake Tahoe, CA 96150