Valhalla at Tahoe
South Shore (CA)
Location
Heritage Way and Highway 89
Lake Tahoe
,
CA
Type

Art in Tahoe

Region

South Shore (CA)
Summary
Features: Valhalla at Lake Tahoe Arts, Theater & Music Festival is an upscale celebration that takes place at Valhalla Tahoe. This is the 35th year that this music and art festival is being held.
Why We Go: Valhalla Lake Tahoe is a family friendly summer celebration of art, music and film.
Concerts: The biggest part of the Valhalla at Lake Tahoe Festival is all the concerts. They'll be held in the newly refurbished Boathouse Theatre, and almost every concert will feature a different kind of music.
Art Workshops: Valhalla Lake Tahoe will host art workshops children, which they hope will establish art and nature awareness at an early age. Let's get some culture instilled in these kids!
Inside Knowledge: The Valhalla Tahoe is a nonprofit organization in charge of the Valhalla Lake Tahoe celebration, and they work to keep the shows interesting and the Site beautiful. They even just completed a $200,000+ restoration on the Boathouse Theatre where all the concerts will be taking place.
Do's and Don'ts:
Do See the Art: The art exhibit at the Valhalla Lake Tahoe festival highlights work from over 80 regional artists. Check out the talent all your neighbors are harboring. The exhibits are open Monday through Friday every week.
Do Hear Some Tunes: Don't miss all the different concerts and performers that will be putting on shows throughout the summer. There's always different music and something new and exciting.
Don't Leave the Kids at Home: There are plenty of child activities at the Valhalla at Lake Tahoe Festival, so they won't go bored if you bring them along. They might actually enjoy learning about art, and it might pay off when they're making big bucks selling paintings one day!
Valhalla Arts, Theater & Music Festival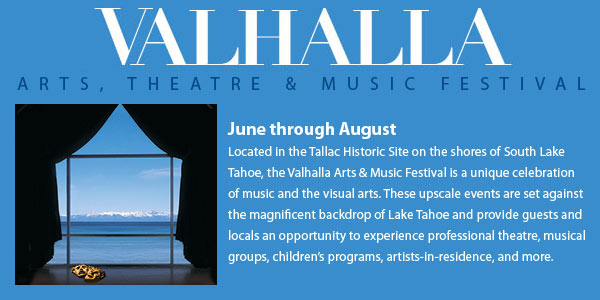 Valhalla Arts, Theater & Music Festival Information
Info
Hours:

When to Go:
Summer Days
Age Restriction:
All ages are welcome.
Phone:
530.541.5227
Website:
http://valhallatahoe.com/
Quick Facts
Valhalla at Lake Tahoe Arts, Theater & Music Festival is an annual family friendly celebration in it's 35th year of operation.
Head to this celebration for a picnic on the lawn followed by jazz, Celtic, classical, Latin rhythms, Cajun and world music concerts.
In addition to the all music and art there will be to enjoy, Valhalla at Lake Tahoe Festival takes place on the beautiful Valhalla Tahoe Site, 74 acres with 19 historic structures and 3 mansions.
Address:
Heritage Way and Highway 89
Lake Tahoe, CA 96150
View Map

Need a place to eat in South Shore (CA)
User Average Review
Overall:
Location:
Fun Factor:
Service:
Value:
Based on 0 reviews
Rating Distribution
0.0 out of 5 Stars
0.0% recommended it
Valhalla Arts, Theater & Music Festival Reviews

There are currently no reviews!


Fun things to do in South Shore (CA)
Valhalla Arts, Theater & Music Festival Hotel

Other hotels in South Shore (CA).
*Some images shown above are not actual photos from the attraction, but category representations. Visit the web site for actual photos.
Need a place to stay? Check out these nearby hotels
The Alder Inn Tahoe Hotel is Just a Mile from the Heavenly Ski Resort and Minutes from Stateline, Nevada

Address: 1072 Ski Run Blvd South Lake Tahoe, CA 96150

The Alpine Inn and Spa Tahoe Hotel is Just Steps from Popular Nevada Casinos

Address: 920 State Line South Lake Tahoe, CA 96150

The Days Inn South Lake Tahoe Hotel Offers the Cheapest Nightly Rates Near Heavenly

Address: 3530 Lake Tahoe Blvd South Lake Tahoe, CA 96150

The Green Lantern Motel Lake Tahoe Offers Cheap Family Friendly Accommodations in South Lake Tahoe

Address: 4097 Manzanita Ave South Lake Tahoe, CA 96150

Enjoy Cozy Lodging at Heavenly Valley Base Area Condos by Accommodation Station in South Lake Tahoe

Address: 2516 Lake Tahoe Blvd South Lake Tahoe, CA 96150