Keep up with your Pilates fitness routine during a vacation to Tahoe, or add a healthy new addition to your lifestyle by visiting the Tahoe Pilates Co.
Nestled in a serene corner of King's Beach, the charming building lends itself to a cozy and intimate Pilates session, and the picturesque setting just further enhances the overall experience. Alison Franco, the owner of Tahoe Pilates Company, follows Joseph Pilates' original practice of stretching and exercises designed to strengthen the core and have you feeling stronger, longer and healthier in no time. Some of their classes also consist of a more relaxed and contemporary fusion-style of Pilates.
Alison is a Pilates Method Alliance Certified Pilates teacher, so visitors can rest-assured she has the training and technique needed to lead a great class with your fitness and health in mind. She is also classically-trained, which is a rarity on the West Coast and particularly in the Tahoe Basin. This distinction is significant because it means that she was trained in the style of Romana Kryzanowska, Joseph Pilate's protege. Tina, Sarah, Peggy and Courtney are all classically trained as well, and round out the list of inspiring instructors who make up the roster at Tahoe Pilates Company. They like to share this wealth of knowledge with other aspiring Pilates instructors as part of the Pilates Methods Alliance Fostering Future Professionals Program, offering both classical training and continuing education classes.
If you have recently healed from an injury (and have been cleared by a doctor,) they will customize something intended to have you back in tip-top shape in no time, so definitely communicate your needs or concerns to the instructor. Pilates is all about communication - with your body, and with your instructor, so be sure to let them know your skill level or specific concerns. Alison is passionate about Pilates, as not only did it help her reach rehabilitation after she had healed from an injury of her own, it led to a career and lifestyle change that she is grateful for. This reflects how crucial she finds the technique, and her desire to share this life-altering exercise with others comes through in every class.
What To Know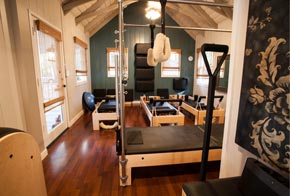 All classes are 55 minutes of stretching, toning and breathing that will have you feeling renewed and refreshed at the conclusion.
Never attended a Pilates class before? No problem! Tahoe Pilates Company offers a variety of classes, so there is a perfect fit for every skill level.
Some of the classes include:
Basic Reformer, which is ideal for beginners and a fantastic way to learn the foundational techniques of Pilates
Gentle Strength and Stretch Reformer Class, which is a great in-between of the basic and intermediate classes and provides a comprehensive session without being quite so intense as the intermediate classes.
Intermediate Reformer is for those who have mastered the Pilates skills of the previous levels, and Jumpboard Reformer is the most advanced class offered, which consists of higher intensity cardio and is ideal for ski conditioning.
This Tahoe Pilates studio also puts on a Community Reformer class, which is the most budget-friendly option and is suitable for all experience levels.
Private classes are wonderful way for any skill levels to practice their techniques, but are especially a good fit for beginners. The individualized attention by one of the instructors at Tahoe Pilates Company will have you feeling confident with Pilates in no time.
Register for any of these classes online via www.tahoepilatesco.com to conveniently secure a spot in the class of your choice.
Tahoe Pilates Co. is ready and waiting for you to fall in love with Pilates and a new healthy lifestyle. The Lake Tahoe philosophy is all about leading an active and healthy lifestyle, and the instruction offered by this studio will get you on that trajectory in no time. It goes without saying that this a wonderful form of exercise to check out if you live in the area, but these classes are also great for those who want to continue their Pilates training during a Tahoe vacation or to try something new while you are here. Whatever the reason for your interest in Pilates, Tahoe Pilates Company, with its enchanting location and experienced instruction, will be a perfect fit.
Tahoe Pilates Company
8700 N. Lake Blvd. #2
Kings Beach, CA 96143
520.721.7471
info@tahoepilatesco.com