Tahoe Boat Inspection Event
South Shore (CA)
Tahoe Boat Inspection Event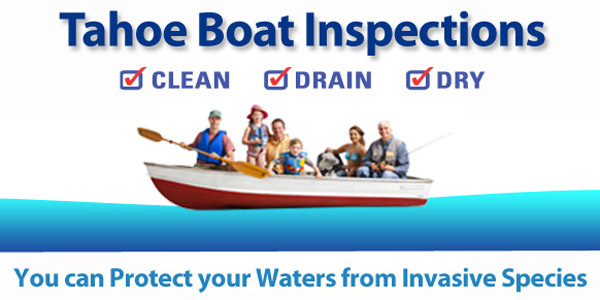 Tahoe Boat Inspection Event Summary
Event Overview: Tahoe Boat Inspection ensures that vessels in the waterways of Lake Tahoe are free from aquatic invasive species.
Tahoe boat inspections protect Lake Tahoe waters from devastating changes that would occur if non-native species were introduced, because these species would not have their natural predators around to regulate the population.
What to Expect: Tahoe boat inspections only take a few minutes if you come prepared. There are numerous locations available for you to get Tahoe boat inspections.
The Efficiency: It can seem like Tahoe boat inspections are going to be very inconvenient. However, Tahoe boat inspections can actually be done pretty quickly - in fact, they can take just several minutes if you have regularly cleaned, drained and dried your watercraft.
The Locations: Tahoe boat inspections can be done at numerous locations in the area, allowing you to get this mandatory procedure completed at a convenient place for you.
The Fees: The reasonable fees vary based upon vessel type and size. Motorized watercraft have fees that increase with the size of your water vessel. Non-motorized watercraft are not charged a fee for Tahoe boat inspections at this time!
Inside Knowledge: Tahoe boat inspections are free for those with non-motorized vessels like paddleboards and kayaks. It's a pretty nice benefit for those who are using their arms and physical strength to power their watercraft! That's one more incentive to exercise with greater frequency in Lake Tahoe.
Event Hints:
Check Dates and Times: Both Lake Tahoe boat inspection dates and Tahoe boat inspection hours vary by season, so you'll want to check the official website to find out when you can bring your watercraft.
View The Fee Structure: Know how much you'll need to pay for this mandatory boat inspection. The fee structure on the official website displays vessel sizes and their corresponding inspection fees.
Tahoe Boat Inspection Event Information
Info
Location:
870 Emerald Bay Road, Suite 108
South Lake Tahoe, CA 96150
View Map
Phone:
888.824.6267
Website:
http://tahoeboatinspections.com
Quick Facts
Tahoe Boat Inspection checks watercraft for the potential presence of aquatic invasive species.
Tahoe boat inspections can be as quick as a few minutes when you've already cleaned, drained and dried your boat.

Lake Tahoe boat inspection dates vary by season.

Need a place to eat in South Shore (CA)
User Average Review
Overall:
Event:
Location:
Staff:
View:
Based on 0 reviews
Rating Distribution
0.0% recommended it
Tahoe Boat Inspection Event Reviews

There are currently no reviews!


Fun things to do in South Shore (CA)
*Some images shown above are not actual photos from the venue, but category representations. Visit the venue's web site for actual photos.
Location
Tahoe Boat Inspection
870 Emerald Bay Road, Suite 108
South Lake Tahoe, US

Event Dates

Jun 01,2014 - Sep 15,2014

Event Cost

$0 - $121

Need some nearby lodging? Check out these great South Shore (CA) hotels
You can walk to Gondola & Casinos, is Pet Friendly, Offers Deals and has a Private Beach

Address: 931 Park Avenue South Lake Tahoe, CA 96150

Forest Suites Resort at Heavenly Village offers hotel rooms & oversized suites that sleep 4-6 adults.

Address: One Lake Parkway South Lake Tahoe, CA 96150

Stardust Tahoe Rests in the Heart of Tahoe's Best Shopping and Entertainment

Address: 4061 Lake Tahoe Blvd South Lake Tahoe, CA 96150

The Americana Village Tahoe Is One Of The Best Cheap Tahoe Hotels

Address: 3845 Pioneer Trl South Lake Tahoe, CA 96150

Walk to Gondola, Lake... Year-Round Vacation Specials and Packages

Address: 4075 Manzanita Ave South Lake Tahoe, CA 96150