Murphy's Pub Tahoe
South Shore (CA)
Location
787 Emerald Bay Rd
South Lake Tahoe
,
CA
Cuisine

European & Other Ethnic

Hours

Open Daily 11am- 1am

Price

$$
Pricing Guide - Cost of one meal
$ - $10 and under $$ - $11-30 $$$ - $31-60 $$$$ - $60 and above
Summary
Features: From Irish grub to elegant weddings, Murphy's Pub Tahoe is a must when you're in the area. They are the only restaurant in Lake Tahoe with a garden for weddings, but if you're not ready to tie that knot just yet, there's still plenty of good times and great food to be had!
Why We Dine: Not only do people come to Murphy's Pub Tahoe for the food and drinks, but they are often gathered here for the special occasions too!
Great Food: Murphy's Irish Pub Lake Tahoe has both Irish and American good on the menu, so you can please your palate with favorites like the Full Monty burger or Gaelic garlic fries! Even the little ones have plenty of options, because they offer a full kid's menu as well.
Live Entertainment: All year round, Murphy's Irish Pub Tahoe offers live music and entertainment throughout the week! What's dinner in an Irish pub without a live band to jig to? That's right, dancing is encouraged!
Happy Hour: Top of the afternoon to you! Murphy's Irish Pub & Rockwater Restaurant in South Lake Tahoe has a happy hour every weekday from 3pm- 7pm. Start your evening, or finish your afternoon off with great food, drinks and prices!
Inside Knowledge: Weddings, parties and more! Murphy's Irish Pub Lake Tahoe is the only restaurant in the area with an outdoor garden to host events. They offer wedding packages with customization and professional coordinators to make your special day the best it can be.
We Recommend:
Sitting Outside: When the weather is nice, enjoy your meal in the beautiful garden at Murphy's Pub Tahoe. As you'd expect, the garden is inviting and peaceful, unlike the typical atmosphere you'd find inside an Irish Pub.
Having Some Fun: While you may sit outside to enjoy a good meal and nice atmosphere at Murphy's Irish Pub Lake Tahoe, there's also plenty of fun to be had within the pub! Open mic nights, Celtic jam sessions, billiard and darts are just a few of the entertainment options going on throughout the week!
Restaurant Amenities
Banquet Facilities
Catering Services
Easy Parking
Full Bar
Garden Setting
Happy Hour
Kid Friendly
Live Entertainment
Late Dining
Outdoor Seating
Take-Out Available
Wheelchair Access
Murphy's Pub Tahoe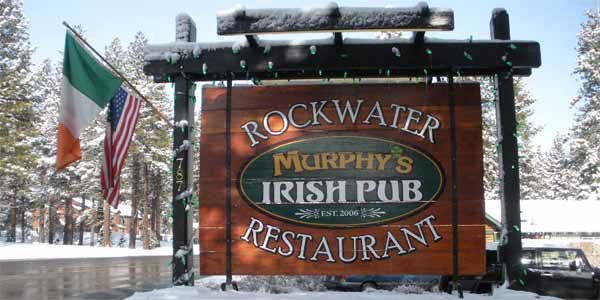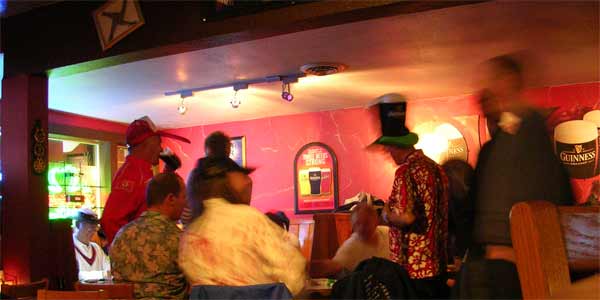 Murphy's Pub Tahoe Information
Info
Location:
787 Emerald Bay Rd
South Lake Tahoe, CA 96150
View Map
Phone:
866) 544-8004
Hours of Operation:
Open Daily 11am- 1am
Quick Facts
Murphy's Pub Tahoe has been serving South Lake Tahoe traditional Irish and American food since 2002.
If you're looking for the perfect place to have your outdoor wedding, reception, party or event, Murphy's Irish Pub Lake Tahoe offers first class service for your every need.
Enjoy live entertainment at Murphy's Irish Pub Tahoe several nights a week, all year long!
Restaurant Website:
http://www.murphyspubtahoe.com
Restaurant Menu:
http://www.murphyspubtahoe.com/dining.php

Fun things to do in South Shore (CA)
User Average Review
Overall:
Menu:
Ambience:
Location:
Service:
Based on 0 reviews
Rating Distribution
0.0% recommended it
Murphy's Pub Tahoe Reviews

Not what you're looking for? Check out these nearby restaurants.
Need some nearby lodging? Check out these great South Shore (CA) hotels
You can walk to Gondola & Casinos, is Pet Friendly, Offers Deals and has a Private Beach

Address: 931 Park Avenue South Lake Tahoe, CA 96150

Forest Suites Resort at Heavenly Village offers hotel rooms & oversized suites that sleep 4-6 adults.

Address: One Lake Parkway South Lake Tahoe, CA 96150

Stardust Tahoe Rests in the Heart of Tahoe's Best Shopping and Entertainment

Address: 4061 Lake Tahoe Blvd South Lake Tahoe, CA 96150

The Americana Village Tahoe Is One Of The Best Cheap Tahoe Hotels

Address: 3845 Pioneer Trl South Lake Tahoe, CA 96150

Discounts, Deals and FREE Breakfast! On-site restaurant, pub & pool!

Address: 3600 Lake Tahoe Blvd. South Lake Tahoe, CA 96151