A Lake Tahoe Wedding Planner
Greater Tahoe Area
A Lake Tahoe Wedding Planner
Type


Coordinators

,

Chapels/Ceremony

,

Ministers/Clergy

Region

Greater Tahoe Area
Summary
Overview: A Lake Tahoe Wedding Planner will alleviate the stresses of your wedding planning to ensure a romantic and one of a kind wedding worthy of your special day. These wedding planners in Lake Tahoe are experienced in taking the bare bones of your vision for the day and bringing it to life with a close attention to detail, personable service and extensive knowledge of the area.
What to Know: A Lake Tahoe Wedding Planner is well-versed in the best ways to put together the wedding of your dreams by lining up the ideal outdoor location and the top professionals in the area to help push your wedding over the edge to fantastic. Each bride and groom selects their ultimate location wedding package, and then choosing from a variety of add-ons to personalize the experience for guests and so that every detail of their dreams is brought to life.
Outdoor Wedding Experts: They specialize in outdoor weddings in Lake Tahoe, and have a variety of picturesque outdoor settings to choose from. Emerald Bay features jaw-dropping views of waterfalls, Tahoe Lakeshore Lodge acts as a breathtaking seaside backdrop and Heavenly Mountain Resort is part of their unique Ski package.
Experience: This team of wedding planners in Lake Tahoe have been creating memorable weddings for over 20 years. Just visit their website to witness for yourself the outpouring of positive and appreciative testimonials from couples who have used their expertise to create the most unforgettable Lake Tahoe weddings.
Wedding Packages: Choose from a variety of enticing wedding packages that emphasize Tahoe's natural beauty. Each packages usually includes a minister, a California Marriage License and Notary, photography, music, wedding certificate and coordination services to streamline the planning process for couples and put their minds at ease.
Inside Knowledge: Looking to have a Lake Tahoe wedding that speaks to your adventurous spirit as a couple and that stands out from all of the other weddings of the season? Plan a Ski Wedding with A Lake Tahoe Wedding Planner! Tahoe is one of the top Ski destinations in the country, so incorporate the amazing slopes into your wedding to make it completely one-of-a-kind and unforgettable!
A Lake Tahoe Wedding Planner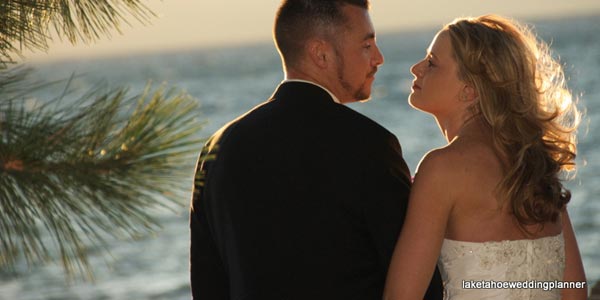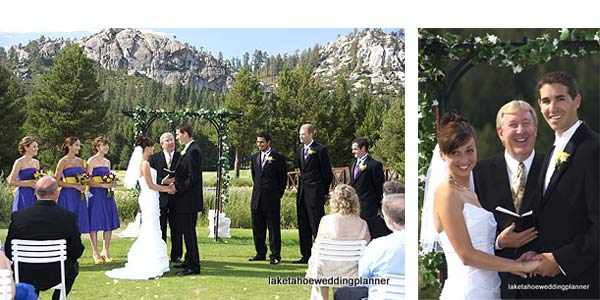 A Lake Tahoe Wedding Planner Information
Info
Areas Served: Greater Tahoe Area
Phone: 877.789.5695
Quick Facts
A Lake Tahoe Wedding Planner is your go-to destination for all things wedding related in Tahoe, as they offer several different outdoor packages that highlight the stunning beauty of Tahoe's varied terrain.
The packages for these Lake Tahoe weddings range in price from $199-$1399 depending on the location, day of the week and size of the wedding and not including add-ons , so there is truly something to meet everyone's budget!
The personalized and attentive service provided by these wedding planners in Lake Tahoe is sublime, and will alleviate the stress of planning the wedding of your dreams that will have your guests buzzing for years to come!

Need a place to have a rehearsal dinner?
A Lake Tahoe Wedding Planner Course Information
Info
Course Statistics
Venue Amenities
A Lake Tahoe Wedding Planner Video
A Lake Tahoe Wedding Planner Resort Information
Type
Info
Hours & Seasons
Facilities & Services
A Lake Tahoe Wedding Planner Trail Information
Difficulty
Fees
Elevation
Mileage (one-way)
A Lake Tahoe Wedding Planner Resort Information
Info
Tackle & Equipment
Rates
The Fish
Trophy Mounts
User Average Review
Overall:
Professional:
Quality:
Value for Cost:
Responsive:
Based on 0 reviews
Rating Distribution
0.0 out of 5 Stars
0.0% recommended it
A Lake Tahoe Wedding Planner Reviews

There are currently no reviews!


Check out other wedding services in Tahoe.
A Lake Tahoe Wedding Planner Hotel
*Some images shown above are not actual photos from the service, but category representations. Visit the service's web site for actual photos.
Need a romantic place to stay?