Lake Tahoe SummerFest
North Shore (NV) / Incline & Crystal Bay
Location
Incline Village
,
NV
Type

Art in Tahoe

Region

North Shore (NV) / Incline & Crystal Bay
Summary
Features: The 2013 Lake Tahoe SummerFest celebrates music, fine arts, theatre and education in the hope to inspire and foster a rich diversity of the arts within our culture. Founded in 2011 by Madylon Meiling, SummerFest in Lake Tahoe is meant to bring folks from all over the world to the mile-high lake surrounded by the glorious Sierra Nevada Mountains.
Education plays a huge role in the Lake Tahoe SummerFest, and the Sierra Nevada College at Incline Village will turn into the SummerFest Institue between July and August. The idea is to bring together people of all ages from diverse backgrounds and have them discuss important topics, teach and learn from each other in order to inspire change and open minds.
Why We Go: For anyone interested in the arts or just wishing to try something new, the Lake Tahoe SummerFest of the Arts is the perfect summer activity.
Lake Tahoe SummerFest Concerts: With performances of classical music from renowned symphonies and orchestras throughout the United States, the Lake Tahoe SummerFest Concerts will take your breath away.
Lake Tahoe SummerFest Concert Soloists: The concert series welcomes a variety of world-renowned solo artists including Federica von Stade, Chris Brubeck, Meredith Clark, and more!
Lake Tahoe Shakespeare Festival: Situated on Sand Harbor at the Lake Tahoe State Park, the Lake Tahoe Shakespeare Festival has brought the love of Shakespeare to Lake Tahoe for the last 40 years. It is now incorporated into the Lake Tahoe SummerFest to celebrate the love and importance of good theatre.
Inside Knowledge: The Lake Tahoe SummerFest Concerts have rehearsals open to the public, so be sure to take advantage of this fantastic opportunity to meet the Artistic Director, Maestro Joel Revzen, as well as everyone else involved in the concerts series!
Do's and Don'ts:
Do Purchase Tickets in Advance: The concerts and theatrical shows can sell out quite fast, so be sure to book your seats well in advance.
Do Bring Your Kids: You are encouraged to share this wonderful experience with your young ones, and all the events are family friendly.
Don't Forget to Check Online: Be sure you check their website periodically for updates about the various art series as well as changes in times and dates.
Don't Be a Downer: Keep an open mind when you attend the SummerFest Institute and enjoy friendly discussions about global topics.
Lake Tahoe SummerFest 2013 – The Magic Continues!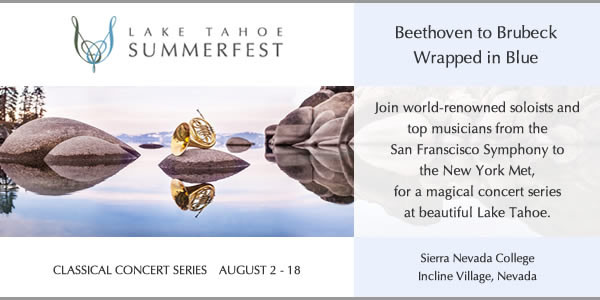 Lake Tahoe SummerFest 2013 – The Magic Continues! Information
Info
Hours:
Vary based on events
When to Go:
Summer
Age Restriction:
None
Phone:
775.762.2677
Website:
http://www.tahoesummerfest.org/
Quick Facts
The Lake Tahoe SummerFest consists of a variety of concerts, art shows, and theatrical performances from July through August.
From July 31st through August 19th, enjoy Lake Tahoe SummerFest Concerts with performances from the New York Metropolitan Orchestra, San Francisco Symphony, Los Angele Philharmonic, Seattle Symphony and more!
During the first couple weeks of August, you can peruse the art from some of the best American Impressionists of our time at the Lake Tahoe SummerFest Arts collection.
Address:

Incline Village, NV 89451
View Map

Need a place to eat in North Shore (NV) / Incline & Crystal Bay
User Average Review
Overall:
Location:
Fun Factor:
Service:
Value:
Based on 1 review
Rating Distribution
5.0 out of 5 Stars
100.0% recommended it
Lake Tahoe SummerFest 2013 – The Magic Continues! Reviews
Lake Tahoe SummerFest 2013 – The Magic Continues! Hotel

Other hotels in North Shore (NV) / Incline & Crystal Bay.
*Some images shown above are not actual photos from the attraction, but category representations. Visit the web site for actual photos.
Need a place to stay? Check out these nearby hotels
North Shore (NV) / Incline & Crystal Bay

AAA Four Diamond Lake Tahoe hotel resort casino and spa in a luxury lakeside setting!

Address: 111 Country Club Dr Incline Village, NV 89451

North Shore (NV) / Incline & Crystal Bay

Stay at the Historical Cal Neva Lodge and Casino for Old Time Charm and Modern Comforts

Address: 2 Stateline Road Crystal Bay, NV 89402

North Shore (NV) / Incline & Crystal Bay

The Hyatt High Sierra Lodge Offers Large Two Bedroom Condos with Full Kitchens and Fireplaces

Address: 989 Incline Way Incline Village, NV 89451

North Shore (NV) / Incline & Crystal Bay

The Parkside Inn at Incline Village Offers Cheap Family Friendly Accommodations Near Diamond Peak

Address: 1003 Tahoe Blvd Incline Village, NV 89451